A retired Humberside Police dog who was shot three times has been granted a lifetime achievement award.
German Shepherd Logan was injured when he and his handler were pursuing a man wanted for attempted murder in May 2018.

The dog and his handler were injured, with the dog being shot in the head and mouth, but the man was arrested.

Logan was honoured at a ceremony at Knebworth Park, Hertfordshire, hosted by the Thin Blue Paw Foundation.

His owner and former handler PC Ian Sweeney, 52, described Logan as his "soulmate".

"This award is particularly special as it encompasses everything he's done and I don't think you ever really believe you'll achieve something like that," the officer said.

"I still feel incredibly shocked, overwhelmed and overjoyed by it."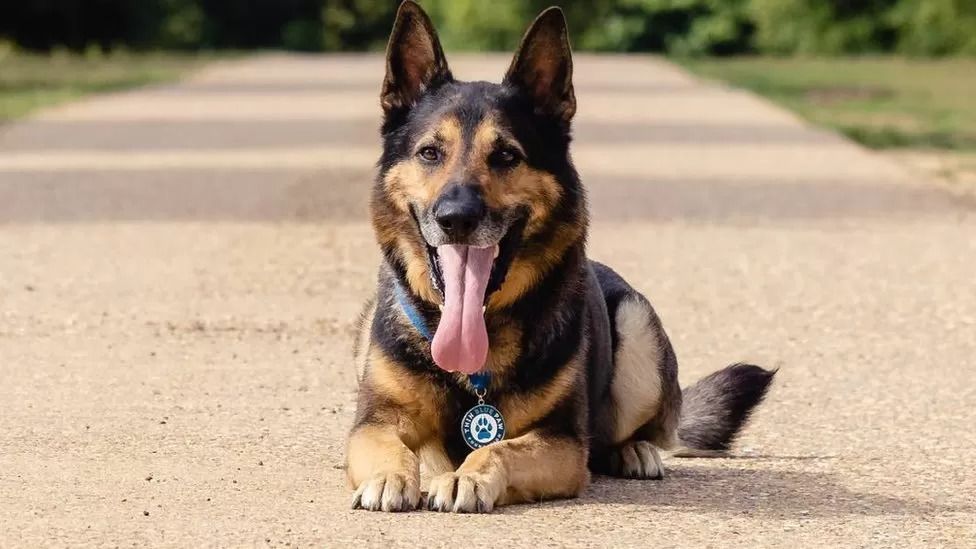 Logan retired from Humberside Police in May

Logan joined Humberside Police in January 2015 aged 10 months and in 2017 qualified as a firearms support dog.

In his career he has a long list of achievements with the force, however, in May 2018 him and PC Sweeney were deployed to search for a man who had tried to kill another man and then fled the scene.

PC Sweeney said they knew where the man was and were aware he had a weapon.

"Logan and I cornered him and then he turned on us with a handgun and threatened to kill us," he said.

"I deployed Logan which was probably one of the hardest decisions I've ever had to make as the man shot at me.

"I thought I may be sending him to his death to protect me. I got hit in the face three times and Logan was also shot in the mouth and head three times - but, despite his injuries, he still detained him successfully."

The Thin Blue Paw Foundation, a charity which supports serving and retired police dogs, said Logan was a very worthy recipient

Logan has received numerous other awards - including two Chief Constable commendations - during his career, in which he achieved more than 300 arrests.