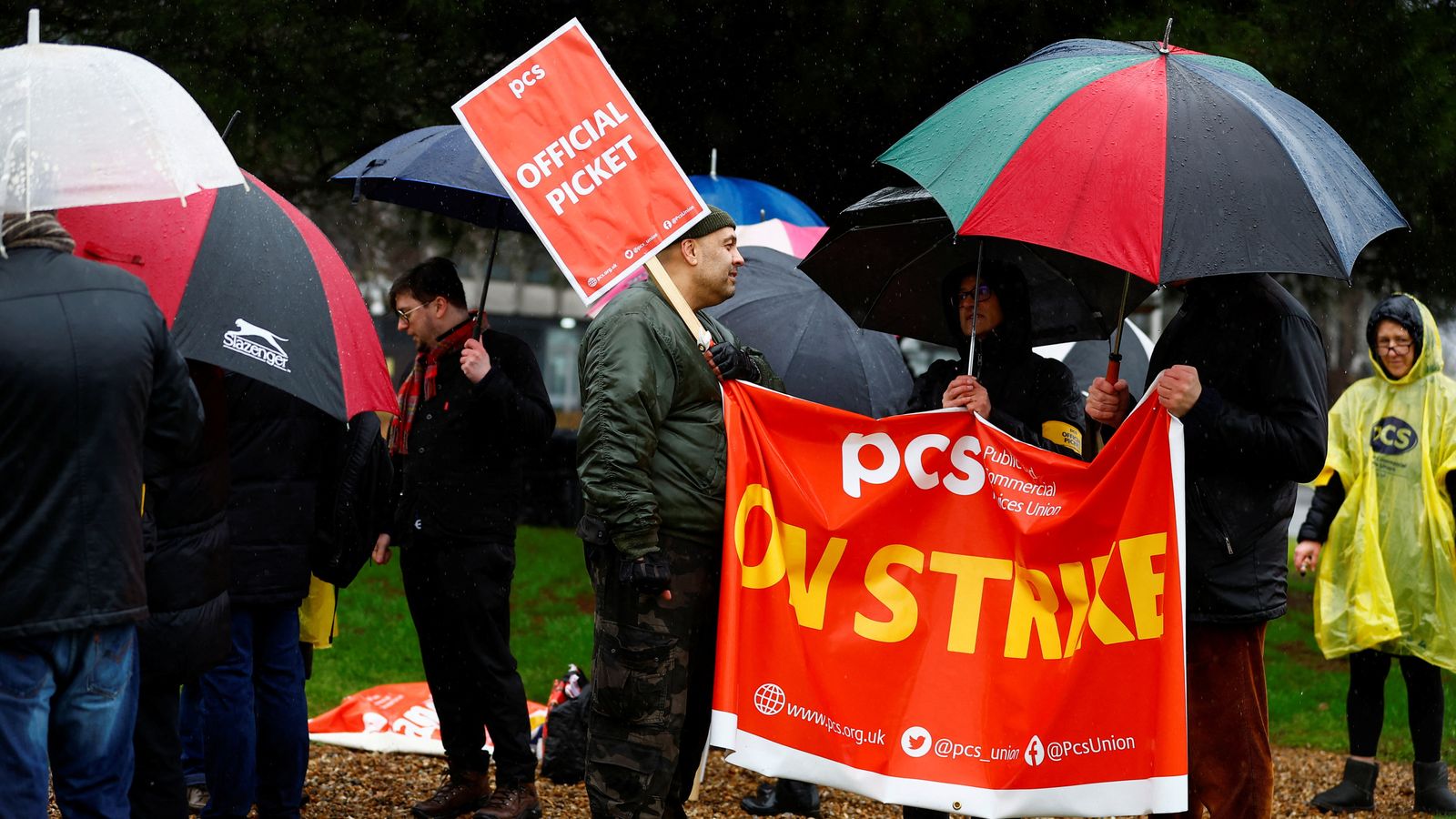 Around 100,000 civil servants to go on strike on 1 February after PCS announces industrial action
The Public and Commercial Services union says the action, which will be the largest civil service strike for years and coincides with the TUC's "protect the right to strike day", can be averted if the government puts a pay offer on the table.
Around 100,000 civil servants will strike on 1 February in a worsening dispute over pay, jobs and conditions, the Public and Commercial Services union has announced.

It will be the largest civil service strike for years and coincides with the TUC's "protect the right to strike day" announced yesterday in response to new government legislation.

The action will involve members in 124 government departments and follows walkouts last month involving Border Force staff, driving examiners and National Highways workers.

PCS general secretary Mark Serwotka hinted at the prospect of coordinated strike action with other unions on the same day, telling Sky News: "I think as long as the government retains its position of refusing to put money on the table, we will see more and more cooperation and coordination between unions. I don't believe we will be the only union on strike on 1 February."

The PCS union is calling for a 10% pay rise, protections to pensions and protections from job cuts.

"We warned the government our dispute would escalate if they did not listen - and we're as good as our word," Mr Serwotka said.

He accused the government of "treating its own workforce worse than anyone else in the economy".

"We've been given a 2% pay rise. We've been told tens of thousands of jobs are going to be slashed, our conditions are going to be cut. And we represent people who deliver public services from cradle to grave."

The government estimates the union's pay demands will cost £2.4bn which they say is not affordable at a time when public finances are stretched.

But the PCS boss said: "That's the way of the government trying to avoid a sensible argument. We believe that if you get less than the rate of inflation, you're actually poorer for going to work at the end of the year than you were at the start of the year and that can't be right."

He added: "Even if it's true that it was to cost £2.4bn, that is a tiny fraction the Conservative government was prepared to borrow to give tax cuts to the richest in this country. So the government knows it can afford it.

"It knows if they gave us a pay rise, our members will spend it in their local economy, boosting manufacturing and the hospitality sector at a time of recession, unlike the rich who avoid paying taxes and put their money in the Cayman Islands. So it makes sense for the economy and it makes sense to ensure that civil servants are working but are in poverty."

Thousands of workers across the NHS, travel, education and postal sectors are continuing to strike over pay and conditions in the face of soaring inflation.

The disputes have reached a bitter deadlock, with ministers insisting they can't afford to give pay rises and unions saying they have no choice to strike as the cost of living bites.

Mr Serwotka revealed he is meeting with Cabinet Office minister Jeremy Quinn tomorrow and said "if he puts some money on the table there is a chance this dispute can be resolved".

"If he doesn't, then he'll see public services from benefits to driving tests, from passports to driving licences, from ports to airports affected by industrial action on February 1," he added.

The PCS said a further 33,000 members working in five more departments, including HM Revenue & Customs, are next week re-balloting to join the union's national strike action.

It comes as ambulance workers staged a fresh round of strikes today across England and Wales, with another day of action planned for later this month.

Nurses are also due to walkout again on 18 and 19 January, while rail unions have warned an end to the dispute is a "long way off" with one accusing the government of "sabotage" in its negotiations.

On Tuesday, the government put forward new legislation for "minimum safety levels" when workers stage walkouts.

But unions have vowed to fight the laws "every step of the way", saying they are an attack on the right to strike and could be illegal.