New laws to boost fairness at work would be brought in within 100 days of Labour winning a general election, Angela Rayner has promised.
Labour's deputy leader said "common decency" had to be restored to the workplace, in a conference speech.

Plans include bringing workers and employers together to negotiate pay and conditions in every sector.

Labour says it would also increase statutory sick pay, as well as bring in the right to flexible working for all.

Ms Rayner told Labour's annual conference: "Let's make this real and show every worker in every workplace in every corner of our country that with their support, their lives, their jobs and their communities can and will be better."

Under the "fair pay agreements" proposal, representatives of workers and employers would negotiate minimum standards - or a floor - for pay and terms and conditions for their particular sector.

Once agreed, the terms would be binding on employers and staff.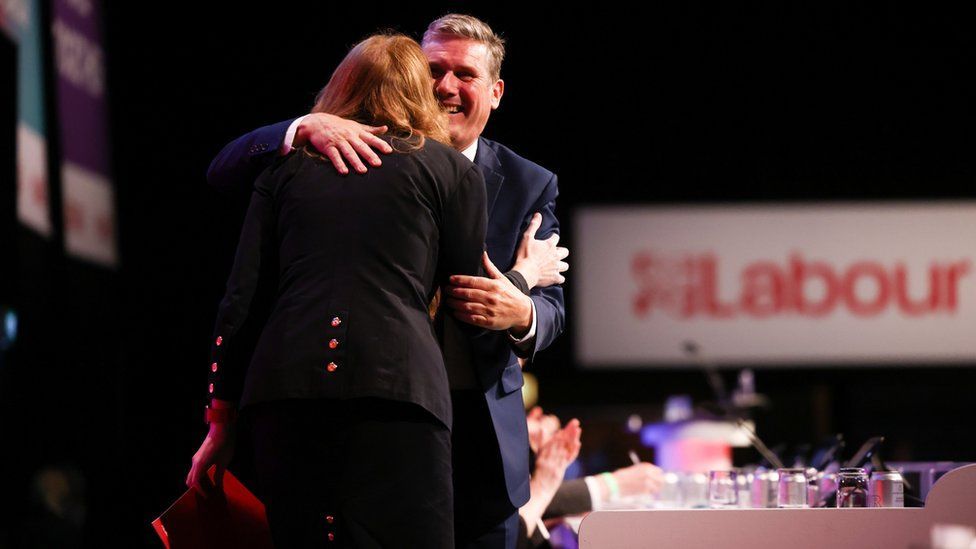 Labour argues this would prevent "exploitative employers from undercutting the many good employers" - pointing to the introduction of such agreements in New Zealand and some European countries.

The idea of fair pay agreements is one policy included in Labour's green paper on employment rights. Other proposals include:

* Increasing the minimum wage to £10 per hour for all workers
* Ensuring all workers - except the genuinely self-employed - have the same rights including sick pay and protection against unfair dismissal from their first day in employment
* Giving all employees the right to flexible working
* Ending "fire and rehire" practices
* Banning zero-hour contracts
* Increasing statutory sick pay and making it available to the self-employed and those on low wages.

Labour's deputy leader also confirmed social care would be the first sector to go through the fair pay process.

'Driving mission'

Ms Rayner - who is also Labour's shadow secretary for the future of work - argued that fair pay agreements would "stop bad bosses from exploiting their workers and driving down pay".

She also told BBC Breakfast that better pay and working conditions would ease pressure on employers by boosting staff retention and cutting the number of working days lost to sickness.

"Having good employment practices... means that you have good staff retention (and) those skills are retained within the organisation," she said.

In her speech, she also said the fair pay agreements would "drive up pay, improve conditions in the workplace and stop bad bosses from exploiting their workers", and that that ending "poverty wages and insecure work" would be the "driving mission of the next Labour government".

Welcoming the proposal, TUC leader Frances O'Grady said: "Giving workers and their unions more power to bargain collectively is the best way to improve pay and working conditions across Britain."

Ms Rayner's speech marked the beginning of Labour's annual conference - Sir Keir's first in-person conference since he became leader in 2020.