Amazon is continuing to investigate after high-value orders were switched for cheaper products before delivery.
Items such as cameras, watches and mobile phones were replaced with cat food, condoms and balloons, a BBC investigation has shown.

Some victims were denied refunds until the BBC put their complaints to Amazon.

It said it was "working tirelessly" to make changes to processes so it could improve customer experiences.

More than 40 people got in touch with the BBC in response to the story of a Salisbury man whose £1,400 camera and lens was swapped for cat food.

Some of items ordered - and received - by customers

* Nick: Computer monitor, got handbag

* Heather: Graphics card, got face masks

* Phil: iPhone, got cat repellent

* Alex: Earphones, got toilet cleaner

* Leo: Laptop, got Ikea lamp

One customer was Annabell Kesby, from Leeds, who ordered a Google smart watch for £380 in March.

"I opened the box to find condoms," they said.

"I called Amazon to complain and they sent me an email saying that I had made a large number of refund requests so they were investigating my account.

"I felt as though they were labelling me as a criminal and a liar."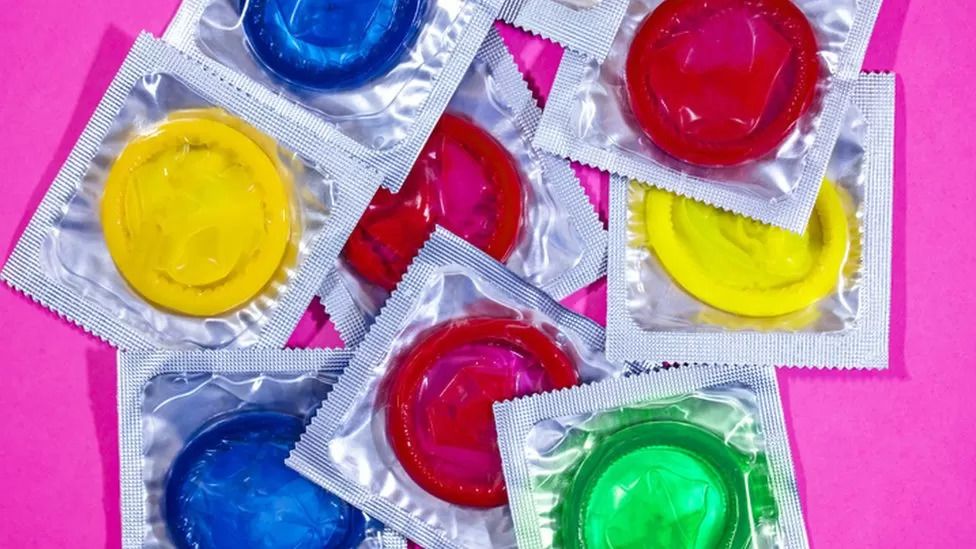 The contents of the package caused Ms Malhotra "to freak out"

Mx Kesby who has autism, said they suffered several panic attacks and sleepless nights, after they were told they would not be getting a refund.

After the BBC put their complaint to Amazon, they were offered a refund.

Sumit Malhotra, from London, received a pack of balloons and stickers after she ordered a £2,000 MacBook Pro computer from Amazon in February.

"I really freaked out when I saw the balloons," she said.

"I phoned Amazon to complain, but they didn't take me seriously."

Ms Malhotra contacted the Metropolitan Police and was given a crime reference number.

She was told by Amazon she needed to wait until its own investigation was complete before she could be refunded.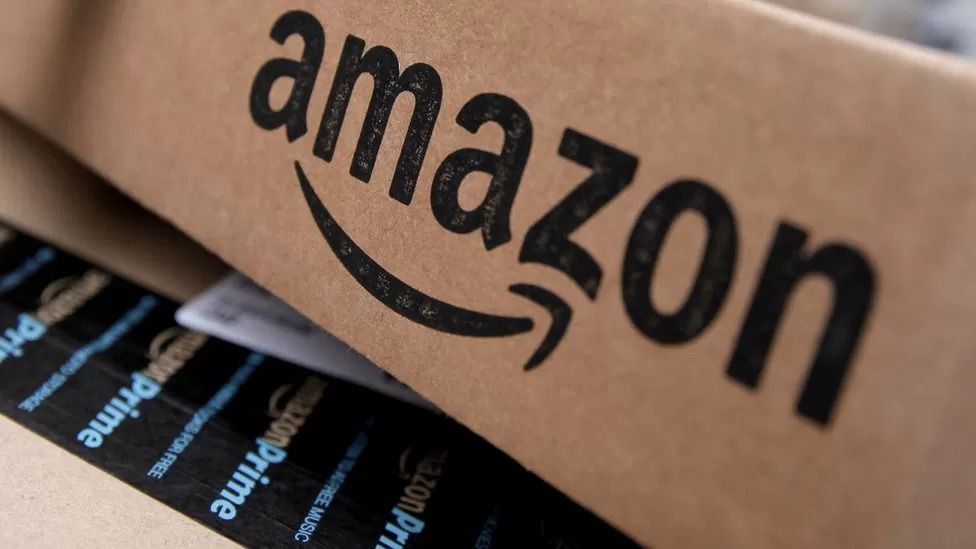 Amazon customers have been contacting the BBC with their experiences

Amazon said it had since offered Ms Malhotra a refund.

"Customer satisfaction is our utmost priority, but we recognise we're not perfect," an spokesperson said.

"We are sorry that these customer experiences did not meet the high standards we expect."

The Metropolitan Police said no suspects were identified in this case and the crime report had since been closed.

"The matter can be reopened if further evidence comes to light," a spokesperson added.

Another customer, Harry Wilson, a doctor from London, ordered a Samsung Galaxy laptop for £500 in January.

He received a parcel containing greaseproof bags and a children's colouring book.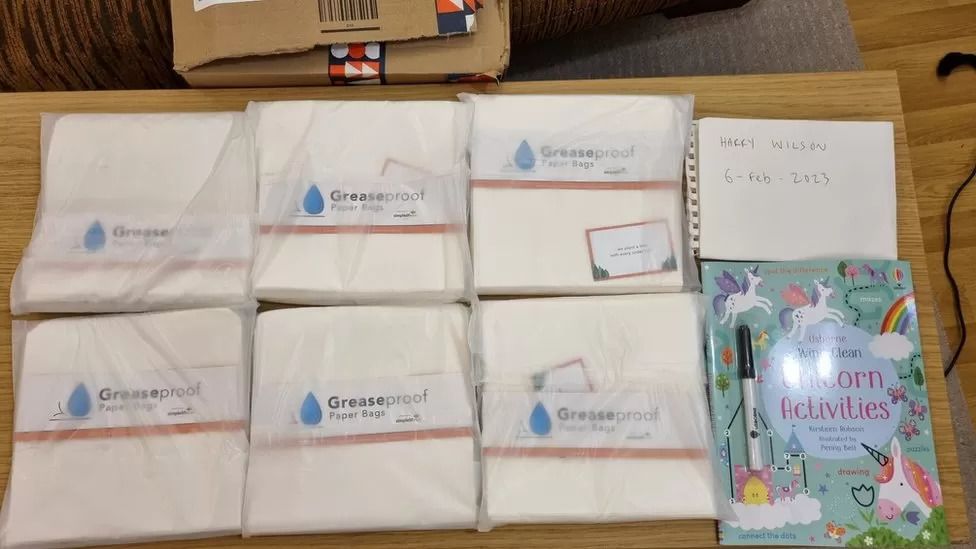 Harry Wilson reported the incident to the Met

"I sent multiple emails to Amazon, and they essentially concluded that they were not responsible because I had given the one-time pass code to the driver," he said.

He also reported the incident to the Met.

"Overall, I sent more than 30 emails to Amazon, and spent hours on phone calls," Dr Wilson said.

"I am an NHS worker so I really do not have so much time to waste."

Matt Haywood, from Cornwall, ordered an iPad and keyboard for more than £400 last year.

He received a toy digger and some plastic toy building plates.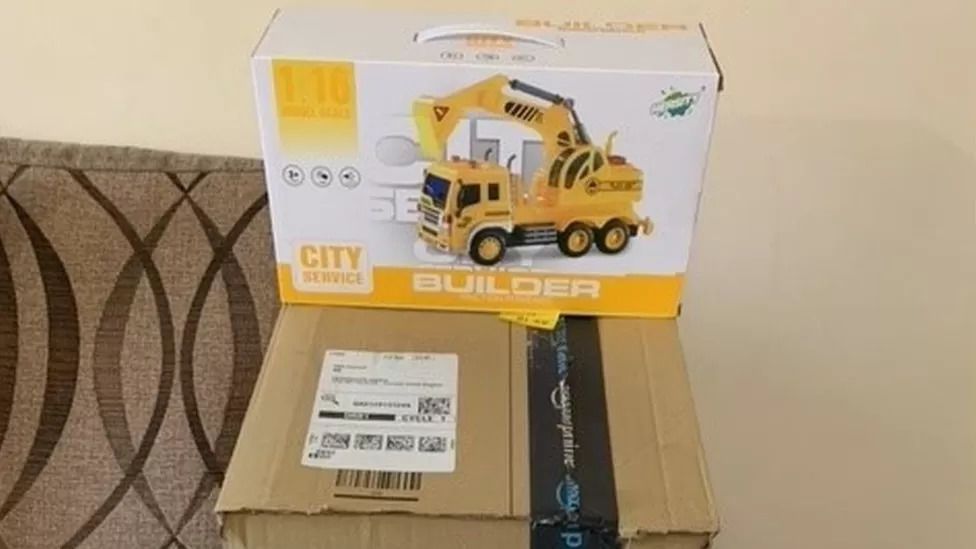 Mr Haywood was surprised to find a toy digger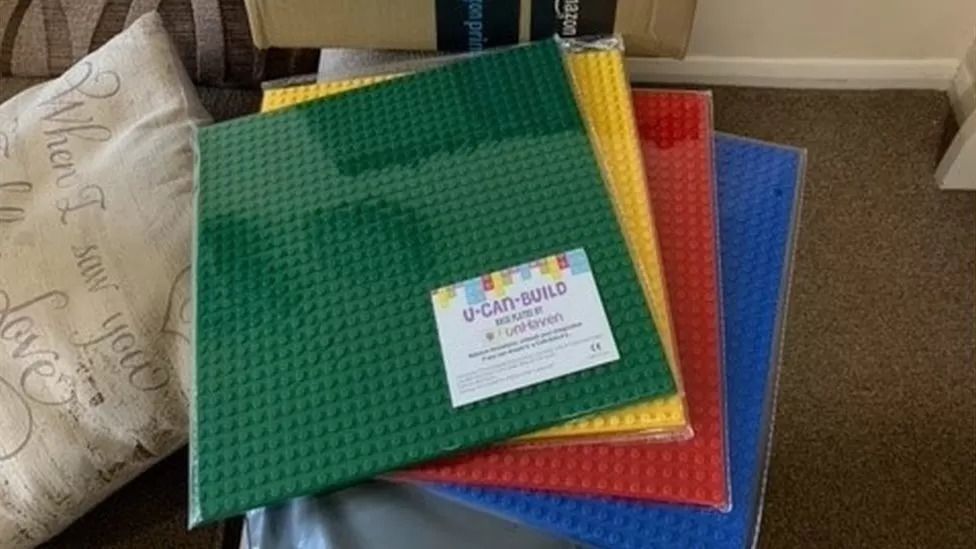 Some plastic toy building plates were also inside the box

"I was absolutely fuming and was left out of pocket while they investigated it," said Mr Haywood.

"I eventually received a refund after lots of complaining."

Amazon said the customers identified by the BBC have since received or been offered refunds.

"We work hard to protect customers, selling partners and Amazon from abuse and we have systems in place to detect suspicious behaviour," a spokesperson added.