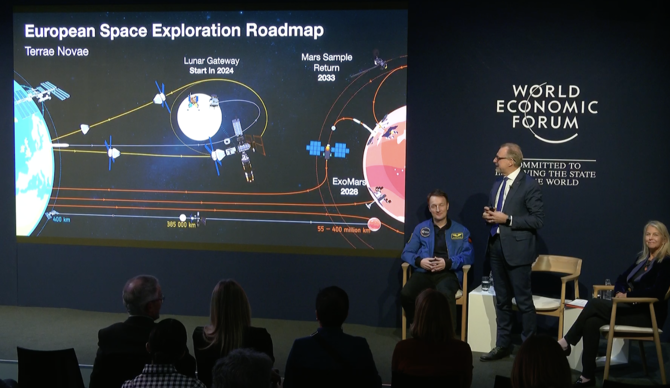 Advances in space exploration 'out of this world,' Davos forum told
Space technology is being used to explore and explain the creation of the universe, Josef Aschbacher, director-general of the European Space Agency, told the World Economic Forum in Davos, Switzerland.
Speaking in a discussion on how space technology is helping humankind understand its beginnings, Aschbacher on Thursday said that the James Webb Space Telescope, for example, is "looking back at the very origins of the universe."

He added: "This is as close as we can get to really explore, see, the creation of the universe, or how it looked like in the very early days, and therefore better understand where we come from."

Aschbacher displayed an image of the Pillars of Creation, revealing vast trunks of interstellar gas and dust in a distant nebula.

The photograph, taken by NASA, the European Space Agency and Canadian Space Agency using the James Webb Space Telescope, shows that "space is international," he said.

Aschbacher said that record funding for the ESA shows that EU government ministers recognize space exploration as a strategic activity where investment is crucial.

Programs include journeys to the International Space Station, where ESA cooperates with NASA and other space agency partners, as well as missions to the moon and Mars.

Discussing moon exploration, Matthias Maurer, an ESA astronaut, said: "We need more powerful rockets and we need better technology."

The ESA plans to install a new space station orbiting the moon before landing there, he added.

The space station, known as the Lunar Gateway, will also provide information on future travel to Mars.

"Flying to Mars is, in theory, possible today with the technology we have," he said.

However, "mastering the moon mission" will be important before moving on to the distant planet, Maurer said.

Aschbacher said that with the planned Argonaut, also known as the "space truck," astronauts will be able to carry more equipment to the moon in order to establish a base.

"The Argonaut spacecraft can bring 1.5 tons of mass to the moon, which can be equipment, experiments, power generators — whatever you will need in order to establish a base," he said.

Argonaut is expected to be ready for launch by the end of 2030, he added.