William and Kate express their heartbreak over earthquake devastation, supporting DEC appeal with a personal donation. A British aid worker notes the unprecedented level of suffering, loss of life, and destruction, as the royal couple takes action by backing the relief efforts through their generosity.
The Prince and Princess of Wales have told of their "horror" at the devastation wreaked by earthquakes in Turkey and Syria as they backed a massive UK fundraising appeal.

The royals spoke out as British expats, aid workers and celebrities urged people to send money to the Disasters Emergency Committee (DEC) appeal "for the sake of humanity".

In a tweet, William and Kate said: "We have been horrified to see the harrowing images coming out of Turkey and Syria in the aftermath of the earthquakes this week.

"Our thoughts are with the communities affected and we are pleased to support the @decappeal campaign which will aid the response on the ground."

The 7.8 magnitude quake which hit on Monday has killed more than 19,000 people – with the UK International Search and Rescue Team (UK-ISAR) still finding survivors three days later.
The DEC launched its appeal for funds with the support of celebrities such as Daniel Craig, Sir Michael Palin, Tamsin Greig and the Rev Richard Coles.
One British aid worker, Global Relief Trust's head of development Atiqur Rahman, told the PA news agency he had never seen "this level of suffering, death and destruction".
Saleh Saeed, chief executive of the DEC, told a press conference millions of people in Turkey and Syria are in "desperate need" of aid.
The Prime Minister said the Government will match £5 million in funds raised through an appeal to help the rescue and relief effort in the aftermath of the earthquake.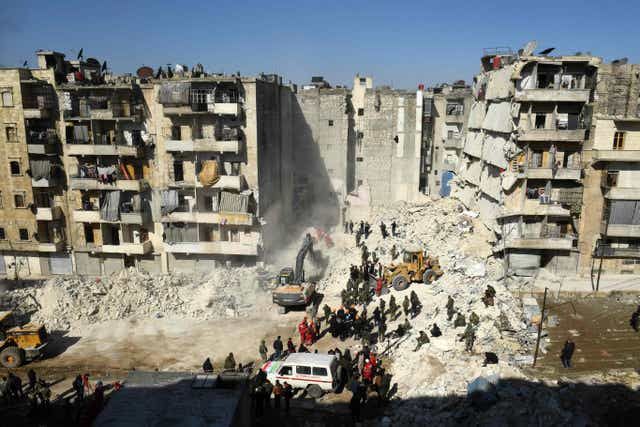 Syrian soldiers look on as rescuers use heavy machinery sift through the rubble of a collapsed building in the northern city of Aleppo
Also urging people at home to donate, Mr Rahman told PA: "No-one is saying donate thousands of pounds but donate something – be involved for the sake of humanity."
Debs Handy, 59, moved to Turkey in 2020 and said she was "galvanising our friends and family in the UK to send us money" so they could go shopping on behalf of those left "sleeping in cars".
She told PA: "We're all galvanising our friends and family in the UK to send us money so we can go shopping on their behalf.
"Please give, if you don't know anyone in Turkey just keep giving in the UK, it will still be needed – but if you know someone in Turkey get the money over here, tell them to go shopping for you."
More than 70 ISAR-UK volunteers are currently taking part in the rescue effort, and on Thursday they tweeted to say they had recently managed to rescue two women, aged 60 and 90, from the rubble, and reunite a mother with her child.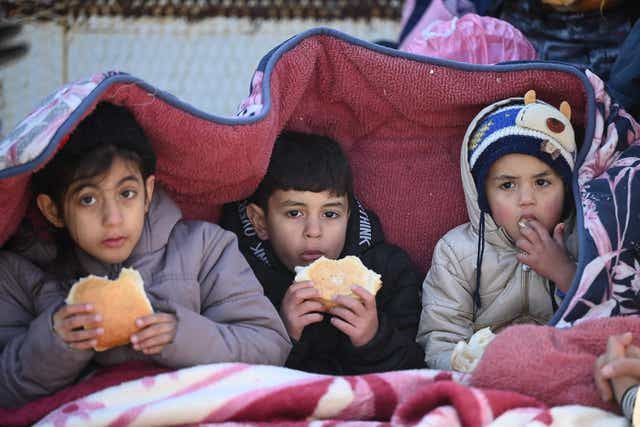 Children eat bread as they sit under a cover in the southeastern Turkish city of Kahramanmaras
However, smaller search crews have spoken of a "frustrating" delay in flying out to help.

Martin Phillips, who volunteers with Wiltshire-based Serve On, said he was part of a 13-strong team flying out to Turkey from London Stansted airport on Thursday to assist with the rescue effort.

Speaking about the delay, he told PA: "It is frustrating. It's nobody's fault as such – the Turkish authorities wanted medium and heavy teams in first.

"Normally, the light teams get in first and lay the pathway for the bigger teams coming in.

"That's not how it's worked this time, but that's for others to decide whether that was a way forward or whether it was better for light teams to come in.

"We just put in our applications, told people what we can do and we've been pushing to get in – now we can."

The first 7.8-magnitude quake hit the Turkish city of Gaziantep in the early hours of Monday, reducing thousands of homes and buildings across the south of the country and northern Syria to rubble as people slept.

A series of aftershocks has left tens of thousands of people injured and survivors are feared trapped under thousands of collapsed buildings.

On Tuesday, Foreign Secretary James Cleverley said the department's Crisis Response Hub is working to support at least 35 Britons caught up in the disaster – including three who were missing.

When asked how he would encourage Britons who might be struggling with the cost of living to donate to the appeal, Mr Saeed emphasised the "brutal" impact of the earthquake on people's lives.

He said: "We have got to position ourselves in the situation these families find themselves in.

"Their lives have been brutally turned upside down, they've lost family members, they've potentially lost their jobs, schools have been destroyed, hospitals have been destroyed.

"They have lost all their possessions and they are now reliant on the support of other people so whatever we can give, however small it is, is going to go a long way to helping those families.

"I am sure if we found ourselves in their position we would hope and expect that others around the globe would want to reach out to help us."

Relief efforts have been hampered by damaged infrastructure, freezing winter temperatures and limited medical facilities.

Serve On is part of the European Association of Civil Protection Voluntary Teams, and Mr Phillips said fellow crews from across Europe had told them it was "chaos".

He said: "They're feeding back to us a picture of what it's like – it sounds like the usual chaos.

"You can't have a disaster on this scale without everything falling over and being in a mess and it takes time to unravel that."

The Syrian volunteer organisation White Helmets said "time is running out" as "hundreds of families" remained trapped under the rubble.

In a tweet, they said: "We are at a critical point. Time is running out, hundreds of families are still stuck under the rubble.

"Every second means saving a life."