Countries such as Singapore and Israel have already started to administer a third jab to some citizens but Hong Kong is still conducting studies on such a move.
Hong Kong could find it difficult to secure extra doses of Covid-19 vaccines for a booster shot for residents because of its existing surplus of jabs and slow procurement procedures, experts have warned.

Medical advisers earlier this month recommended the government give a booster shot to the elderly and immunocompromised residents at some stage but without giving a specific timetable, although countries such as Singapore and Israel have already started to administer a third jab to citizens.

Some local politicians, including members of the chief executive's de facto cabinet, obtained a third dose as part of a trial by a private hospital after their antibody levels dropped significantly, making some wonder whether ordinary residents should also get an extra shot soon.

But the head of a pharmacists' body and public health experts interviewed by the Post said it would not be easy for Hong Kong to increase its vaccine supply even if it decided to offer residents a third dose.

"Other countries have already purchased extra doses and administered the booster, while Hong Kong is acting slowly and still waiting for local data," Society of Hospital Pharmacists president William Chui Chun-ming said. "If we only start our negotiations with pharmaceutical firms after obtaining the results of local data, it will be too late."

While Hong Kong is conducting several studies to assess the effectiveness and immune response of a third dose, many developed countries have already taken action, ordering extra vaccines and even administering boosters.

Israel, which had one of the fastest vaccine roll-outs in the world, in April ordered 16 million more doses from manufacturers Pfizer and Moderna for its 9.3 million population. It is also among a few countries offering booster shots to every fully vaccinated person.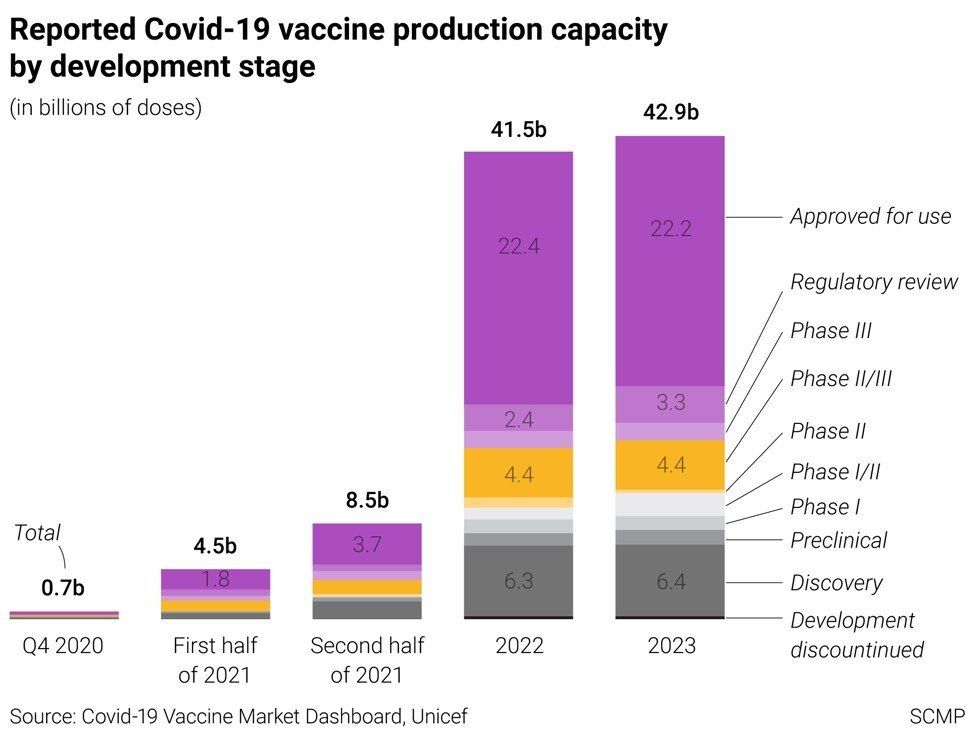 Britain also secured 60 million shots in April for its booster programme, which started earlier this month. In Asia, Singapore began giving out booster shots from September 15.

No deal has been struck between the Hong Kong government and manufacturers on procuring additional supplies. The Food and Health Bureau earlier said it would keep an eye on the global situation on booster shots, and maintain close liaison with drug companies.

Seven months on from the launch of Hong Kong's vaccination campaign in February, just 4.47 million people, or 59.5 per cent of the 7.5 million population, have received at least one shot. The elderly, prioritised for vaccine protection, have the lowest inoculation rates of all groups. Just 39.8 per cent of people in their 70s and 14.3 per cent of those aged 80 or older have received at least one shot.

The low vaccination rate has meant Hong Kong is still sitting on about 2.2 million doses of the German-manufactured BioNTech vaccine and 4.4 million Chinese-made Sinovac shots, including batches yet to be delivered to the city. The government originally procured 7.5 million doses for each brand.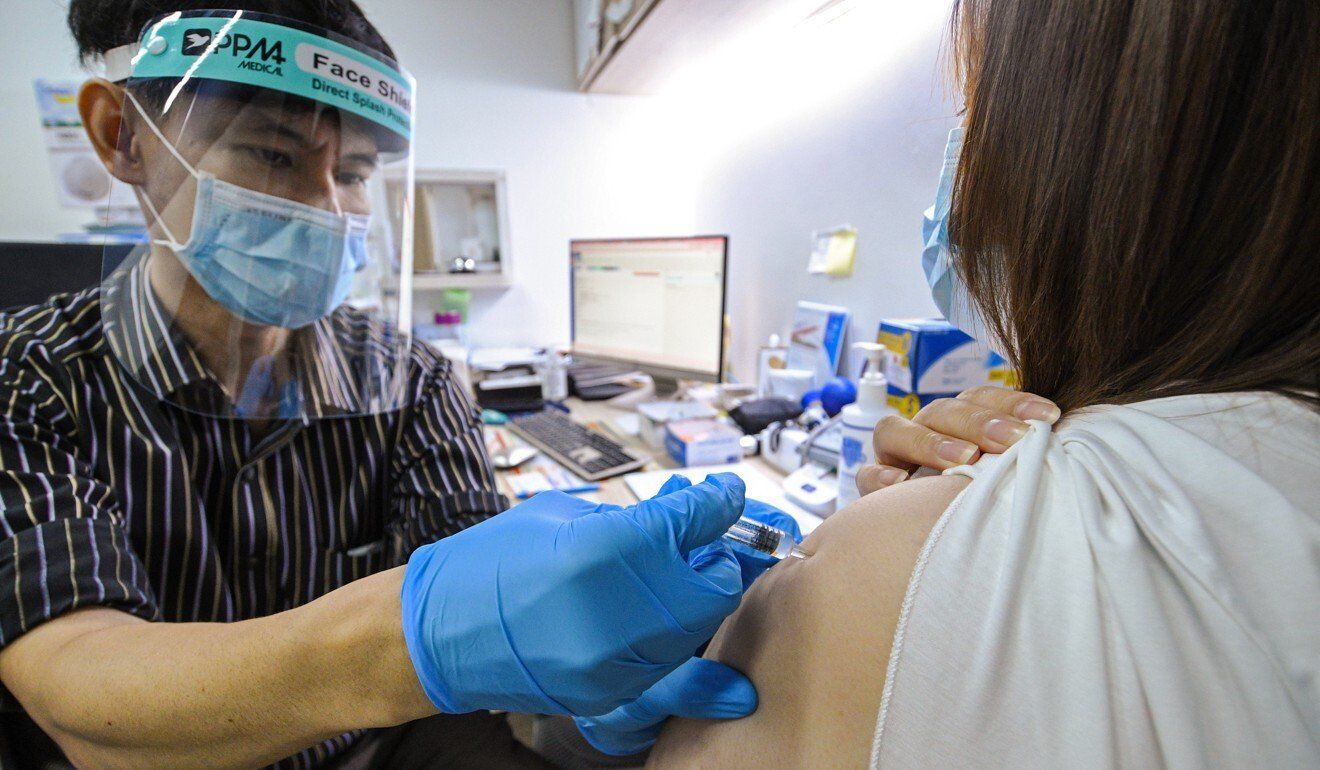 Singapore has started providing a third jab to residents.

Professor Benjamin Cowling, a public health epidemiologist at the University of Hong Kong (HKU), said the city's lacklustre vaccines uptake might hinder its bid for booster supplies especially if it ended up having to donate or sell some of its excess supplies.

But government pandemic adviser Professor Keiji Fukuda, head of HKU's school of public health, warned of potential wastage if procurement was made too early.

"If immune protection provided by the first vaccination remains good, and if Covid-19 vaccines are changed by manufacturers in the future to keep up with evolving changes among Covid-19 viruses, then vaccine purchased too early is likely to be thrown out and wasted," he said.

"I think the Hong Kong government does not need to hedge bets right now and order more vaccine to assure future availability."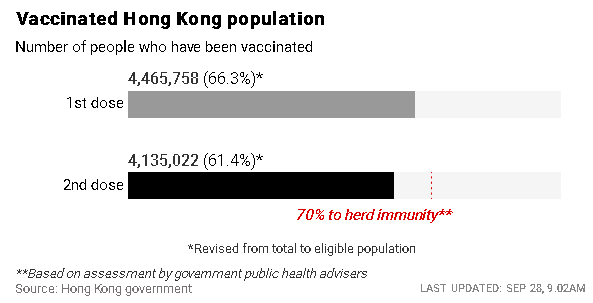 He and some other experts, including those from the World Health Organization, said vaccines should be distributed fairly globally while the debate on booster shots was going on.

"It is one of the terrible ironies that some countries are debating whether to administer a third dose, while others cannot get enough vaccine for the first doses," he said.

Karen Grepin, a health economist from HKU, said that given the global shortage of vaccines at the moment and a low case count in Hong Kong, additional doses should be spent in other places rather than as boosters in the city.

"Hong Kong's priority should be to ensure that everyone here gets fully vaccinated before we spend a lot of energy on rolling out boosters," she said.

The uneven distribution came despite optimistic estimates on vaccine supply. According to data from Unicef, which helps with the Covax Facility, an international vaccine distribution platform co-led by the WHO, global Covid-19 vaccine production capacity was predicted to jump from 8.5 billion doses in the second half this year to 41.5 billion in 2022. The figure was likely to further rise to 42.9 billion in 2023, five times the current global population.

But Cowling said it was almost impossible to assess whether Hong Kong could secure more supply, given the scarce data on production and procurement of Covid-19 vaccines.

"All manufacturers have an interest in keeping this information private from their competitors mostly, so no one would get this market sensitive data," he said.

Yet he said he believed capacity globally would go up. "There will definitely be more supplies next year than this year at this point in time."

In various parts of the world new production plants are springing up, including a mainland China facility jointly run by Fosun Pharma and Germany's BioNTech, which is expected to supply up to 1 billion doses per year. Japan is also on the path to developing home-grown coronavirus vaccines.