Several key Conservative Party have come out in public support of their preferred new Prime Minister.
There will likely be three names on the ballot as the race to No 10 restarts on Monday.

The resignation of Liz Truss, and the search for her replacement, has led to a flurry of lobbying between Tory camps.

Boris Johnson is back in the UK, Rishi Sunak is said to already have 100 backers and Penny Mordaunt – the only confirmed candidate so far – has released a new campaign video ahead of next week.

Candidates will have until 2pm on Monday to secure 100 nominations.

As the days dwindle until the crunch deadline, and lobbying gathers pace, who is backing who?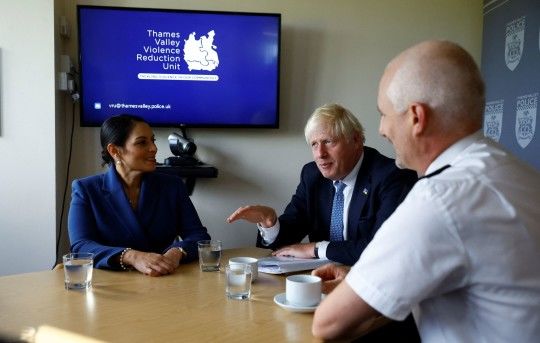 Priti Patel has thrown her support behind Boris Johnson and his 'proven track record'

The former Home Secretary, who resigned last month, has pledged her support to her former boss.

Ms Patel and Mr Johnson worked alongside each other on some key, and controversial, policies.

The introduction of their plan to deport people who arrive in Britain outside of the legal channels to Rwanda faced major backlash.

Ms Patel tweeted today: 'Boris has the mandate to deliver our elected manifesto and a proven track record getting the big decisions right. I'm backing him in the leadership contest.'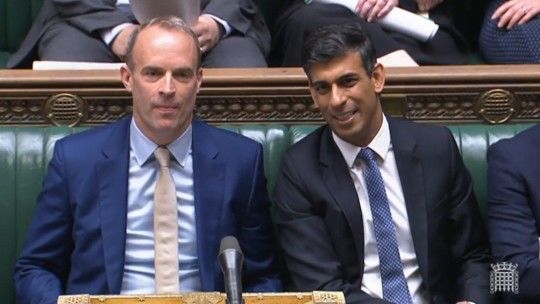 Dominic Raab has been vocal with his support for Rishi Sunak, and his worries about a potential return of Boris Johnson

Dominic Raab has thrown his support behind Rishi Sunak, stating he has the 'plan and credibility' the country needs.

He has also been vocal in his opinion on whether Mr Johnson should be handed back the keys to No 10.

The former PM still faces an investigation by the Commons Privileges Committee over claims he lied to Parliament over lockdown parties in Downing Street.

Mr Raab told the BBC: 'The challenge is this Committee on Privileges and Standards is entering a new phase, there's going to be oral testimony from people from Number 10.

'We cannot go backwards. We cannot have another episode of the Groundhog Day, of the soap opera of partygate. We must get the country and the government moving forward.'

Jacob Rees-Mogg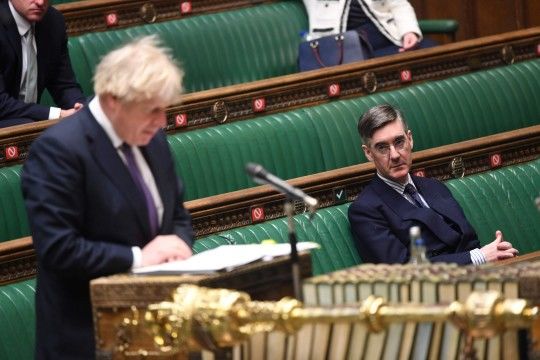 Jacob Rees-Mogg has pledged loyalty to Boris Johnson

Mr Rees-Mogg has said Tory party members should decide who is the next leader rather than MPs, telling the Daily Telegraph's Chopper's Politics podcast that returning Mr Johnson to No 10 would calm the stock markets.

The Business Secretary added that doing so would mean the general election would not need to be held until late 2024.

Mr Rees-Mogg said: 'I'm always in favour of the members deciding the leadership – I think that's the right place for it to go. And I think the 1922 Committee and the Board of the Tory Party have done really well to get it to a position where that can be done swiftly. I'm in favour of it going to the membership.'

He went on to say that it was 'an error' for Tory MPs to dump Mr Johnson, adding: 'Boris Johnson's attraction is that he is a big, charismatic political figure who is able to get things done and who is able to connect with voters in a way that no other politician of this era can.'

Andrea Leadsom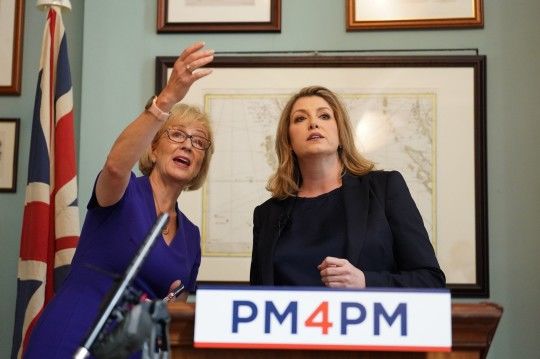 Penny Mordaunt has won the support of Dame Andrea Leadsom

Dame Andrea Leadsom has backed Penny Mordaunt with her fresh attempt to become Prime Minister.

The former cabinet minister took to Twitter to voice her support for the only candidate who, so far, has announced their bid to run.

Dame Leadsom cited Ms Mordaunt's 'compassion' and 'determination' in her short tweet.

She wrote: 'Penny has the experience, the compassion and the determination to lead our country to a bright future', before adding the hashtag #PM4PM.

Sajid Javid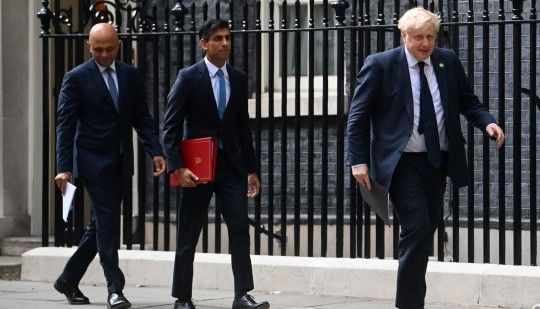 Sajid Javid says it is 'abundantly clear' Rishi Sunak should be handed the keys to No 10

Former British finance minister Sajid Javid has endorsed Rishi Sunak to be the next Prime Minister.

He argued it was 'abundantly clear' the former chancellor 'should be the next Prime Minister'.

The pair resigned with minutes of each other earlier this year, a move that paved the way for the demise of the Johnson leadership era.

On Twitter, Mr Javid wrote: 'It is abundantly clear that Rishi Sunak has what it takes to match the challenges we face – he is the right person to lead our party and take the country forward.

Nadine Dorries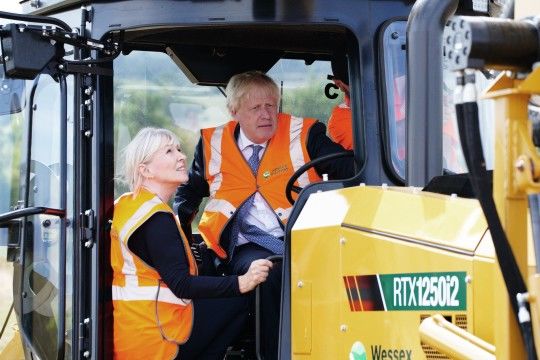 Nadine Dorries says Boris Johnson is 'the one person Labour fear most'

A staunch ally of Mr Johnson, it's no surprise who Ms Dorries has pledged support to.

The MP Mid Bedfordshire tweeted: 'The boss is back.

'The man who broke the Brexit deadlock, delivered the first Covid vaccine, supported Ukraine when no one else would.

'The one person Labour fear the most is Boris Johnson #BringBackBoris.'

Ben Wallace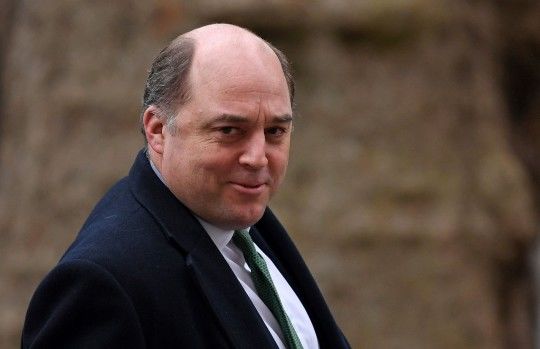 Britain's Defence Secretary is leaning towards Boris Johnson

Boris Johnson appears to have also won the backing of Ben Wallace.

The defence secretary, who ruled himself out of the contest earlier this week, was questioned on his preferred candidate on Friday.

Mr Wallace revealed he would 'lean towards' supporting Mr Johnson.

He added: 'I think he will still have some questions to answer about that [Partygate] investigation.

'He got a mandate and I think that's an important thing for all of us to bear in mind.'

Kemi Badenoch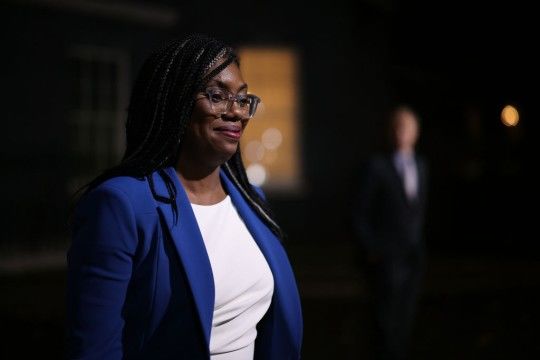 Kemi Badenoch signalled her support for Rishi Sunak in an emphatic opinion piece

Kemi Badenoch, the international trade minister with immense sway over the Tory right, came out swinging for Mr Sunak Saturday evening.

Writing in The Sunday Times, the former leadership hopeful said that the Johnson of today faces far different challenges to those he conquered in 2019.

'With Brexit done, Jeremy Corbyn gone, inflation let loose and Covid having ravaged the economy, what we need is not nostalgia for the cavalier élan of 2019,' she said.

She added: 'Mrs Thatcher won the public's trust and three elections in a row by making it about us, not about her.

'We need someone who can do the same. I believe that person is Rishi Sunak.'

In total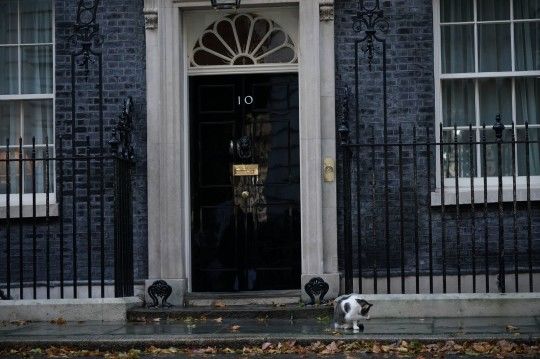 Larry the cat surveys the scene outside No 10 Downing Street

According to the PA news agency – here are how many public backers each candidate has.


Rishi Sunak (yet to formally declare) – 100

Sir Bob Neill, Mark Harper, Liam Fox, Gavin Williamson, Simon Baynes, Sir Robert Syms, Simon Hoare, Richard Graham, Rehman Chishti, Damian Hinds, Crispin Blunt, Julian Sturdy, Andrew Bowie, Greg Clark, John Glen, Robert Halfon, Robert Jenrick, Guy Opperman, Claire Coutinho, Siobhan Baillie, Angela Richardson, Robin Walker, Mel Stride, Mark Garnier, Jo Gideon, Jonathan Djanogly, Victoria Prentis, Andrew Bowie, Helen Whately, James Morris, Anthony Browne, Nick Gibb, Philip Dunne, Julian Smith, Richard Holden, James Daly, Nigel Mills, Mark Logan, David Rutley, Andrew Bridgen, Gillian Keegan, Chris Philp, Sajid Javid, Jonathan Lord, Lucy Frazer, Duncan Baker, Johnny Mercer, Julie Marson, Steve Double, Kevin Hollinrake, Paul Maynard, Anthony Mangnall, Simon Hart, Craig Williams, John Stevenson, Gary Streeter, Andrew Murrison, Dominic Raab, Simon Jupp, Bim Afolami, James Cartlidge, Fay Jones, Alex Chalk, Maggie Throup, Edward Timpson, Laura Farris, Huw Merriman, Simon Fell, David TC Davies, Stephen Hammond, Andrew Jones, John Baron, Andrew Mitchell, James Wild, Rebecca Pow, Jamie Wallis, Oliver Dowden, Miriam Cates, Alan Mak, Matt Hancock, Tom Tugendhat, Tobias Ellwood, Robert Largan, Paul Howell, Sir Peter Bottomley, Aaron Bell, Helen Grant, Caroline Nokes, David Johnston, George Eustice, James Gray, Jeremy Quin, Selaine Saxby, Desmond Swayne, Steve Brine, Richard Bacon, David Mundell, Steve Barclay, Oliver Heald, Sally-Ann Hart


Boris Johnson (yet to formally declare) – 41

Michael Fabricant, Leo Docherty, Paul Bristow, Andrea Jenkyns, Brendan Clarke-Smith, Jacob Rees-Mogg, Jane Stevenson, Sir James Duddridge, Nigel Adams, Tom Pursglove, Simon Clarke, Jonathan Gullis, Mark Pritchard, Shaun Bailey, Nadine Dorries, Sir Edward Leigh, Priti Patel, Trudy Harrison, Sheryll Murray, Alok Sharma, Marco Longhi, Andrew Stephenson, Christopher Chope, Amanda Milling, Jill Mortimer, Jane Hunt, Ian Levy, Ben Wallace, Anne-Marie Trevelyan, Antony Higginbotham, David Morris, Peter Bone, Scott Benton, Sir William Cash, Chris Heaton-Harris, Stephen McPartland, Matthew Offord, Karl McCartney, Gareth Johnson, Bill Cash, James Grundy


Penny Mordaunt – 20

John Lamont, George Freeman, Bob Seely, Caroline Ansell, Harriet Baldwin, Nicola Richards, Maria Miller, Caroline Dinenage, Andrea Leadsom, John Penrose, Robbie Moore, Kieran Mullan, Neil Hudson, Mary Robinson, Derek Thomas, Damian Collins, Craig Tracey, Marcus Fysh, Tracey Crouch, Heather Wheeler