The length of visas for people fleeing Ukraine to join relatives in the UK is to be increased from 12 months to three years, the government has announced.
Home Secretary Priti Patel said this would give those escaping the war certainty and more time to find work.

But Labour wants the scheme to be widened to include Ukrainian refugees without relatives in the UK.

The United Nations says more than one million people have left Ukraine since Russia invaded last week.

And the UK government has faced criticism that its scheme is not as generous as the EU's plan to allow all Ukrainian refugees to stay for up to three years.

The UK's initial offer was to allow refugees with immediate family members settled in the UK to come for up to 12 months without first having to seek asylum.

On Tuesday, the eligible group was widened to include parents, grandparents and siblings.

Ukrainian refugees urge UK to offer more support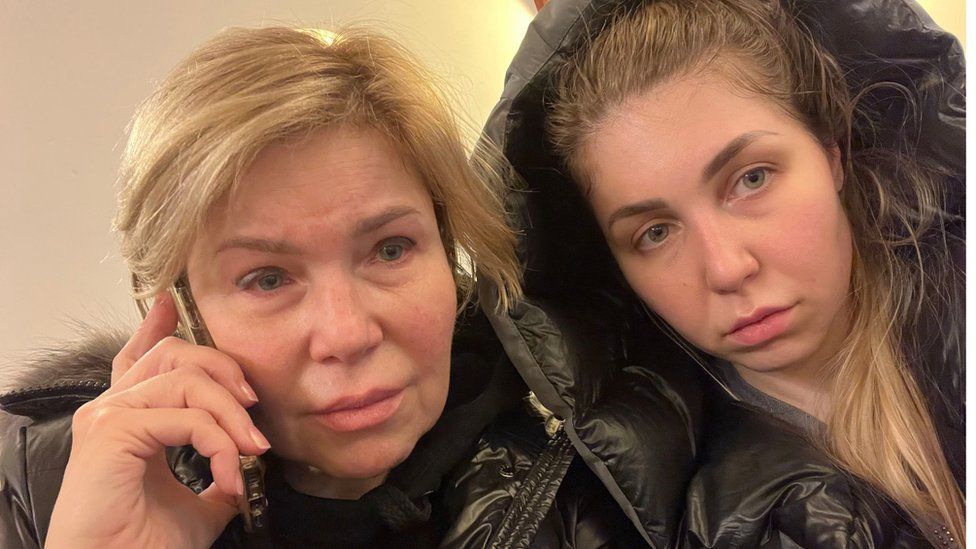 Iryna and Tania Shevereva had to flee bombing in Kyiv

Tania Shevereva, 30, and her mother Iryna sought refuge in the mountains when bombing began in Kyiv. They travelled for 28 hours through Slovakia to reach Prague in the Czech Republic.

Iryna has been with her British partner Jock Mendoza-Wilson long enough to qualify under the government's scheme.

But Tania does not think she will be able to join Iryna in the UK.

"Of course I want to be close to my mum. She has a problem with her heart and she is crying all the time so I am worried about her," says Tania, an art director.

"When you are close, you can check and you can make her comfortable. But if she is far away, I will worry much more."

Ms Patel announced the trebling of the UK visa period during a visit to a refugee registration centre on the Ukraine-Poland border on Friday.

"We are giving people certainty… that they can come and stay for three years, they have access to benefits and they have the chance to work," she said.

The Home Office has waived normal requirements for salary or language tests, but security checks will remain in place.

Earlier this week, Prime Minister Boris Johnson said up to 200,000 people could be eligible to come to the UK.

But Labour argues the criteria for the scheme are too narrow, as they do not allow people without relations in the UK to get emergency visas.

"Most [Ukrainians] want to stay close to home, especially those who have had to leave relatives behind, but the UK must play its part to help people seeking support and safety in our country too," said shadow home secretary Yvette Cooper.

Almost 650,000 people have gone from Ukraine to Poland since the war began, according to the United Nations.

Hungary has taken in almost 145,000 people, while Moldova has seen more than 103,000 arrivals.