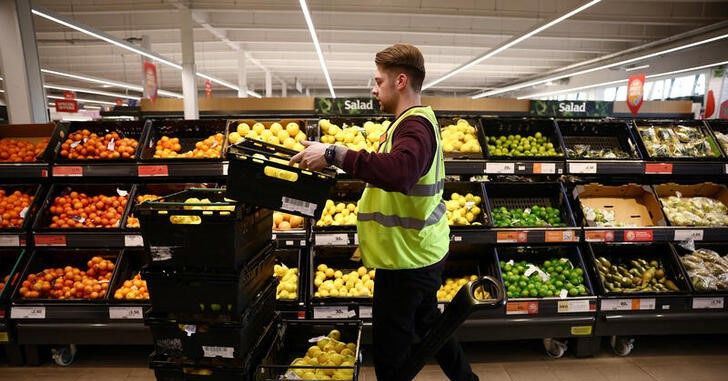 UK recession to limit 2023 growth in food retail sales to 5% -NielsenIQ
Weak confidence around personal finances and a squeeze on disposable income will hold back growth in food retail sales to around 5% in 2023, according to market researcher NielsenIQ.
In November, the Bank of England forecast Britain was heading into a long recession, with inflation, running at 10.7%, not returning to its 2% target until early 2024 and the government's budget watchdog predicted the biggest squeeze on living standards since records began in the 1950s.

"We also expect the recession to start to influence shopper behaviour and reframe overall retail spend," Mike Watkins, NielsenIQ's UK head of retailer and business insight said on Tuesday.

He said 2023 will be tough for UK households as 33% only have enough money for essential spending with just 5% able to spend freely. Consumers in the middle are those that live comfortably but still watch their wallets.

NielsenIQ said UK grocery sales rose 10.9% in the four weeks to Dec. 31 year-on-year, masking a drop in volumes when accounting for inflation.

It said supermarkets benefited from very cold weather in early December and also from continued rail disruption due to labour strikes which held back spend in the hospitality channels helping food retailers to gain "share of calories consumed" from the out-of-home channels.

Echoing data from rival market researcher Kantar published last week, NielsenIQ said discounters Aldi UK and Lidl GB were the best performers with sales growth of 19.3% and 15.7% respectively over the 12 weeks to Dec. 31.

Of Britain's traditional major supermarket groups, No. 2 player Sainsbury's (SBRY.L) was the best performer with sales up 8.5% over the 12 weeks, followed by market leader Tesco (TSCO.L) with an 8.0% sales increase and No. 3 Asda with sales up 7.9%. Morrisons was the laggard with sales falling 1.1%.

Marks & Spencer (MKS.L) also performed well with sales up 9.0%.

Tesco, Sainsbury's and M&S are all due to update on Christmas trading this week.

NielsenIQ said that while online sales rose 2.8% in December, its share of the grocery market fell to 10.4%, versus 11.2% a year ago.