Jabs for teenagers, booster scheme, flu shots and vaccine passports expected to be part of PM's winter plan
Britain must head into an "uncertain" winter fully prepared for a new wave of the pandemic, Boris Johnson will warn next week as he unveils a blueprint to avoid shutting schools and pubs again.

The prime minister's Covid winter plan will set out "contingency" measures – which could involve the reintroduction of some nationwide restrictions such as social distancing or masks – that would come into force if case numbers and hospitalisations begin to overwhelm the NHS again.

On Tuesday Johnson is expected to announce his plan for avoiding a full lockdown, including the introduction of Covid boosters and the biggest ever flu jab campaign, to be administered at the same time.

Government sources said they believed the boosters would be recommended only for elderly and vulnerable people in the first stage but stressed the NHS would be ready if advisers approved a wider introduction of third jabs for other age groups.

Johnson will also announce the rollout of Covid passports to access large, crowded venues such as nightclubs, and the UK's chief medical officers are next week expected to give the green light to vaccinate children aged 12 to 15.

A senior government source said of the winter plan: "We're going to approach it as we have done through the pandemic: be prepared. If cases become a problem and hospitalisations become a problem then we will act."

On Friday, 37,622 new Covid cases were reported, while 1,063 people were admitted to hospital with the virus across the UK and there were 147 coronavirus deaths.

The source added that the prime minister "desperately wants to avoid having to close anything" and the Covid winter plan was designed to avoid the need for another full lockdown.

"There's a great deal of uncertainty about what's going to happen. We need to be prepared, we need to have options ready to go. But we've got confidence in our vaccine programme, we'll have more details on boosters and hopefully kids next week, and we'll make sure we go into the winter fully prepared," they said.

No 10 is hoping the blueprint will appease Tory anti-lockdown rebels, who are already in revolt over the government's plans to extend emergency Covid powers for another six months, with a vote expected later in September.

One senior Whitehall source said Johnson's intervention "will do what we in government will call pitch rolling, trying to tell the public things are kind of OK but there may come a time between now and winter where we reintroduce certain measures".

"The PM doesn't want any measures but we can't rule it out – if we don't want another lockdown, we may have to use other options … [which] could be reintroducing social distancing, reintroducing face masks in some circumstances."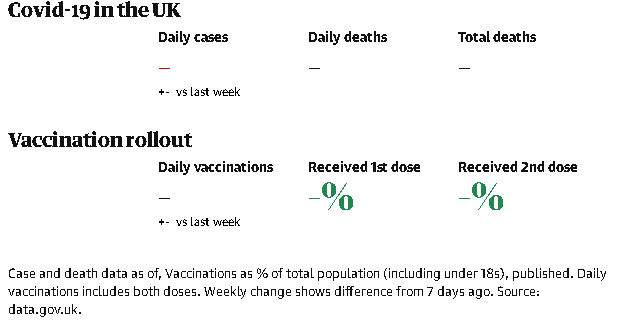 Setting out the government's thinking on the pandemic, the prime minister is likely to strike a more cautious note than he has done in recent months, warning the public to continue being careful as cases are rising. The hope within Downing Street is that people will take it upon themselves to take extra precautions without the need for formal restrictions.

Johnson's official spokesman said the country should be ready for the NHS to face a "difficult time" this winter.

The prime minister's Covid plan for England is expected to coincide with announcements from the Joint Committee on Vaccinations and Immunisation (JCVI) on booster jabs and from the UK's chief medical officers on the vaccination of schoolchildren aged 12-15.

The JCVI is understood to have agreed in principle to an autumn programme of boosters after lengthy discussions on Thursday, at which the panel was shown interim findings of the Cov-Boost study, which examined the efficacy of various vaccines given as a third dose to people who had previously had two AstraZeneca or Pfizer jabs.

The JCVI has already approved third injections for about 500,000 clinically very vulnerable adults and older children and it is possible it could simply extend this to people with other health conditions, or who are older.

The JCVI is also believed to have approved the idea of, where possible, booster jabs being given alongside the regular programme of annual flu vaccinations, which are also targeted at older people or those with health conditions.

Another study, known as ComFluCov, has been examining whether it is safe and effective to give both jabs together.