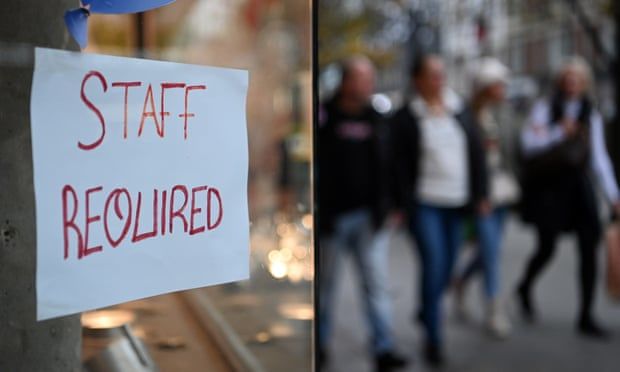 UK ministers consider worker health checks to tackle labour shortages
Government also looking into allowing more hospitality staff to come from abroad
Ministers are looking at bringing in annual health checks for workers and allowing more hospitality staff to come from abroad in an effort to deal with labour shortages.

The plans could involve giving companies subsidies for occupational health services to prevent workers going off long-term sick, as part of the government's review of the workforce to be unveiled alongside the budget this month.

Ministers have also asked the Migration Advisory Committee for advice on whether the hospitality, construction and retail industries should be on the list of sectors where there is a shortage of workers, helping them to recruit from overseas.

It is thought hospitality workers are the most likely to be put on the list, which makes it easier for staff to get jobs from abroad.

Jeremy Hunt ordered the workforce review amid concerns the economy is being held back by shortages of workers that have emerged since the pandemic and Brexit.

The health check plans, first reported by the Sunday Times, would form part of the workforce review conducted by the Department for Work and Pensions with input from the Department of Health and Social Care.

It was launched in an attempt to understand why there are about 600,000 more "economically inactive" people of working age than before the pandemic.

Under the proposal, there could be a trial of a new subsidy for small businesses, which will enable those who purchase occupational health services to claim back up to 80% of the costs from the government.

The review has also looked at childcare costs, which are a major barrier to working-age parents of young children entering the full-time workforce. Department for Education officials had submitted a plan for a free entitlement of 30 hours a week for working parents of children aged nine months to three years, after being asked to work up options by the Treasury.

However, the Treasury is thought more likely to opt for changes to universal credit, particularly giving parents upfront payments for childcare rather than them being left in arrears.

Labour's Jonathan Ashworth, the shadow work and pensions secretary, said Hunt should adopt Labour's plan for getting people back to work, which involves trying to lure people back via more flexible working arrangements and allowing jobcentre workers to meet them in different venues.

He said: "Jeremy Hunt's got a budget next week. He could implement my welfare reform plan, but if he doesn't, then the plan will be put into the public and into an election."

Hunt is thought to be reluctant to go for large giveaways at the budget, with Treasury sources repeatedly insisting he still does not have much fiscal headroom despite some economists estimating more exists.

With about £9bn of headroom expected, he is likely to move first on cancelling the rise in the energy bill guarantee, which is due to go up from £2,500 a year to £3,000 in April.