The offer includes a minimum pay rise of 9 per cent over two years, according to the Rail Delivery Group (RDG)
Train operating companies have made a "best and final offer" to the biggest rail workers union in a bid to break the deadlocked dispute over pay, jobs and conditions.

The Rail Delivery Group (RDG) said the offer to the Rail, Maritime and Transport union (RMT) included a minimum pay rise of 9 per cent over two years and guaranteed no compulsory redundancies until at least the end of December 2024 - an improvement on the previous offer of April 1 that year.

RMT general secretary Mick Lynch said the union's executive will consider the offer and decide its next steps "in due course".

An RDG statement said: "The offer, made through an outline framework agreement, would allow the industry to adapt to significant changes in the ways in which passengers use the railway, while offering rewarding and varied careers for staff.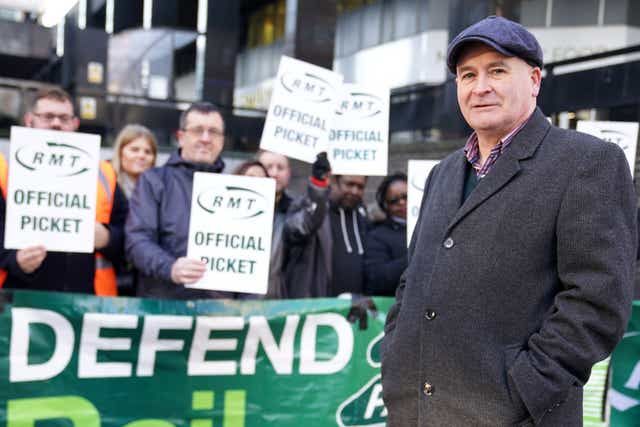 RMT general secretary Mick Lynch says the union will consider the offer
"If accepted, it would help recover the industry's finances post-
covid
, reducing the burden on taxpayers at a time of significant pressure on public spending."
A deal with the RMT would be seen as a major breakthrough, with the union's 40,000 members across Network Rail and 14 Train Operating Companies taking industrial action since June.
The most recent 48-hour walkouts took place just a fortnight ago and brought chaos to the nation's rail network.
Train driver RMT members at 14 rail operators will take strike action on February 1 and 3 over jobs pay and conditions.
Under the offer, staff who are paid below a certain threshold will receive a guaranteed £1,750 in year one, ensuring that lower paid employees benefit most.
Pay would be backdated to the relevant 2022 pay award date with employers, enabling staff to benefit from a lump sum payment in the first available pay run.

RMT said in a statement on Thursday afternoon: "Rail union RMT today received a new offer from the Rail Delivery Group (RDG) following negotiations in the national rail dispute.

"The union's NEC will now consider the detail within the offer and what next steps to take.

"The proposals include detailed documentation covering a range of issues that affect all of our grade groups at these 14 companies and will require serious and careful consideration.

"The proposals on pay and job security are directly conditional on cost savings and alterations to contractual terms, entitlements, and working practices."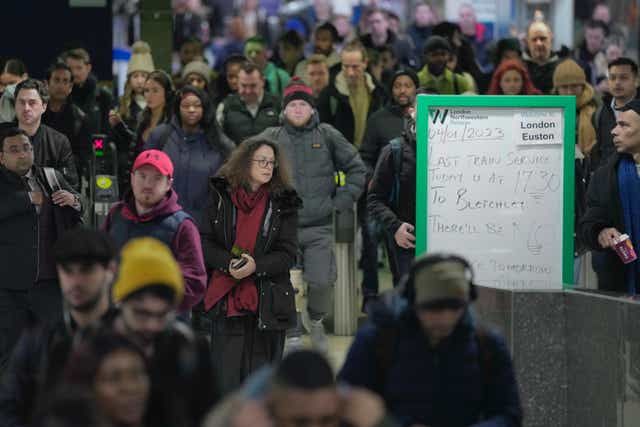 Passengers at a London station pictured as the RMT union staged a fresh round of strikes earlier in January

RMT general secretary Mick Lynch said: "The National Executive Committee will be considering this matter and has made no decision on the proposals nor any of the elements within them. We will give an update on our next steps in due course."

A Department for Transport spokesperson said: "These strikes have gone on for far too long and this is a step in the right direction.

"This fair and reasonable offer guarantees employees a pay rise in line with the private sector and no compulsory redundancies, while delivering the reforms needed to address the long-term challenges facing the industry.

"We encourage the RMT to put this new offer to its members and bring this dispute to an end."