Three years after its departure from the European Union, Britain is yet to benefit from the Brexit dividend that was promised for its economy as it lags its peers on multiple fronts, including trade and investment.
Three years after its departure from the European Union, Britain is yet to benefit from the Brexit dividend that was promised for its economy as it lags its peers on multiple fronts, including trade and investment.

Britain exited the EU on Jan. 31, 2020, though remained in the bloc's single market and customs union for 11 more months.

On that day, then-Prime Minister Boris Johnson said the country could finally fulfil its potential and that he hoped it would grow in confidence with each passing month.

So far, the opposite has happened, with a range of indicators showing under-performance compared with other economies.

Opinion polls show Britons who regret leaving the EU increasingly outnumber those who do not. A survey published on Monday by news website UnHerd showed this was now the case in all but three of 632 parliamentary constituencies analysed.

The government, led by Brexit-supporting Prime Minister Rishi Sunak, says Britain is prospering with new-found freedoms.

Last week, finance minister Jeremy Hunt challenged the talk of decline and said Brexit offered a brighter future with room for measures that will attract investment in areas such as the green economy and tech.

Many economists say leaving the EU is not the sole cause of Britain's woes - the country was hit hard by the coronavirus pandemic and the surge in gas prices after Russia's invasion of Ukraine - but it is a factor that can help explain recent underperformance.

"It's been more than a slow burn. It's been a serious reduction in economic performance," said John Springford, deputy director at the Centre for European Reform think tank.

"If you impose barriers to trade, investment and migration with your biggest trading partner (EU), then you're going to have quite a big hit to trade volumes, and to investment and to GDP," he said, pointing to a string of dismal economic data.
Britain was the only Group of Seven advanced economy yet to regain its pre-pandemic size of late 2019 at the end of September last year, the most recent period covered by data.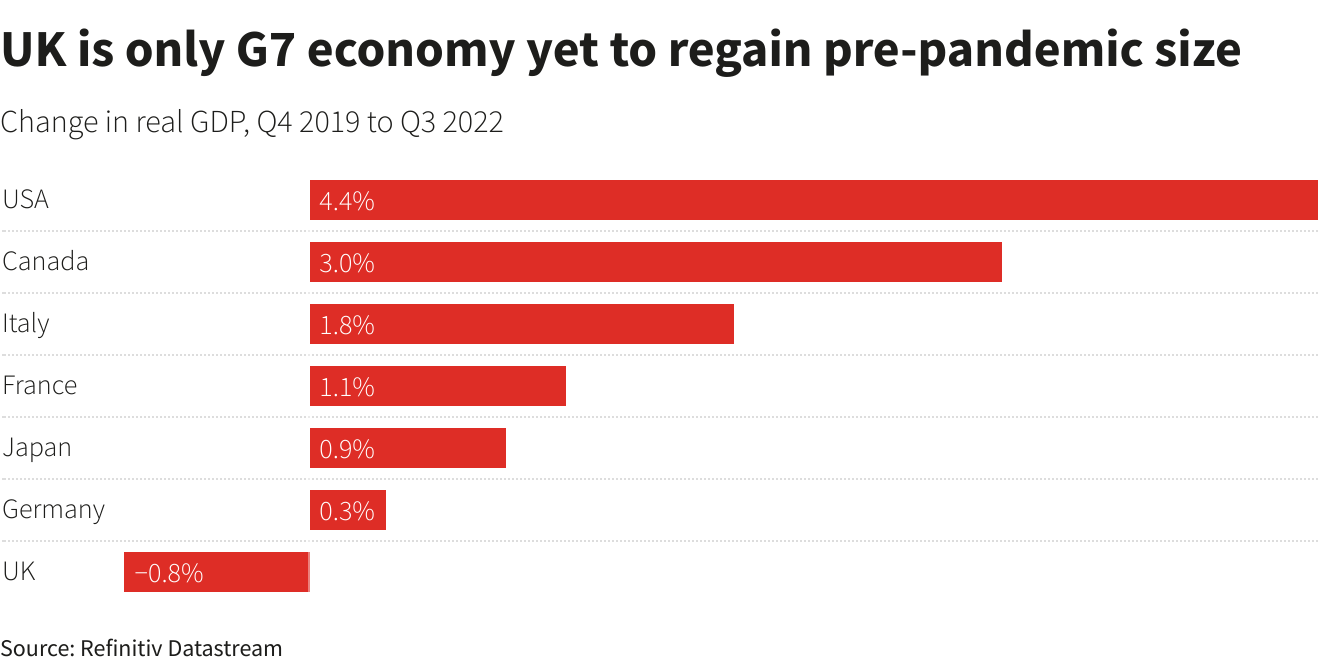 On Tuesday the International Monetary Fund said it expected Britain's economy to shrink by 0.6% this year, in contrast to predictions of growth across the rest of the G7.
Springford estimated that Brexit reduced Britain's economic output - compared with what it would have been without leaving the EU - by around 5.5% as of mid-2022, based on a "doppelganger" model in which an algorithm selects countries whose economic performance closely matched pre-Brexit Britain.
The government's own forecasting organisation, the Office for Budget Responsibility, and the Bank of England also judge there to be a long-running net cost to leaving the EU.
Some economists disagree with the consensus.
Brexit-supporting economist Gerard Lyons, an adviser to online wealth management platform NetWealth and who advised
Boris Johnson
during his years as the mayor of London, said it was wrong to blame Britain's problems on Brexit.
"Our problems pre-date Brexit," Lyons said, pointing to chronically low rates of investment in Britain. "Achieving the benefits of Brexit very much depends on delivering ... a growth plan - how you can use your levers post-Brexit."
He criticised the doppelganger method of analysis on the basis that some smaller countries selected by the models were inappropriate comparators for a large economy like Britain.
TRADING BLOWS

Trade and investment data point to other Brexit problems.

Exports, especially in goods, have disappointed over the last three years - despite high hopes for a "Global Britain" rebalancing of the economy after Brexit.

Total exports, including services, have grown by less than those of any other G7 country since late 2019.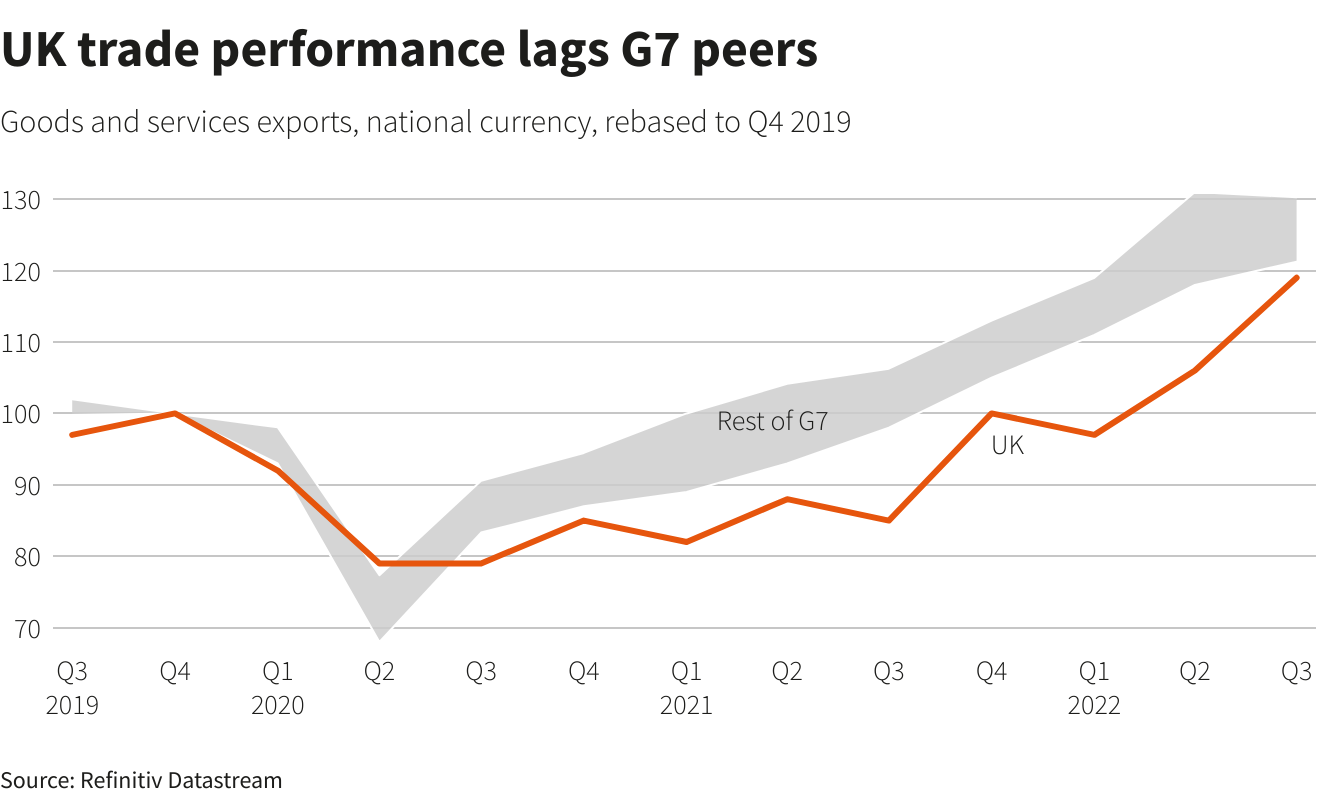 Boris Glass, senior economist at ratings agency S&P Global, said increased red tape in UK-EU trade had damaged the competitiveness of smaller British manufacturers especially, since they have fewer resources to deal with it.

"It's worth noting that the UK has more small exporters than for example, France or Germany. So in that respect they are disadvantaged," Glass said. "If you are an exporter with 20 employees, then the burden of filling out these forms is very costly. Some of them can't compete at all."

Business investment too has grown by less since the June 2016 Brexit referendum than in the United States, France or Germany, according to a Reuters analysis of data from the Organization of Economic Cooperation and Development.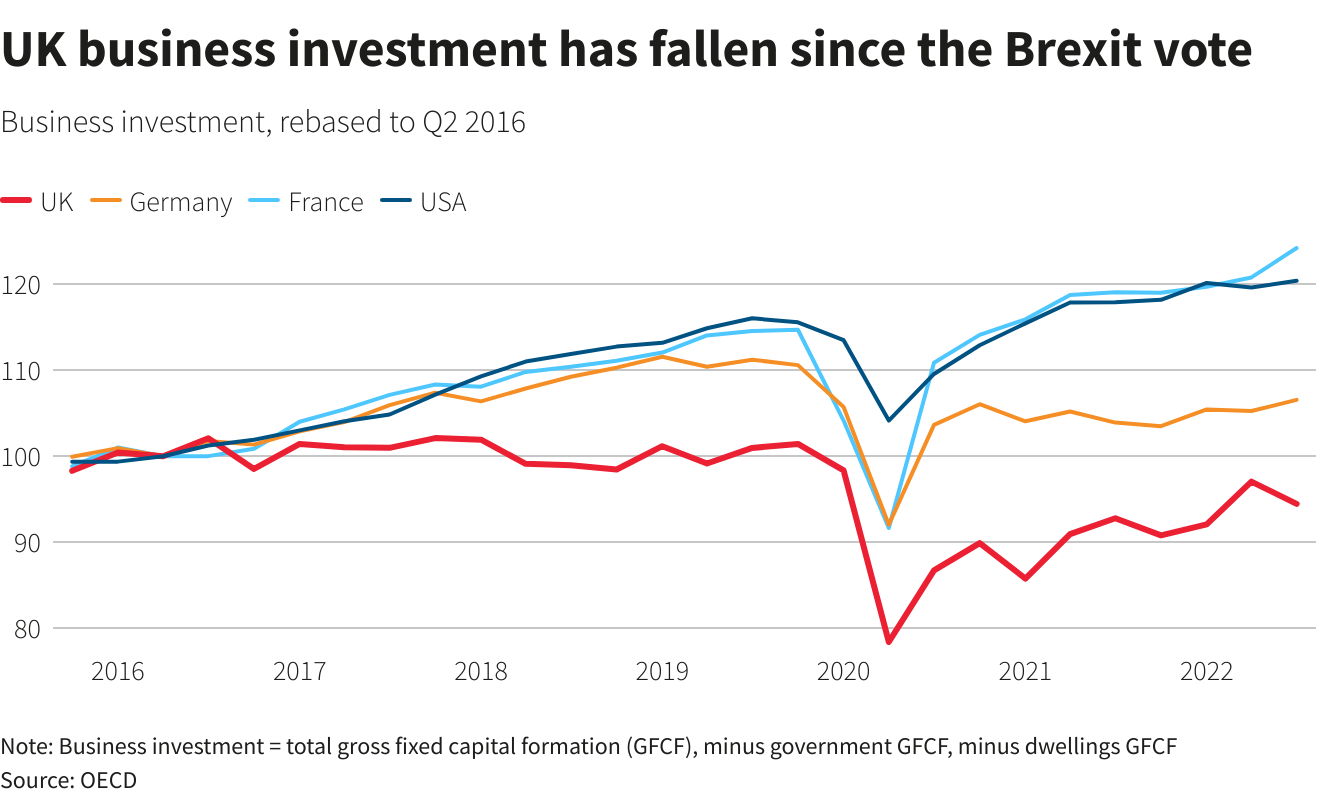 Some pro-Brexit economists say such statistics ignore the fact that British corporate investment was unusually strong in the years leading up to mid-2016 and was bound to slow. But business survey evidence overwhelmingly points to Brexit as a factor behind weak investment in recent years.

"It's concerning that there doesn't seem to be any kind of pickup in investment. And I think, in order for us to have a durable recovery from the Brexit shock, then we've got to see that rise," Springford said.

Britain still boasts higher rates of employment and lower unemployment than most EU countries but there are some signs that Brexit may have impacted the labour market too.

Business groups want the government to relax its post-Brexit immigration rules as firms are struggling to find workers, something the BoE fears is stoking inflationary pressures.

And unlike most of its G7 peers, Britain's employment rate has yet to recover to its pre-pandemic level.