Holidaymakers are continuing to experience delays and queues as they try to get away for the Easter break.
In the past week, more than 100 flights a day had been cancelled due to staff shortages and ferry operators are struggling to meet demand after P&O suspended services.

EasyJet and British Airways said fewer flights were cancelled on Saturday.

The transport secretary earlier urged operators to "redouble" their efforts to get people away as soon as possible.

Labour has accused the government of being "missing in action".

The easing of pandemic rules means that, for many families, this is the first school holiday where they can travel restriction-free.

But a rise in passenger numbers comes as travel operators are struggling with staff shortages and Covid-related absences, leading to long delays.

British Airways said on Saturday it had to cancel three flights overnight on top of its planned cancellations because of staff sickness.

The airline recommended long-haul passengers arrive three hours before their flight, and short-haul passengers two hours.

EasyJet said it had cancelled around 40 flights in advance.

It said: "We will operate 1,422 flights today with a small proportion having been cancelled in advance to give customers the ability to rebook onto alternative flights."

Manchester Airport told the BBC the long waits it has seen at security last week could continue, with some passengers facing queues of 60 to 90 minutes over the next few weeks.

Heathrow, Gatwick and Birmingham airports have also been hit by delays and cancellations.

The boss of the airlines watchdog has written to UK airlines expressing frustration and concern for holiday-makers.

Meanwhile at Dover, the suspension of P&O ferry services and bad weather have also caused delays.

On Friday, ferry company DFDS reported delays of two hours on its services from Dover to Calais.

A 23-mile (37km) stretch of road into Dover, the M20 Southbound, remains closed, with thousands of lorries trying to reach the port being held.

Toby Howe, tactical lead at the Kent Resilience Forum, advised travellers to France to "allow a lot of extra time" and make sure they had some food and drink because there would be delays.

He told BBC Breakfast the delays had been caused by "the perfect storm" - with ferries being suspended, a storm preventing those which were running from sailing and a train being stuck in the tunnels.

Transport Secretary Grant Shapps said he was "very concerned" about the level of disruption and called on travel operators to "redouble their efforts" to make sure people travelling abroad "can get away as smoothly as possible".

But shadow transport secretary Louise Haigh accused the government of being "missing in action".

The Labour MP said: "Tory ministers need to step-up and act to ease the disruption. The government need to begin clearing the huge backlogs in security checks so airport staff can safely begin work.

"And they should be holding emergency talks with ferry operators and Eurotunnel to boost capacity following P&O's shameful action."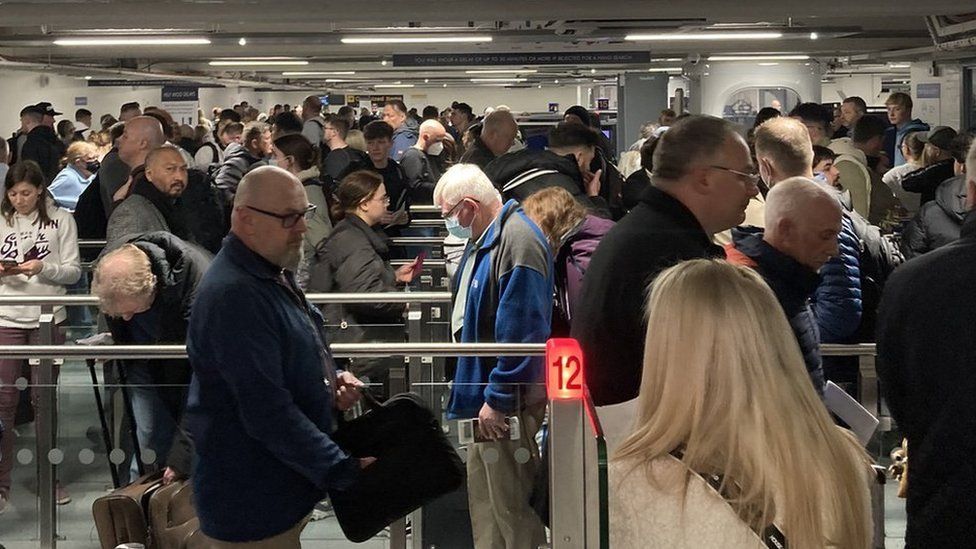 Queues at Manchester Airport on Tuesday

P&O Ferries sparked outrage last month after suddenly sacking hundreds of staff.

A Department for Transport spokesperson blamed P&O Ferries for contributing to the delays, adding that regional police and leaders were working to ease disruption in Kent.

The DfT spokesperson said: "P&O's unacceptable actions have resulted in its vessels being detained, causing backlogs and traffic jams which would be substantially alleviated if its fleet was operating normally. It's left operators, local authorities and, of course, government having to clear up the mess.

"That alongside bad weather and the Easter rush has meant that roads are exceptionally busy."
Timelapse footage captures long delays on the approach to Dover