Teachers in four unions in England say they will team up on any strike action over pay - which could mean full school closures in the autumn term.
Only the National Education Union (NEU) has enough backing from members to organise walkouts at present. The next strike will be on Tuesday.

But the three other unions, including two for head teachers, are asking their members whether they want to strike.

The government said co-ordinated action would be "unreasonable".

The four unions teaming up in the dispute are the NEU, the NASUWT, the National Association of Head Teachers (NAHT) and the Association of School and College Leaders (ASCL).

Paul Whiteman, NAHT general secretary, called their decision to co-ordinate action an "unprecedented show of solidarity".

Joined-up strike action - if it were to happen - would affect every state school in England, according to Kevin Courtney, joint general secretary of the NEU.

Between 300,000 and 400,000 teachers could be involved, he said during a joint press conference at the NAHT conference in Telford.

"We would sincerely apologise to parents for disrupting their children's education if we're pushed to that," he added.

Many teachers are about to be asked for a second time whether they want to strike.

Three of the unions have already held ballots this year. However, when the results were announced in January, only the NEU had enough members voting to move ahead to strikes.

NEU walkouts have been held since February, and it is about to reballot its members - asking them whether they would want to continue strike action into next term.

The NASUWT union and the NAHT did not meet the turnout threshold needed to strike in England in their last ballots - but both are due to reballot their members ahead of next term.

The fourth union, ASCL, is due to ballot members for the first time in its history.

More than half of England's 22,000 schools either closed or partially closed on NEU strike days in February and March.

If members from several unions, including head teachers, were to walk out together, it is likely there would be more full school closures.

A Department for Education spokeswoman said: "For unions to co-ordinate strike action with the aim of causing maximum disruption to schools is unreasonable and disproportionate, especially given the impact the pandemic has already had on their learning."

The joint announcement comes after the NAHT announced it would be reballoting members on pay, funding, workload and wellbeing.

Katie Chilvers, a Year one teacher in Birmingham, supports the NEU strike action and has walked out this year.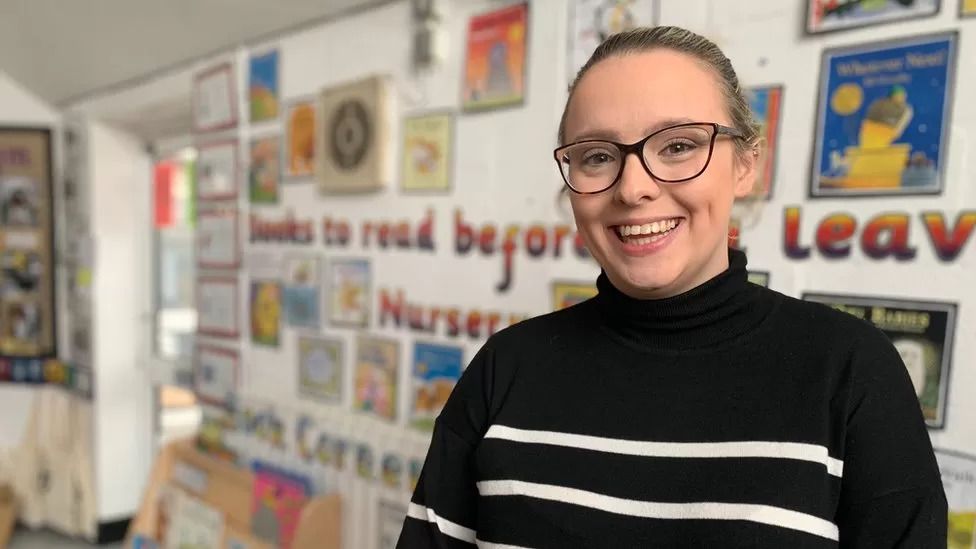 Katie Chilvers said she has been using social media to support the cause rather than striking

But she did not take part in the latest strike on Thursday because she could not "justify" losing another day's pay.

"We're looking at around £80 a day that we'd lose out on, on average," she said.

She said she was finding other ways to support the cause, such as "spreading the word" on social media.

The NEU says members can apply to access hardship funds.

What are teachers' pay demands?

Most state school teachers in England had a 5% rise in 2022, and a 3% rise was recommended from September 2023.

But the unions want above-inflation increases, and extra money to ensure any pay rises do not come from schools' existing budgets.

After the February strikes, the government made a new pay offer for school teachers, which included a £1,000 one-off payment this year and a 4.3% pay rise for most staff in September.

The starting salary for teachers in England is also due to rise to £30,000 a year by September - a previous government commitment.

The Department for Education described it as a "fair and reasonable offer" and said that schools would receive an extra £2.3bn over the next two years.

The Institute for Fiscal Studies (IFS) said in December that the increased funding would mean that school spending per pupil "will grow in real terms through to 2024 and will return to at least 2010 levels".

All four unions rejected the offer. They said it was still not fully funded, meaning schools would have had to make cuts elsewhere to afford it.

Education Secretary Gillian Keegan said the offer was no longer on the table, so the decision on pay would now be made by the independent pay review body.