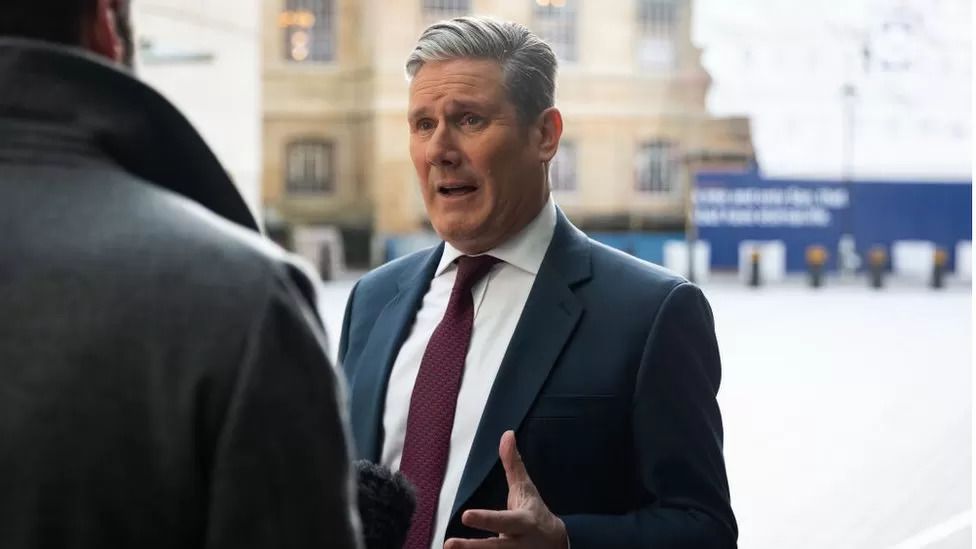 Starmer: UK will be 'open for business' under Labour
Labour's leader, Sir Keir Starmer, will tell business leaders in Davos that a Labour government would do more to draw foreign investment into Britain, especially in "green industries".
Sir Keir, attending the World Economic Forum meeting, said Labour would push to "bring global investors back".

He said foreign investment had declined sharply under the Conservatives.

His predecessor, Jeremy Corbyn, shunned the elite gathering, which he described as a "billionaires' jamboree".

But Sir Keir and shadow chancellor Rachel Reeves, who is also attending the meeting of politicians, business people and other influential figures, have taken a much more pro-business stance.

Ms Reeves said Labour would "work in partnership with business" to boost investment.

"With Labour in government, Britain will be open for business," said Ms Reeves.

Labour wanted to ensure the UK was "a world leader in the climate transition", she added.

Foreign direct investment (FDI) involves money flowing into the UK from overseas, for example when a foreign firm buys a British factory, or opens a branch in the UK. It can create jobs and boost growth and productivity.

Labour said that foreign investment in the UK had declined while the Conservatives have been in power since 2010, citing United Nations figures.

Between 1997 and 2010 the UK accounted for 8% of world FDI, but that fell to 4% between 2010 and 2021, the figures show.

In 2021, UK FDI accounted for 1.7% of world FDI, the lowest since records began.

Labour has been determined to burnish its pro-business credentials under Sir Keir, including courting the financial sector at Canary Wharf and promising to improve trading relations with the EU.

Meanwhile, the UK government will be represented at Davos by Business Secretary Grant Shapps and International Trade Secretary Kemi Badenoch.

Mr Shapps tweeted a video of himself on Wednesday saying alongside his warm jacket for Davos, he would be packing a "vision for how we scale up Britain" as the best place to start and grow a business.

He highlighted a survey conducted by accountancy firm PwC, published this week which suggested that Britain was the third "most important" place in the world for businesses to invest, behind the US and China.

A spokesperson for the Treasury said: "As a central part of our plan to grow the economy we are supporting business investment, including by permanently setting the Annual Investment Allowance at its highest ever level of £1m from April, and through our generous £13.6bn package of business rates support."

The investment allowance allows businesses to offset investment against their tax bill. The government announced the extra support for businesses that pay rates in its Autumn statement last year.