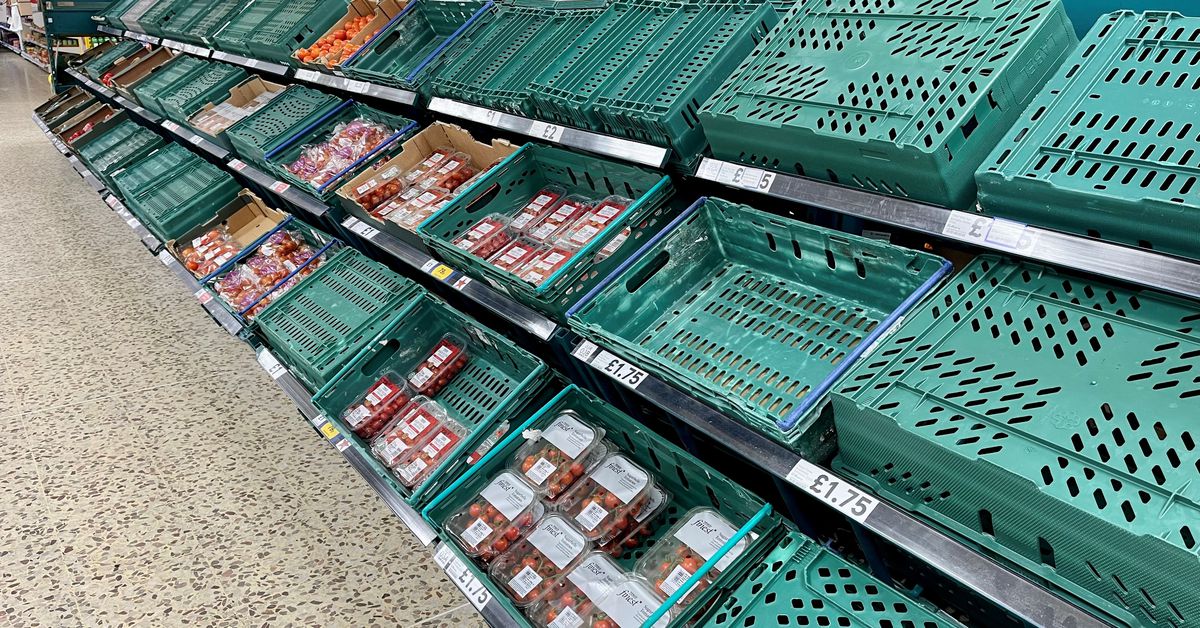 Some suppliers point finger at UK grocers over salad shortages
British supermarkets are not only short of produce because of weather-related supply issues - they are also choosing not to pay higher prices for fruit and vegetables, some suppliers and independent grocers told Reuters.
Britain's biggest supermarket group Tesco (TSCO.L) on Wednesday followed rivals Asda and Morrisons by imposing customer purchase limits on salad produce, saying crops were hit by disrupted harvests in southern Europe and north Africa.

Supermarket groups say they are paying more to producers but, equally, know consumers only have so much to spend on their shopping. That means they are sometimes choosing not to pay more for stock, risking empty shelves. In July, for instance, Kraft Heinz (KHC.O) products went missing from Tesco stores over a pricing dispute.

Some suppliers say retailers just need to stump up more money.

"There is no shortage," said Volkert Engelsman, CEO of Eosta BV, a Netherlands-based supplier of organic produce to supermarkets in Britain and continental Europe. "If retailers would pay the right price there would be plenty of food."

In winter, Britain's grocers source products like tomatoes and lettuces from countries such as Spain and Morocco, where they can be grown without the cost of heating greenhouses, according to the British Retail Consortium.

"This allows supermarkets to offer their customers the best value for money at a time when the cost of living has risen sharply," it said.

Supermarkets also argue that one of the main drivers for putting item limits on products is to prevent wholesalers bulk buying their stock.

Asda and Sainsbury's (SBRY.L) declined to comment. Tesco and Morrisons did not immediately respond to requests for comment.


PLENTY TO GO AROUND

Retailers' margins have been battered over the past year as energy prices and input costs have risen, exacerbated by Russia's invasion of Ukraine.

Food suppliers - from major players including Nestle (NESN.S) to smaller firms like Eosta - have raised prices amid tough negotiations with supermarkets.

British grocery inflation hit a record 16.7% in the four weeks to Jan. 22, dealing another blow to consumers battling an escalating cost-of-living crisis, industry data showed.

"I've noticed the availability of basic perishable foods becoming less and less over the last few months," said Anthony Law, 56, a publisher in the south of England.

"On Saturday afternoon, there was hardly any fresh produce available," said Law, referring to his Tesco Superstore in Evesham, Worcestershire. "The staff all looked bemused and defeated as everyone asked when the next consignment was due."

Similarly, every time he goes into his local Tesco, Asda, Morrisons or Sainsbury's supermarkets and sees empty shelves, K Warden, 41, sends his partner pictures "to have a moan" over the phone.

"I seem to have a whole host of pictures from over the last 24 months on my phone, be it medication, fresh produce or even pet stuff," said Warden, who shops at stores in Ashford, Folkestone, Canterbury and Dover in Southeast Britain.

Wholesalers and independent grocers, however, say there is plenty to go around if retailers are prepared to pay the extra cost.

"All our shops are full," said Mark Tate, who helps run Birmingham-based wholesaler and grocery chain owner George Perry Ltd. Prices had increased due to higher energy costs and bad weather and his gross margins have shrunk to 3%-4% from about 10% this time last year, he added.

($1 = 0.8319 pounds)