London issued with yellow snow and ice warning from midnight on Wednesday to 9am on Thursday
London commuters face a snowy journey into work on Wednesday as an Arctic blast spreads over southern England.

The Met Office said Wednesday morning would see "sleet and snow" which would clear "through the morning" with "further snow likely later into the afternoon and evening, with some heavier bursts possible at times."

Sleet and snow was forecast to fall between 5am and 9am in the capital. Further snow is expected on Wednesday evening with "some heavier bursts possible at times", with a maximum temperature of 4C.

The forecasting body's chief meteorologist, Matthew Lehnert, on Tuesday said the weather could impact travel over the next few days across southern England and South Wales.

He said: "The focus for the snow moves to southern England and South Wales tomorrow and some may wake up to a few centimetres of snow, with the south coast and far south-west likely to see a mix of rain and sleet."

Tuesday night was expected to be the coldest of the year for many, with temperatures having been tipped to drop as low as -15C as the UK comes under an Arctic blast.

The UK Health Security Agency (UKHSA) has issued a Level 3 Cold Weather Alert for the whole of England and the Met Office has urged people to check on relatives and friends who are vulnerable to icy weather, particularly the elderly.

A level 3 alert means there is a 90 per cent chance of severe cold weather, icy conditions and possibly snow between Monday and Thursday in parts of England.

Arctic air is sweeping across due to a "highly amplified" jet stream which is mixed with lower pressure over the mid-north Atlantic.

Some Londoners took to Twitter on Tuesday to report light snow showers over the capital.

The capital has been issued with a yellow snow and ice warning from midnight on Wednesday to 9am on Thursday, after a bitter and rainy Monday night.

It warns spells of snow may cause travel disruption during Wednesday into Thursday morning.

On Tuesday, parts of England, including Northumberland and Yorkshire, woke up to fresh snow blanketing fields and houses.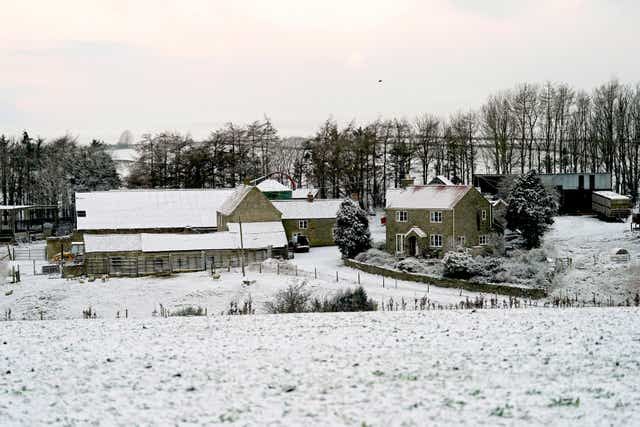 North York Moors National Park

Snow and ice warnings have also been issued for northeastern areas of the UK, including parts of Northern Ireland, England and Wales, until Friday.

Areas affected on Tuesday include Hull, Newcastle and most of Scotland.

The chilliest temperatures of the year were set for the Scottish Glens on Tuesday, with a forecast of -15C overnight.

The lowest temperature recorded in the UK so far this year was -10.4C, which was recorded at Drumnadrochit on the shores of Loch Ness in the Highlands in the early hours of January 19.

In excess of 20cm of snow could accumulate over high ground in Scotland and more than 5cm is likely to accumulate even to lower levels in the northeast of the UK, the Met Office said.

Chief Meteorologist Dan Suri said: "Snow, ice and low temperatures are the main themes of this week's forecast, as the UK comes under the influence of an arctic maritime airmass as cold air moves in from the north."

Southern England and south Wales are likely to wake up to "couple of centimetres of snow" on Wednesday morning.

The yellow snow alert remains in place for the capital and a large band of southern England and Wales until 9am on Thursday.

Temperatures are set to creep back up for London, with highs of 9C forecast for Thursday and Friday.