Shona Robison is to replace Kate Forbes as Scotland's finance secretary after new First Minister Humza Yousaf announced his first cabinet.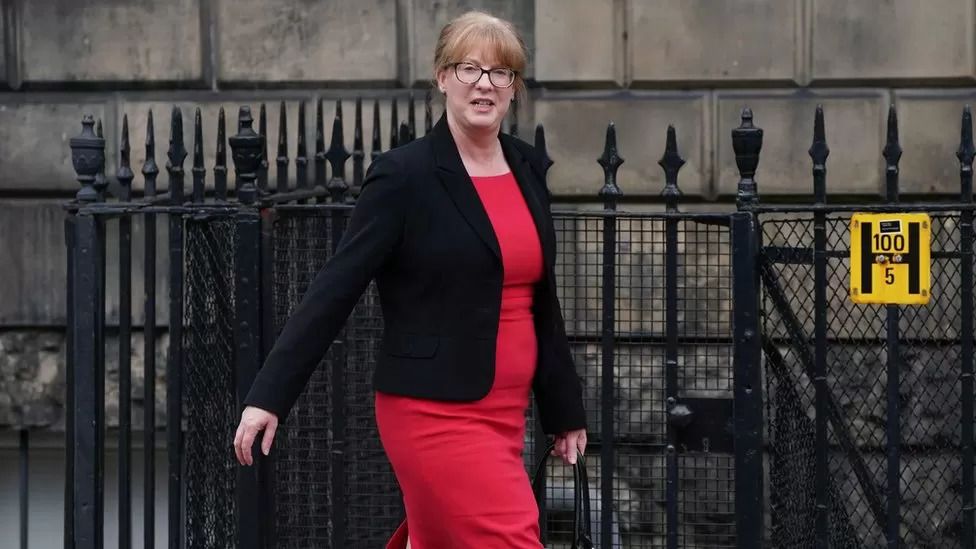 Ms Robison will be responsible for drawing up the annual Scottish budget in her new role as finance secretary
Ms Robison has been given the finance brief as well as serving as deputy first minister.

She is a close friend of former first minister Nicola Sturgeon.

Ms Robison was responsible for introducing the controversial gender reforms in her previous role as social justice secretary.

The announcement came as Mr Yousaf unveiled his new cabinet team after being formally sworn as first minister in a brief ceremony at the Court of Session.

Other key appointments include Michael Matheson taking over from Mr Yousaf as health secretary, while former transport minister Jenny Gilruth will join the full cabinet for the first time as education secretary.

Another cabinet newcomer, Mairi McAllan, will be the net zero and just transition secretary at the age of just 30.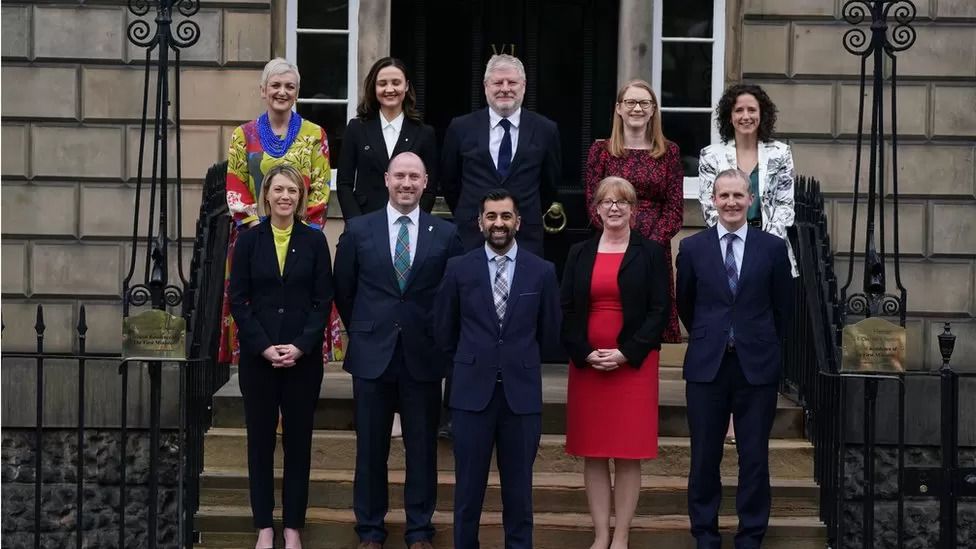 The new cabinet team consists of six women and three men

And Neil Gray, who led Mr Yousaf's SNP leadership campaign, also joins the cabinet after being given responsibility for the wellbeing economy, fair work and energy briefs.

The SNP's deputy leader, Keith Brown, has been replaced by Angela Constance as the country's justice secretary.

The remaining three members of the nine-strong cabinet team are:

* Mairi Gougeon, who remains the rural affairs secretary

* Angus Robertson, who is still the secretary for the constitution, external affairs and culture

* Shirley-Anne Somerville, who becomes cabinet secretary for social justice

The full list of 18 non-cabinet ministerial roles was also announced on Wednesday, including a new post of minister for independence which will be filled by Jamie Hepburn.

The co-leaders of the Scottish Greens Patrick Harvie and Lorna Slater have been reappointed to the roles they held under Nicola Sturgeon as part of the partnership agreement with the SNP.

There is no role in Humza Yousaf's government for defeated SNP leadership candidate Ash Regan.

Kate Forbes, who was narrowly defeated by Mr Yousaf in the contest, had announced on Tuesday that she was leaving the government.

She had been offered a new role by Mr Yousaf that would have given her Ms Gougeon's rural affairs job rather than finance - which would generally be viewed as a demotion - but turned it down.

The new cabinet team has five members under the age of 40 and, for the first time, has a majority of women.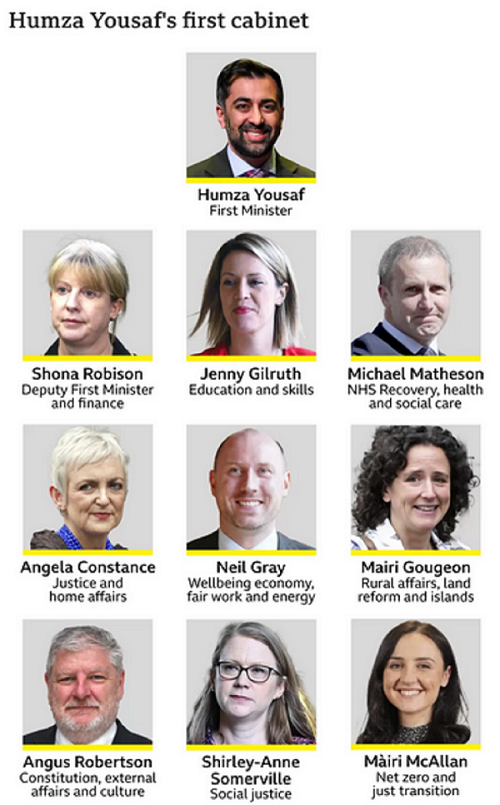 Mr Yousaf said it reflected the priorities that the government will pursue, including tackling child poverty, improving public services and building a fairer, greener economy.

He added: "I have committed myself to a radical, ambitious and progressive policy agenda for Scotland - and I know that this team is the right one to deliver it.

"As we make the case for Scottish independence, we will continue to govern well and demonstrate to the people of Scotland the benefits of decisions about their lives being taken here in Scotland."

Mr Yousaf said he wanted a government that looked as much as possible like the people it represented, but insisted that all of his appointments had been made on merit.

He also paid tribute to those ministers who are now departing government - including Nicola Sturgeon and her deputy John Swinney.

And he said he was disappointed that Ms Forbes was not in his cabinet as "she's a great talent, she's somebody who has got a lot to give".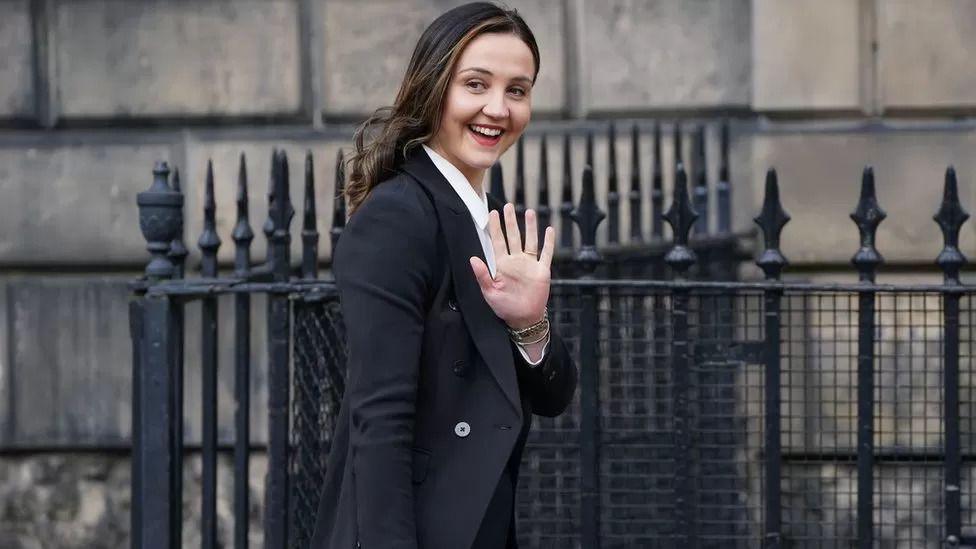 Mairi McAllan joins the cabinet for the first time at the age of 30

During the SNP leadership campaign Mr Yousaf said he favoured a "big tent" rather than "inner circle" approach to making key decisions and has pledged to bring the party back together again after deep divisions were exposed by the contest.

He faced withering criticism of his own ministerial record from Ms Forbes in a live STV debate, while her views on issues such as gender recognition reform and gay marriage led the Scottish Greens to question whether they could work with her.

Given the narrow margin of his victory over Ms Forbes, by 52.1% to 47.9%, some of her supporters had urged Mr Yousaf to keep her in government.

BBC Scotland said he understands that Ms Forbes felt the SNP's partnership agreement with the Scottish Greens would have "tied her hands and cost her dearly in her constituency" if she had taken the rural affairs job.

It emerged earlier on Wednesday that Ivan McKee, who had been the business minister under Nicola Sturgeon, will also leave the government after being offered a new role that he regarded as a demotion.

Mr McKee had initially been campaign manager for Ms Forbes in the leadership contest but stepped back from that role after early controversies in her campaign.

Scottish Labour deputy leader Jackie Baillie described the new cabinet team as "dismal" and said it "cements the SNP's new status as a deeply divided party led by B-rate politicians".

She added: "The first minister promised to bring the country together, but he can't even bring his own party together. Loyalty is being rewarded over talent - but both are in short supply in the SNP.

"At the heart of this continuity government are some of the most incompetent politicians of the last decade, set to deliver more of the same failure."

Scottish Conservative chairman Craig Hoy said: "This is a cabinet in Humza Yousaf's image - failed, continuity ministers appointed by a failed, continuity minister.

"The likes of Shona Robison, Michael Matheson, Angela Constance and Jenny Gilruth have been found sorely wanting in previous ministerial roles, yet all have been 'rewarded' with promotion by the new first minister."