"We're lucky, to be a family with two full-time working adults. Still, we're turning the thermostat down and putting extra jumpers on. We've switched to budget supermarkets to save money."
Anna Cargan, 35, lives with her husband and three young children in Barrow-in-Furness, Cumbria. She started saving for Christmas in January.

"We've really noticed how expensive things have got this year. We're having to think about what we're spending more than ever before."

The Cargans are not alone.

According to research by consultancy firm PWC, 86% of UK adults are concerned about affording the necessities of day-to-day life.

Meanwhile, 70% of UK adults are planning to spend less this festive period, with almost half planning to cut back on Christmas presents, according to a survey by Accenture.

One tactic Ms Cargan will use to save money this Christmas, is to buy second-hand tech.

"I've saved about £600 buying second-hand phones," she says. "I don't want the latest model - as long as it's functional, I'm happy."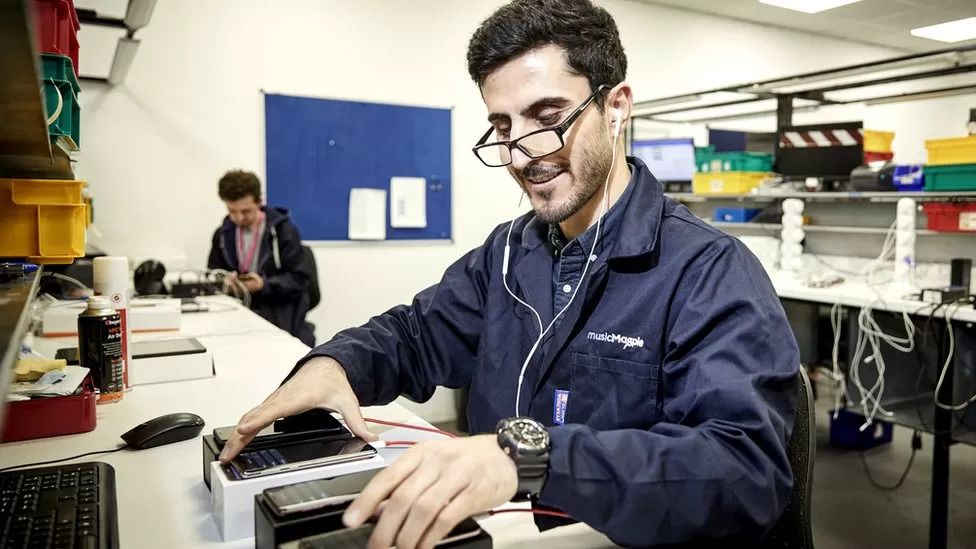 Music Magpie refurbishes 400,000 pieces of tech a year
She bought the phones from Music Magpie, which was founded in a garage in Stockport in 2007. Back then it sold second-hand CDs and DVDs.
Five years later, it expanded into electronics. Now Music Magpie has two workshops in the UK and one in the US, where it refurbishes all sorts of unwanted electronics.
Sam Vesey, Music Magpie's chief sustainability officer, suggests not only buying second-hand to save money, but also selling old tech too, to fund this year's present buying.
"There are estimates that people have about £600 of unused tech," says Ms Vesey. "That's about £16bn sitting in drawers nationwide."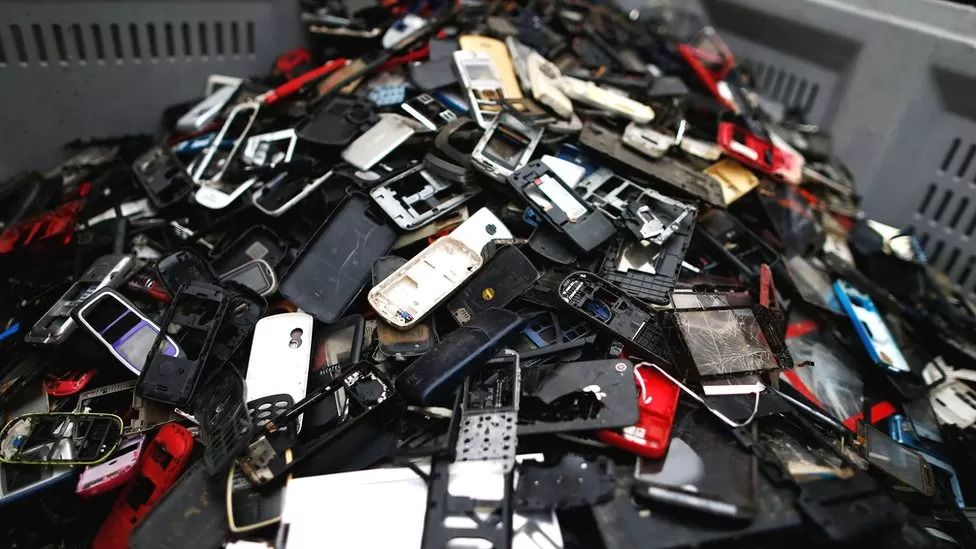 More than five billion phones will be discarded this year, according to WEEE forum

Now, with a growing number of companies offering pre-owned tech, buying second-hand, says Ms Vesey, no longer has the stigma it once had.

"We've seen an increase in demand for refurbished tech," she says. "In the same way that we've always been happy to have a second-hand house or a second-hand car, that's now passing through to our technology. People are quite happy to say 'mine's refurbed'."

According to the UN, e-waste, that's anything with a plug or a battery, is the world's fastest-growing domestic waste stream - fuelled by soaring consumption rates, short life cycles and limited options for repair.

Its report says that in 2019 only about 17% of e-waste was collected and recycled.

Meanwhile, the International Waste Electrical and Electronic Equipment (WEEE) Forum estimates that in 2022, more than 5.3 billion mobile phones alone will be discarded.

Gold, silver, copper, platinum and other high-value, recoverable materials, valued at about £47bn, are dumped or burned year after year, rather than being collected for treatment and reuse.