The Scottish government is to resume making the case for independence - with the goal of holding a referendum by the end of 2023.
First Minister Nicola Sturgeon said a vote would only be held "when the Covid crisis has passed".

But she said work would restart on a "detailed prospectus" so that voters can make a "fully informed" choice.

The Scottish government had previously paused work on its indyref2 plans because of Covid.

Ms Sturgeon was speaking to MSPs as she set out her plans for the year ahead at Holyrood - including work to establish a National Care Service, reforms to the Gender Recognition Act and tighter regulation of fireworks.

The opposition Conservatives urged her to focus on recovery from the Covid-19 pandemic rather than independence.

With Holyrood's summer recess over, Ms Sturgeon was addressing MSPs in the wake of the SNP's election victory in May and the party's power-sharing deal with the Scottish Greens.

The two parties form a pro-independence majority at Holyrood, and Ms Sturgeon said the government's "democratic mandate" to hold a fresh referendum was "beyond question".

She said this would only happen "when the Covid crisis has passed", but added that she wanted it to be "before the end of 2023".

And she said civil servants would now resume work on a "detailed prospectus" for independence so that voters could make a "fully informed" choice.

The first minister has previously said she wants the agreement of the UK government to hold an independence referendum so that the result is put beyond any legal question.

However Prime Minister Boris Johnson has repeatedly said he is not willing to agree to this in the immediacy, saying the focus should instead be on recovering from the pandemic.

The Scottish government has already published draft legislation for a new independence referendum.

And Ms Sturgeon set out plans for a range of other new bills in her speech to MSPs, saying her plans would "meet head on the key challenges Scotland faces".

These include work to establish a National Care Service, which Ms Sturgeon said should be up and running within five years.

She also confirmed that a Gender Recognition Reform Bill would be tabled to make it easier for trans people to change their legally recognised gender.

The issue has caused deep divisions within the SNP, with the first minister acknowledging that "some have sincerely held concerns about this legislation", but insisting that "it will make life easier for one of the most stigmatised minorities in our society".

The government will also consult on changes to the justice system, including potentially scrapping the "not proven" verdict and separating the dual roles of Scottish law officers.

Other proposals in the Programme for Government include:

*  Extra funding for frontline healthcare and mental health services;
*  A new system of "wraparound" childcare before and after school and during the holidays;
*  A collective pardon for miners convicted of various offences during strikes in the 1980s;
*  A fox control bill to strengthen the law on the use of dogs in hunts;
*  A new law for stronger regulation of the sale of fireworks;
*  Work to develop a minimum income guarantee;
*  A Good Food Nation Bill to promote the food and drink sectors.

Ms Sturgeon also nodded to her party's power-sharing deal with the Greens, telling MSPs that "tackling the climate emergency is a moral and economic imperative".

The Greens meanwhile claimed that the government's agenda was heavily influenced by their own policies, with co-leader Patrick Harvie saying they would "lead efforts to lower emissions".


What Nicola Sturgeon has not done is announce plans to legislate for a referendum at Holyrood.

Together with their power-sharing partners in the Greens, the SNP has a majority to pass the bill — although without UK government agreement it would probably face a legal challenge.

The first minister is not, at this stage, formally requesting from Boris Johnson the explicit power to hold a referendum, knowing he's likely to refuse.

Instead, she is restarting work by civil servants on the prospectus for independence. Work that was put on hold when coronavirus struck.

She will hope that will assuage her critics in the independence movement who don't think she's pushing hard enough for indyref2, with her party conference due this weekend.

It has also angered Conservatives and other supporters of the UK who think she is putting nationalist politics ahead of Covid recovery - a recovery the first minister insists remains her top priority.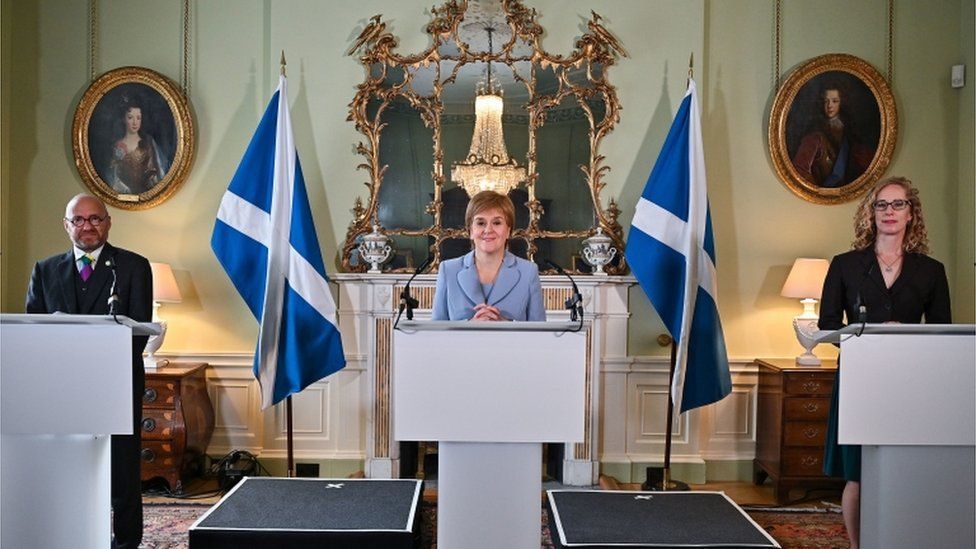 The Conservatives were critical of the plans, with leader Douglas Ross saying Ms Sturgeon's priorities were all wrong.

He said: "Another independence referendum is front and centre of the first minster's plans for the year ahead.

"Nicola Sturgeon is giving us a new white paper for independence instead of a plan for jobs, a plan to tackle drug deaths or a plan for NHS recovery."

Scottish Labour's Anas Sarwar said the government was "short on big ideas", saying: "This isn't good enough, it isn't bold enough and it won't do enough."

He added: "Barely a week goes by without someone from the government front bench declaring something mundane, rebadged or self-serving as historic.

"But the drier truth is that despite the SNP's rhetoric, the only historic thing today is levels of poverty in our streets, the numbers waiting for treatment in our hospitals and the depth of the economic crisis facing our country."

And Lib Dem leader Alex Cole-Hamilton said there was "little in the way of new hope" in the programme, saying there was merely "old hype, reheated and rebatched".
Nicola Sturgeon outlines plans for National Care Service