People in Scotland can expect a "normal Christmas" with some Covid measures, the deputy first minister has said.
John Swinney told the BBC that the extension of the vaccine passport scheme and other mitigations would to help people live normally.

Last year Scotland was under the toughest level of lockdown restrictions from 26 December until March.

Mr Swinney said he wanted to avoid further closure of businesses "at all possible costs".

He told BBC Radio Scotland's Drivetime the Scottish government was trying to manage Covid to a level that "enables most of our economy and society to function as close to normality" as possible.

"I'm very hopeful that this could be a normal Christmas," he added. "It will be a normal Christmas with us all taking care, is what I would say.

"We may have to put in place some additional measures to make sure that is the case."

Mr Swinney said such measures included the extension of the vaccine passport scheme, as well as "intensifying" the vaccine programme.

Earlier, First Minister Nicola Sturgeon confirmed that vaccine certification could be rolled out to cinemas, theatres and more hospitality venues from 6 December.

She said a final decision would not be taken until next Tuesday.

The passport scheme currently only applies to nightclubs and major events such as concerts and football matches.

A decision had been widely expected to be made this week, with opposition leaders accusing the government of creating "wholly avoidable uncertainty" for businesses that could be affected.

Ms Sturgeon told MSPs there had been a "gradual increase" in new cases of Covid-19 over the last two weeks, with pressure on the health service expected to increase in winter.

The first minister said the vaccine passport scheme was making "an important and proportionate contribution to stemming transmission".

She said the government was also considering whether a negative test result could be provided instead of proof of vaccination, as happens in most other countries that have introduced vaccine passports.

She also said choosing not to be vaccinated without good reason was "deeply irresponsible," and urged people to do their "civic duty" by getting jabbed.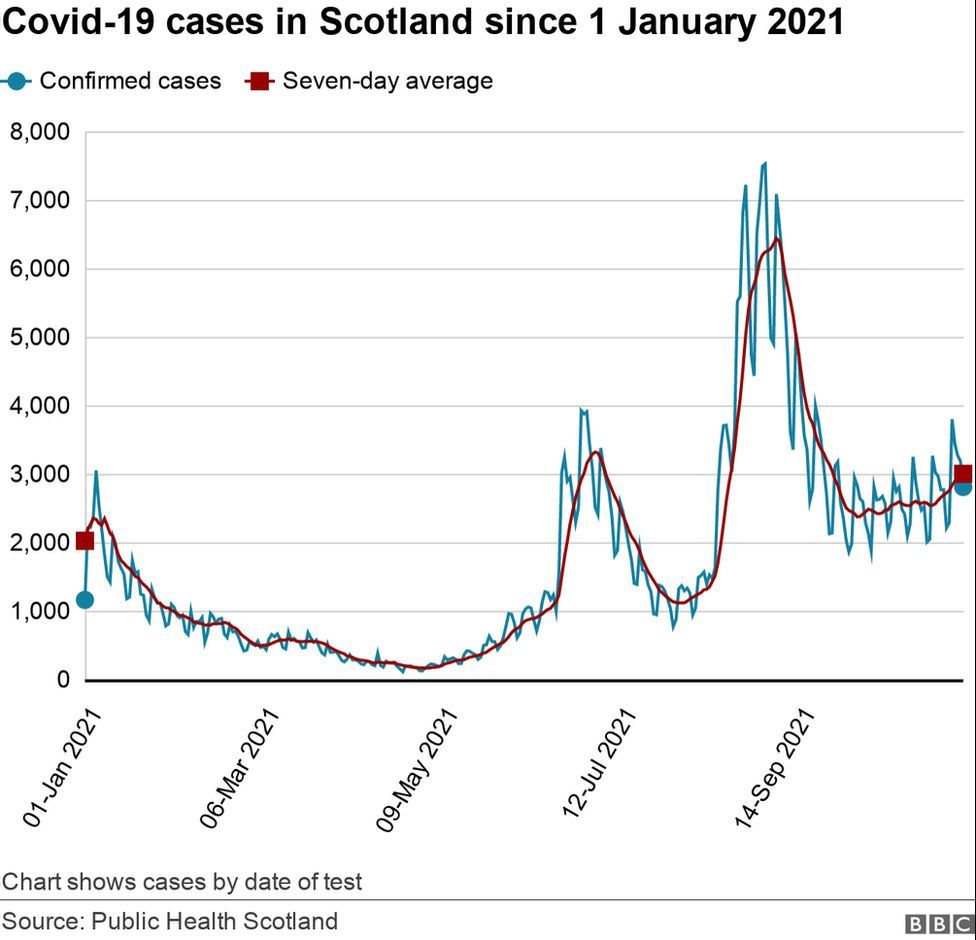 Covid cases in Scotland have started to rise again, having plateaued for several week

The government has updated its "strategic framework" paper with plans for the winter period ahead, with warnings that the country "risks moving potentially rapidly" into a challenging situation should a new variant of the virus emerge.

The Scottish Licensed Trade Association said hospitality venues had been offered a "stay of execution", but warned that any expansion of the certification scheme would "force many premises into closure".

Managing director Colin Wilkinson said: "Businesses need time to plan for something major like this, and vague comments like those from Nicola Sturgeon today leave us in limbo for another week as we approach the vital Christmas trading period."


Ministers are watching the situation in Europe very carefully. Many countries there are having to reimpose restrictions because of soaring case numbers.

Public health experts don't yet know if this is a new wave that could be coming Scotland's way, or if this is what we already faced back in September.

The Scottish government is said to be at a fork in the road, but it can't choose which path to take until it knows the direction of travel of the virus.

There is a degree of confidence that three key hurdles have been overcome: pupils are back in school, students have returned to universities and colleges and COP26 has passed without a massive spike in cases.

But with Christmas fast approaching, the decision on whether or not to extend vaccine certification will have to be made soon.

The Scottish Chambers of Commerce said there "continues to be a sense of anxiety" among firms about an extension to the scheme, and that "it would hit consumer confidence and increase costs for businesses".

And the Federation of Small Businesses said there were "so many unanswered questions about the practicalities of a dramatically expanded scheme".

Scottish Conservative leader Douglas Ross accused the government of having "a total lack for respect for Scottish businesses".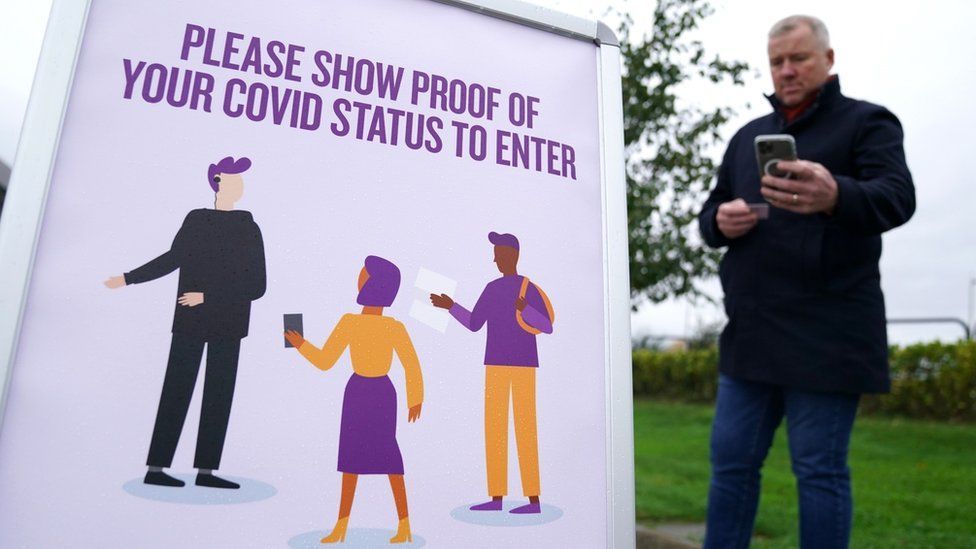 The passport scheme currently only applies to nightclubs and major events such as concerts and football matches.

He said: "The government has delayed again, creating wholly avoidable uncertainty. Businesses are once again being left in the dark and treated as an afterthought."

Scottish Labour leader Anas Sarwar said ministers should commit to engaging with affected businesses and offer financial support if new measures are introduced.

He also said Ms Sturgeon should accept that providing a negative test should have been an option in the system from the outset, saying: "Testing should always have been at the heart of our Covid reduction strategy."

The first minister said allowing a negative test to be included was a "finely balanced" decision, saying it could be argued that the scheme had helped to drive vaccine uptake.

However she said Scotland may now be in a position to include this option due to high levels of uptake of the vaccine.

Meanwhile Scottish Lib Dem leader Alex Cole-Hamilton said the government should use the COP26 conference as a model for using regular testing to control the virus rather than vaccine certificates.

Data published by Public Health Scotland on Tuesday suggested that only four in every 1,000 delegates tested positive during the Glasgow event, compared to an infection rate of 12 in every 1,000 in Scotland as a whole.
Nicola Sturgeon: Changes to Scotland's coronavirus certification scheme under review