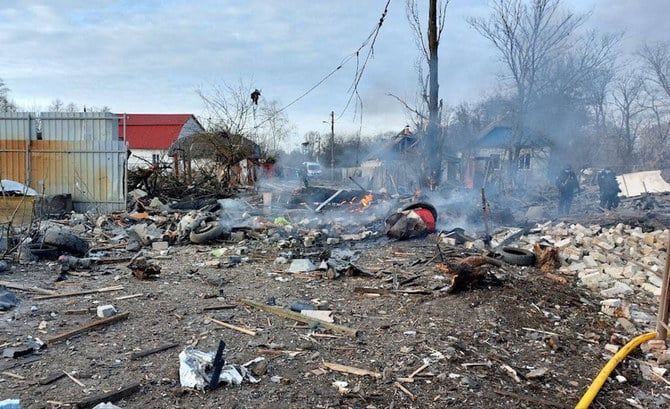 Russia is accused of 'barbarism' in missile barrage on Ukraine
Russia was accused of "senseless barbarism" on Thursday after a massive barrage of missiles hit cities throughout Ukraine.
Civilians rushed to shelters as warning sirens sounded, residential buildings were destroyed and power supplies were knocked out in the capital, Kyiv, and other cities including Lviv in the west and Odesa in the southwest.

Ukraine's military said Russia had launched 69 air and sea-based cruise missiles and anti-aircraft guided missiles at energy infrastructure in eastern, central, western and southern regions.

Air defenses shot down 54 of the missiles, but those that got through caused widespread devastation.

"Senseless barbarism. These are the only words that come to mind seeing Russia launch another missile barrage at peaceful Ukrainian cities," Foreign Minister Dmytro Kuleba said.

Kyiv authorities said two houses were hit by downed missiles and a business and a playground were also damaged. Mayor Vitali Klitschko said 16 missiles were shot down and three people were injured.

In Kharkiv, Ukraine's second-largest city, firefighters tackled a blaze at an electricity station. In Zaporizhzhia, houses were damaged and a missile left a huge
crater.

The mayor of Lviv, Andriy Sadovyi, said 90 percent of the city was without electricity after missiles damaged an infrastructure unit.

"The enemy placed a high stake on this attack, preparing for it for two weeks. Ukrainian air defence forces demonstrated an incredible level of skill and efficiency," Prime Minister Denys Shmyhal said.