Media tycoon Rupert Murdoch paid more than £11,000 for Boris Johnson to visit him in the US last month, the latest list of MPs' financial interests shows.
Mr Johnson and two staff members were flown to Montana on 11 and 12 October - with internal US flights, accommodation and hospitality paid for by Mr Murdoch.

The pair held a private meeting, the BBC understands.

The latest list also shows Mr Johnson was paid £276,000 for a speech five weeks after leaving Downing Street.

On 14 October - a few days after visiting Mr Murdoch - Mr Johnson spoke to the Council of Insurance Agents and Brokers in Colorado Springs. He gave a 30-minute speech and a 45-minute "fireside chat" at the event.

The former PM worked for eight-and-a-half hours, meaning he was paid an hourly rate of more than £32,400. Mr Johnson and two members of staff also received free transport and accommodation.

The Register of Members' Financial Interests is published twice a month and shows MPs' outside income, gifts, visits and other benefits - anything they receive which could influence their actions, speeches or votes in Parliament.

Mr Johnson's visit to Mr Murdoch - who reportedly bought a ranch in Montana last December - came just over a week before Liz Truss resigned as UK prime minister. Her resignation sparked a leadership race which saw Mr Johnson win support to run, before dramatically withdrawing from the contest.

It is not the first time Mr Johnson and Mr Murdoch have met. The pair held several meetings while Mr Johnson was prime minister - according to Cabinet Office records - and also met when Mr Johnson was mayor of London.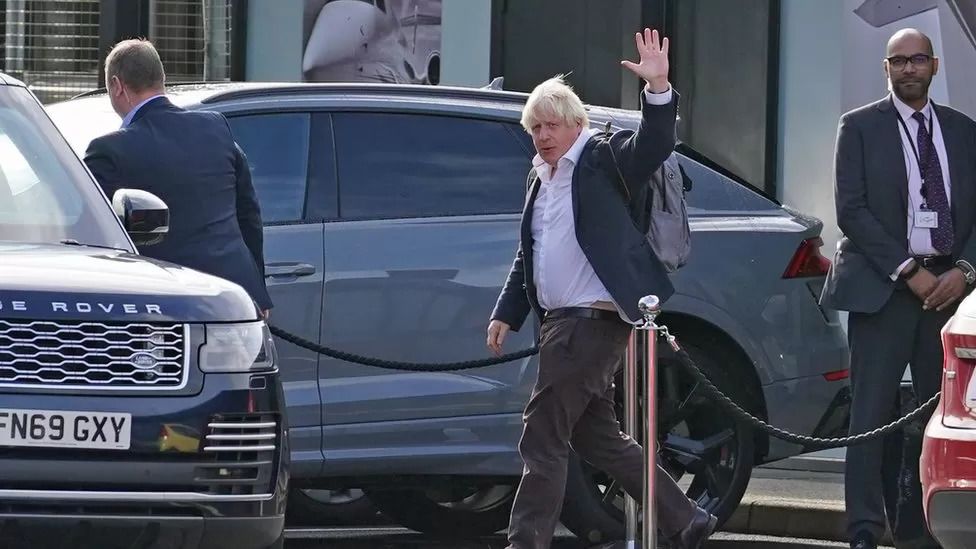 Boris Johnson arriving at Gatwick Airport from the Caribbean last month amid speculation he would run to replace Liz Truss
Mr Murdoch's News Corp owns several newspapers including the Wall Street Journal in the US, and the Sun and the Times in the UK.
For decades the billionaire was a force in politics at the highest level. But after the phone-hacking scandal and the closure of The News of The World in 2011, his political allies deserted him and his reputation was knocked.
However his influence began to rise again when political hopefuls such as
Nigel Farage
and former US President
Donald Trump
approached Mr Murdoch for help.
This week, news outlets that are part of Mr Murdoch's empire appeared to ditch support for Mr Trump. On Tuesday night, Fox News cut away during Trump's announcement of his new White House campaign, the Wall Street Journal editorial board called Trump a "loser" and the New York Post covered the news with the headline: "Florida Man Makes Announcement".
Thursday's update to the UK MPs' financial interests list also shows:
*  Fellow former PM Theresa May was paid £97,000 for a speech at an event hosted by private equity firm Apax Partners, as well as £8,000 for a virtual one-hour speaking event with World 50, a "private community for senior-most executives" based in the US
*  Liz Truss received a donation of more than £33,000 in September to cover winding up costs for her leadership campaign

*  Former UK Health Secretary Matt Hancock - who is currently appearing in I'm A Celebrity - received £10,000 for a speech at a fintech conference last month