Plans for the new HS2 station at Euston boast the longest concourse in the UK and a direct underground link with Euston Square station
Images of how Euston will be transformed by a £2.6 billion HS2 high-speed station and a new Tube station have been revealed.

Architects say the HS2 station will have the longest concourse in the UK at more than 300 metres, while the Tube station will offer quicker interchanges than King's Cross — including a direct underground link with Euston Square station.

The HS2 station's roof panels will be made of anodised aluminium, probably in a "warm gold" colour, in the style of a "butterfly opening its wings".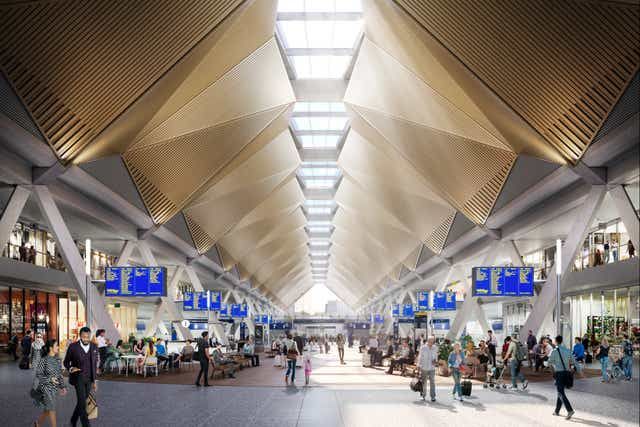 The new HS2 station at Euston will boast the longest concourse in the UK, stretching for 300 metres
Rail commentators such as Gareth Dennis have criticised the designs as "deeply embarrassing" for their perceived lack of ambition.
But Declan McCafferty, partner at Grimshaw architects, said: "People will be blown away by the grandeur of what we are proposing. What we have got is a really fantastic public space design."
Preparatory work for the HS2 station, which is due to open in about a decade, began three years ago and has included the removal of two tower blocks at the front of Euston mainline station.
The plans were changed on government orders — at a cost of £105.6 million — from an 11-platform design, which would have opened in two stages, to a 10-platform scheme that is due for completion between 2031 and 2036.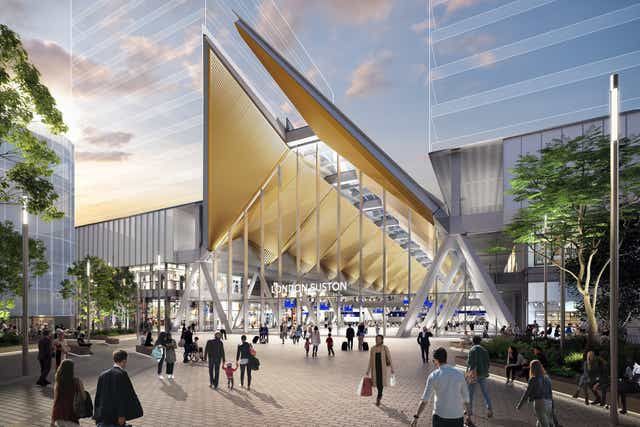 Euston's Hs2 station: like "butterfly wings"

The HS2 station will be similar to St Pancras and London Bridge in terms of also being open to people not planning to travel.

"You can move across the whole footprint of the station without a ticket," Mr McCafferty said.

The roof will be "naturally ventilated" to reduce the station's carbon footprint. Up to 17 trains an hour will depart from its underground platforms.

Passengers will be held on the concourse until their train is ready to depart. Such is the size of the station, information on their ticket will advise them where to wait.

A new station entrance will be built in Gordon Street — on the south side of Euston Road — plus a cycle route across the busy dual carriageway that will pass the main entrance and link with Hampstead Road.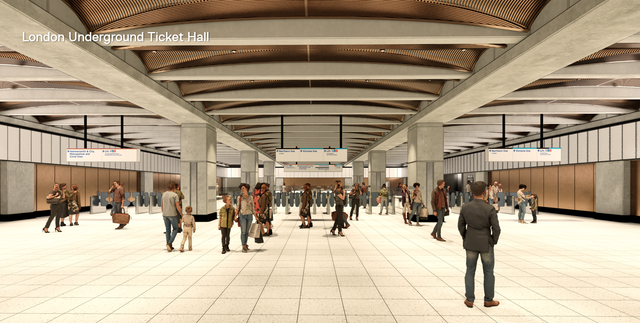 Euston we no longer have a problem: the new Tube station planned for Euston

The new Tube station entrance hall will be built in concrete and will echo the style of Jubilee line extension stations such as Westminster.

It will allow easy interchanges between the Northern and Victoria lines and the Circle, Metropolitan and Hammersmith and City lines at Euston Square. At present, passengers have to walk 300 yards along Euston Road.

"It will be the best rail-to-Underground connection in London," Mr McCafferty said.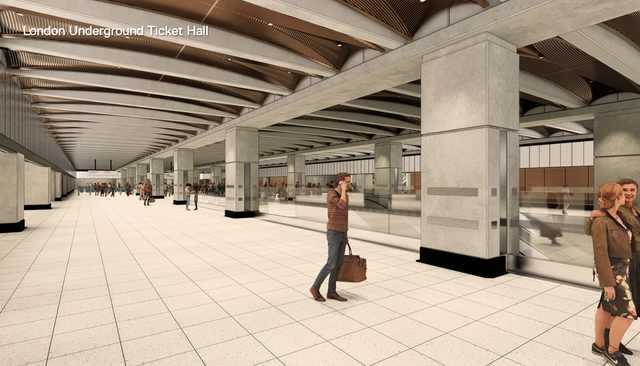 Euston station: direct connections with Euston Square station and the Circle, Met and Ham&City lines
HS2 services between London and Birmingham are due to start running between 2029 and 2033, with a target date of 2030. Trains will initially run between the new stations at Old Oak Common and Birmingham Curzon Street.

The redevelopment of Euston's mainline station is being done by Network Rail. It is due to publish an outline business case early next year.

Developers Lend Lease will start building five tower blocks – for housing, office and commercial space - on top of the HS2 station or at its northern end once it is complete.

Planning restrictions will prevent the blocks harming protected views of St Paul's Cathedral from Parliament Hill and Primrose Hill.

A public exhibition outlining the plans is being held on Wednesday, Friday and Saturday, with webinars next week.