Pressure on the NHS is "intolerable and unsustainable", according to the British Medical Association (BMA) which represents doctors.
Chair of the BMA council, Professor Phil Banfield, has called on the government to "step up and take immediate action" to solve the crisis.

Hospitals are facing soaring demands, which experts believe is in part driven by winter illnesses like flu and Covid.

The government said it recognised the pressures faced by the NHS.

A number of hospitals have declared critical incidents in recent days, meaning they cannot function as usual due to extraordinary pressure.

According to the Royal College of Emergency Medicine (RCEM) - which monitors standards of care in UK A&E departments - the NHS is facing the worst winter for A&E waits on record and some A&E departments are in a "complete state of crisis".

Dr Ian Higginson, the college's vice-president, said he was in "no doubt" there was a risk to patients.

He told BBC Radio 5 Live the waits being experienced by patients in emergency departments were "appalling" - and said he had heard of waits of up to four days.

"Emergency departments are in a really difficult and in some cases a complete state of crisis right now... and in many cases we are unable to provide care at the standard we would like."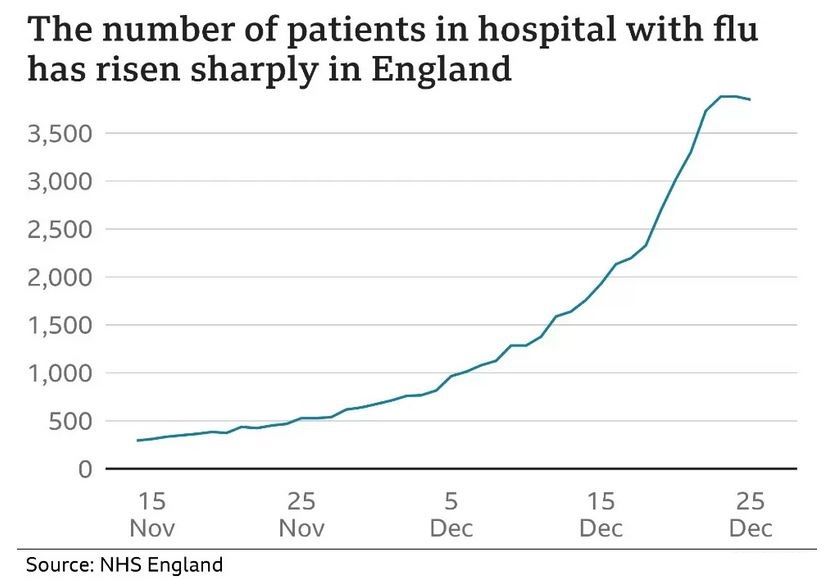 On Sunday, RCEM president Dr Adrian Boyle said between 300 and 500 people were dying every week as a result of delays to emergency care.
The figures appear to be based on research published by the Emergency Medical Journal which calculated that every 82 patients whose hospital admission is delayed by more than six hours results in one death within 30 days.
But NHS England's Chris Hopson said care needed to be taken "jumping to conclusions about excess mortality rates and their cause without a really full and detailed look at the evidence".
Mr Hopson told BBC Radio 5 Live he feels "deeply uncomfortable" about the level of care sometimes being provided at moments of pressure.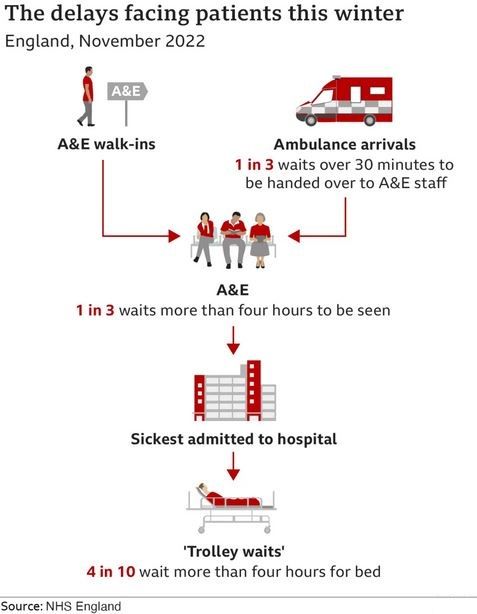 He listed multiple factors that have contributed to pressures on NHS services including:

*  18% more people coming into A&E in the last six weeks compared to the same period last year

*  Covid patients in England increasing to 9,500 compared to 4,500 a few weeks ago

*  Some 3,750 flu sufferers in hospital beds compared to 520 one month ago

*  Delayed discharges of medically fit patients, which currently stands at 12,000

*  A growing population and a decline in living standards

*  9,500 NHS staff absent at the moment due to Covid

However, the chief strategy officer urged people in need of medical attention to "come forward", but reminded patients to "use the best route" of support.

Education minister Robert Halfon said Prime Minister Rishi Sunak was treating pressures on the NHS as a "top priority".

"We're increasing NHS capacity by the equivalent of 7,000 beds, spending an extra £500m to speed up hospital discharges and improve capacity, and providing an extra £150m for the ambulance service," he told BBC Radio 4's Today programme.

Shadow health secretary Wes Streeting blamed the situation on "more than 12 years of Conservative mis-management".

He said he found it "completely inexplicable" that no government minister had appeared in public to "explain what they are doing to grip this crisis".

The Liberal Democrats have called for an immediate recall of parliament and urged the government to pass an emergency health plan and declare a "national major incident".

'Emergency departments unbearable'

Dr Tim Cooksley, president of the Society for Acute Medicine, said the situation in emergency departments remains "unbearable".

"Unless we are able to retain and attract colleagues, and recruit new colleagues, then our situation will remain unbearable for a long time," he told BBC Radio 4's World at One programme.

Andrew Macfarlane's 90-year-old mother has been waiting more than 30 hours for an ambulance after she fell on New Year's Eve and hurt her hip.

"She's in a lot of pain but she's not on death's door, so I think there is a priority listing whereby she's down the priority list," he told the BBC.

His closest hospital in Torbay, Devon, is a 10-minute drive away but he was told not to move his mother in case it caused her further injury.

A spokesperson for the South Western Ambulance Service NHS Foundation Trust (SWASFT) said: "We sincerely apologise for the delay this patient has experienced."

They said handover delays at emergency departments were affecting their performance. An ambulance did later arrive for her.

Meanwhile, nurses and paramedics went on strike in December and the BMA has said it will ballot junior doctors this month. Nurses will again strike in England on 18 and 19 January and ambulance staff in parts of England on 11 and 23 January.

The government says it recognises the pressures being faced, and said it was providing £14.1bn in additional funding for health and social care over the next two years, as well as an extra £500m to try to speed up hospital discharges.