Events marking the Queen's Platinum Jubilee have been held across Northern Ireland, including the lighting of jubilee beacons.
The Queen is the first British monarch to have a platinum jubilee, celebrating 70 years on the throne.

She attended a beacon lighting ceremony on Thursday after watching a military parade earlier in the day.

The Queen will not attend Friday's Jubilee service at St Paul's Cathedral after experiencing discomfort.

In a letter to the Queen, Sinn Féin vice-president Michelle O'Neill praised her "significant" contribution to the peace process.

She thanked the Queen for her warmth and courtesy during meetings.

In the letter, sent last month, Ms O'Neill, who is set to become Northern Ireland's first minister, said the Platinum Jubilee was "an historic moment, especially for all those from the unionist and British tradition on the island of Ireland, and across these islands whom with great pride and devotion hold you very dear".

She added that she wished to "strengthen the bonds of friendship and renew the spirit of co-operation between those of us in the world of politics and public life from different traditions, and also the people and communities we proudly represent".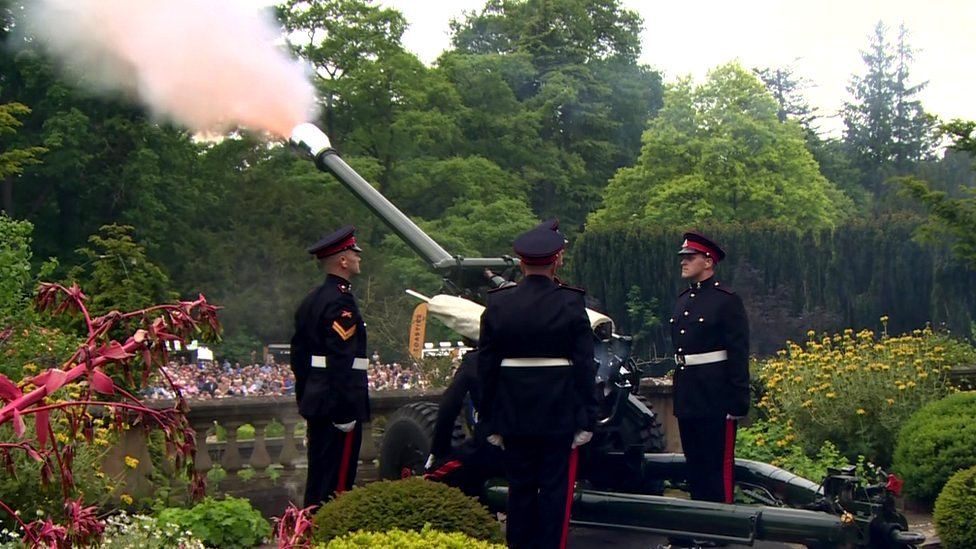 Crowds gathered in the grounds of Hillsborough Castle to see a gun salute

A four-day bank holiday weekend is being observed to mark the jubilee, with a number of events taking place across Northern Ireland.

At Hillsborough Castle, the Queen's official residence in Northern Ireland, there was a 42-gun salute at midday.

Members of the 206 Ulster Battery of the Royal Artillery fired from three guns outside the castle as hundreds of people gathered in the grounds of the royal palace to watch the commemorative event.

In a statement, Democratic Unionist Party (DUP) leader Sir Jeffrey Donaldson, the MP for Lagan Valley, congratulated the Queen and said she was a "monarch never afraid to give leadership by bringing communities together, as we witnessed here in Northern Ireland".

"Having represented Royal Hillsborough for more than 25 years, it has been an honour to have the Queen stay in and visit the village on many occasions," he added.

"The people of the village speak fondly of her warmth and interest in Northern Ireland."

In keeping with the long tradition of celebrating Royal jubilees, beacon lighting took place across the UK and many buildings went purple for the occasion.

One of the biggest events in Northern Ireland was in Enniskillen, where more than 100 pipers and musicians will play Diu Regnare, which has been specially composed to mark the Platinum Jubilee.

A main beacon along with 12 community beacons have been lit at Enniskillen Castle, with the building illuminated purple while two beams of light project into the night sky.

The "crossing of lights" symbolises the Queen's historic visit to Enniskillen for her Diamond Jubilee in 2012.

Catherine Robinson, president of the Enniskillen Rotary Club, said the beacons will be a spectacular sight.

"We're getting really excited about it now although, being out here in the west, we have to wait until quite late in the evening to get a bit of darkness so it'll be 10:30 at night before we light them.

"We have 12 people from our local community, representing the Commonwealth and other communities who live here in Fermanagh and south Tyrone, to come and light our beacons and celebrate the 70 years of service by the Queen to this nation."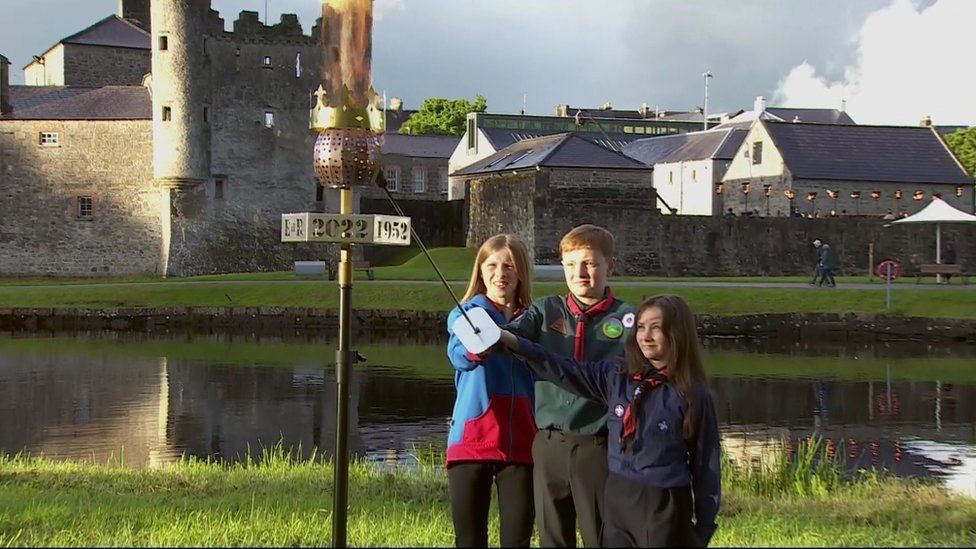 https://ichef.bbci.co.uk/news/976/cpsprodpb/3067/production/_125019321_enniskellenbeacon4.jpg

Local scouts Hayley Woods, Erin McCullough-Daley and Evan Clarke, who were invited to help light a beacon, said the event was very exciting.

"I think it's amazing that she got this far and she's been doing it for 70 years," added Hayley.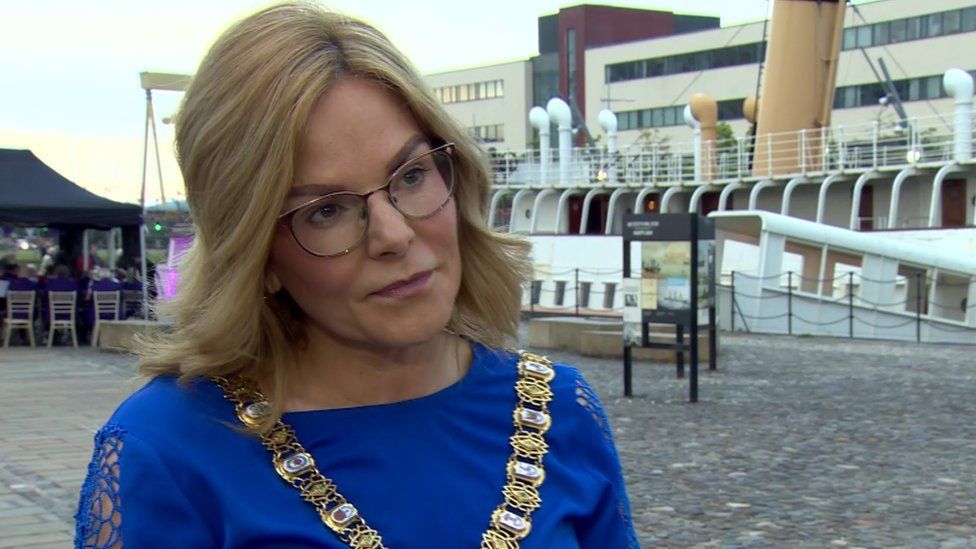 Belfast Lord Mayor Tina Black

New Lord Mayor of Belfast, Sinn Féin's Tina Black, attended a beacon lighting ceremony at Titanic Belfast, saying she had made a pledge to be "a mayor for all".

"I recognise that this is a celebration that's important to many people right across the city so I felt it was important for me to be here as a representative of Belfast citizens in their entirety."

In Londonderry, a ceremonial beacon lighting was held at St Columb's Cathedral.

The Catholic Bishop of Derry Donal McKeown said he "wouldn't miss the event for the world".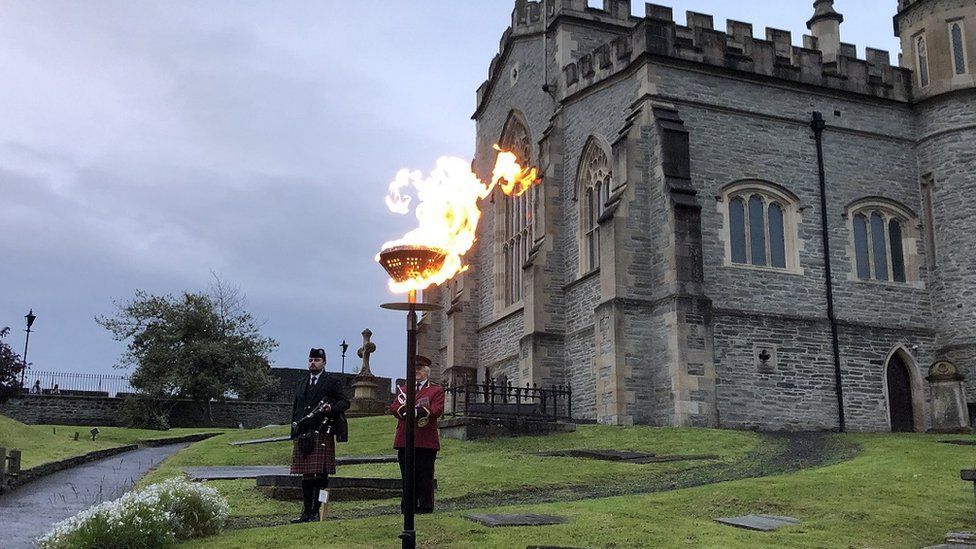 The beacon lit at St Columb's Cathedral in Derry

"I think we're recognising in a world of many frail political leaders somebody who has given an enormous amount of service to her own country and, I'm quite sure, at enormous personal expense as well.

"Of course I would want to be here, to help those for whom the British identity is very important, to help them celebrate this evening and to stretch out that hand of friendship that so many have stretched out before me."

The Church of Ireland Bishop of Derry and Raphoe, the Reverend Andrew Forster, said people were gathering "with a real sense of expectation and a real sense of thankfulness".

Official birthday parade

Beacons were also lit at a number of other locations including Armagh and Ballymena, with a total of 1,500 lit across the UK.

Wounded servicemen and women climbed Slieve Donard to light a beacon at the top of Northern Ireland's highest mountain.

A postcode-searchable map on the jubilee website allows you to search for events near you.

The Queen's official birthday parade was held in London, culminating with an RAF fly-past watched by members of the Royal Family on the balcony of Buckingham Palace.
Platinum Jubilee beacons lit across Northern Ireland
Royal artefacts go on display in Enniskillen