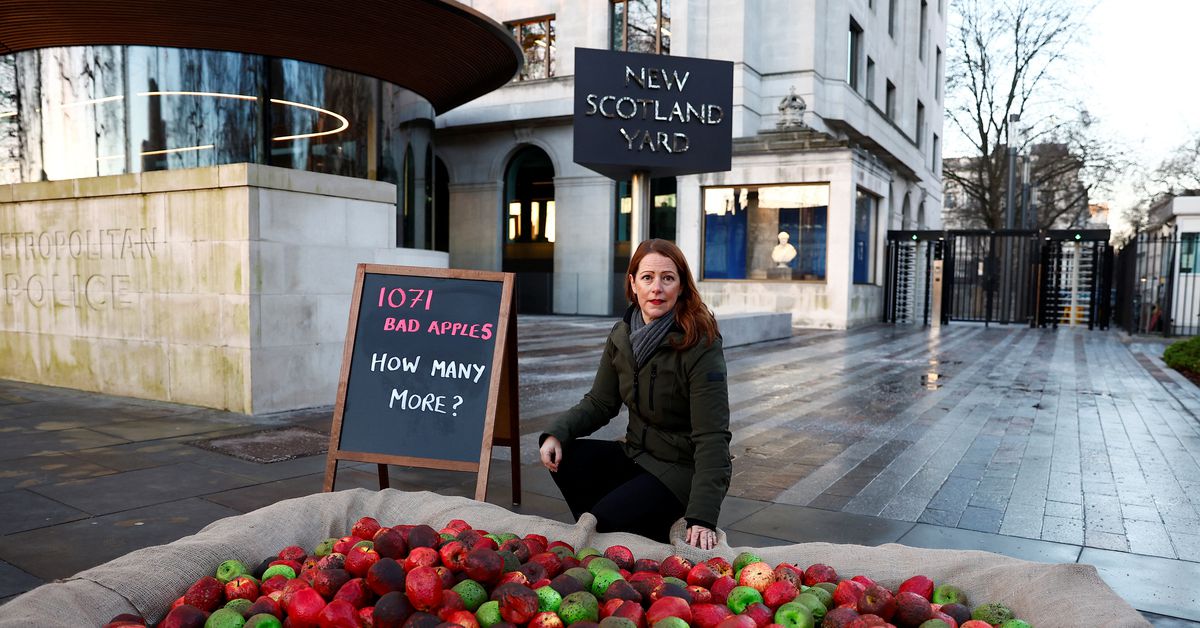 One thousand 'bad apples' placed outside London police HQ in demonstration
London police were confronted by the sight of 1,071 plastic rotten apples outside their headquarters on Friday, in a display seeking to mark the high number of staff facing investigation for sex offences or domestic abuse.
Refuge, a British domestic abuse charity, placed the imitation red and green apples outside the Metropolitan Police's New Scotland Yard building in central London, alongside a sign saying: "1071 bad apples. How many more?"

The demonstration comes days after a serving London police officer admitted to 24 counts of rape in a campaign of abuse against women — news that appalled the nation and shone a light on the issue of falling public confidence in law enforcement.

In an effort to regain public trust, the Met police said on Tuesday it was investigating sexual and domestic abuse cases involving 1,071 officers and staff, and that hundreds were likely to be sacked as a result.

"This is not one bad apple; this is a systemic problem across policing," Refuge CEO Ruth Davison said. "How have these perpetrators of abuse been allowed to enter and remain in positions of power for so long?"

"What happens next must change the culture of policing for good. A force which breeds violent misogyny is not a force which can even begin to protect women and girls."

The Met, which has faced a string of scandals in recent years revealing a culture of corruption, racism and misogyny, is Britain's biggest police force with more than 43,000 staff and responsibility for issues such as terrorism and extradition.

Refuge has called for "urgent and radical change" and advocated for fast-track legislation to improve vetting and disciplinary standards across police forces and mandatory training for all officers on issues concerning violence against women.

A Met spokesperson said the force was aware of Friday's protest, and its officers had engaged with those involved to facilitate a peaceful demonstration. It said the protesters left at 1000 GMT and took the apples with them.