Health officials say all countries with reported infections of the new variant will be moved to highest-risk tier for entry.
Hong Kong residents returning from countries with reported cases of the Omicron coronavirus variant that is now upending global travel will undergo 21 days of quarantine and be grouped in the highest-risk category, officials announced on Monday as the city confirmed its third such infection.

Secretary for Food and Health Sophia Chan Siu-chee, however, stressed that all three Omicron cases were imported and had been successfully contained, with progress on reopening the border with mainland China not affected.

Travellers from at least nine more countries which had reported Omicron cases, including Canada and Australia, will face stricter entry and quarantine requirements in Hong Kong.

The city's third Omicron infection involved a 37-year-old man who arrived from Nigeria on Wednesday. He was confirmed with the virus on Sunday.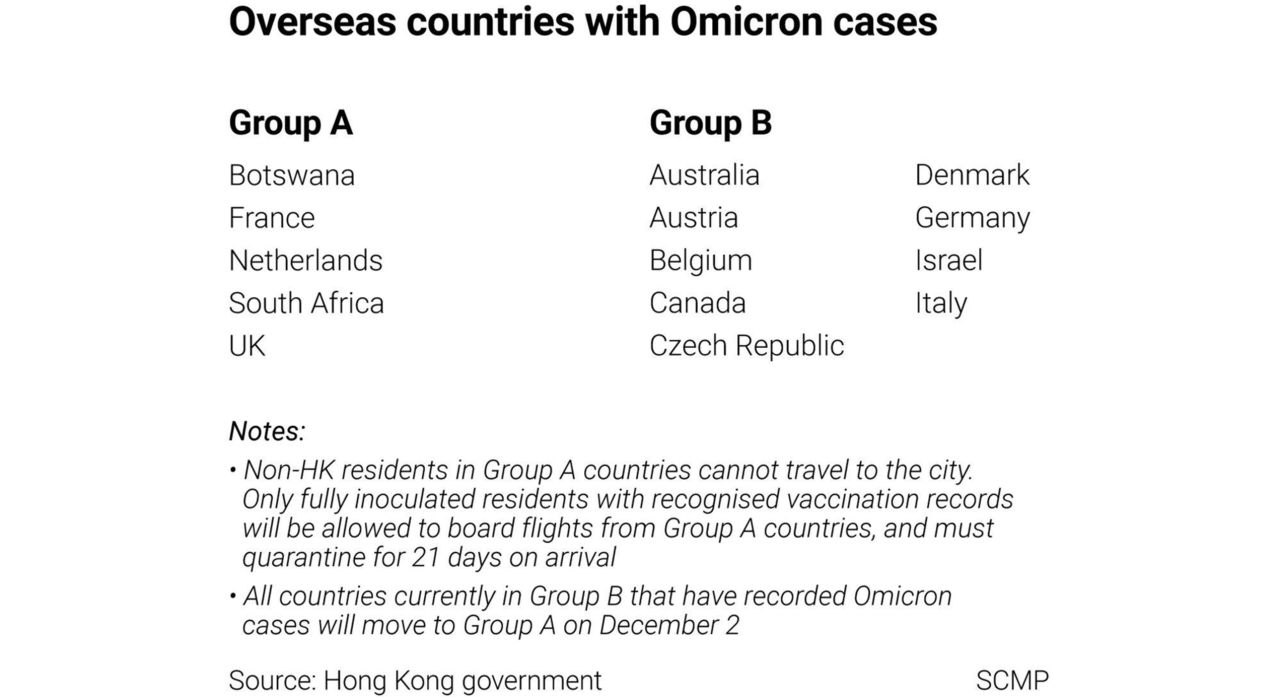 Overseas countries with Omicron cases

The man, who had not shown any symptoms, was undergoing quarantine at the Ramada Hong Kong Grand View hotel in North Point before a sample collected on the third day after arrival tested positive for Covid-19.

The other two cases were reported last week.

"We have successfully detected those three cases, and prevented them from entering into our community," Chan told a press briefing.

All three patients are stable and being isolated at North Lantau Hospital Hong Kong Infection Control Centre until they recover.

Chan said the authorities would further tighten their work in two areas – entry requirements and virus testing – in view of the potential threat from the variant, which could be more transmissible, reduce vaccine effectiveness and increase reinfection risk.

"We will closely monitor the epidemic situation in different places, and include all places reported with Omicron infections on the list of Group A countries," Chan said.

For Group A countries, the highest-risk category, only fully vaccinated Hong Kong residents are allowed entry to the city and must quarantine for 21 days upon arrival.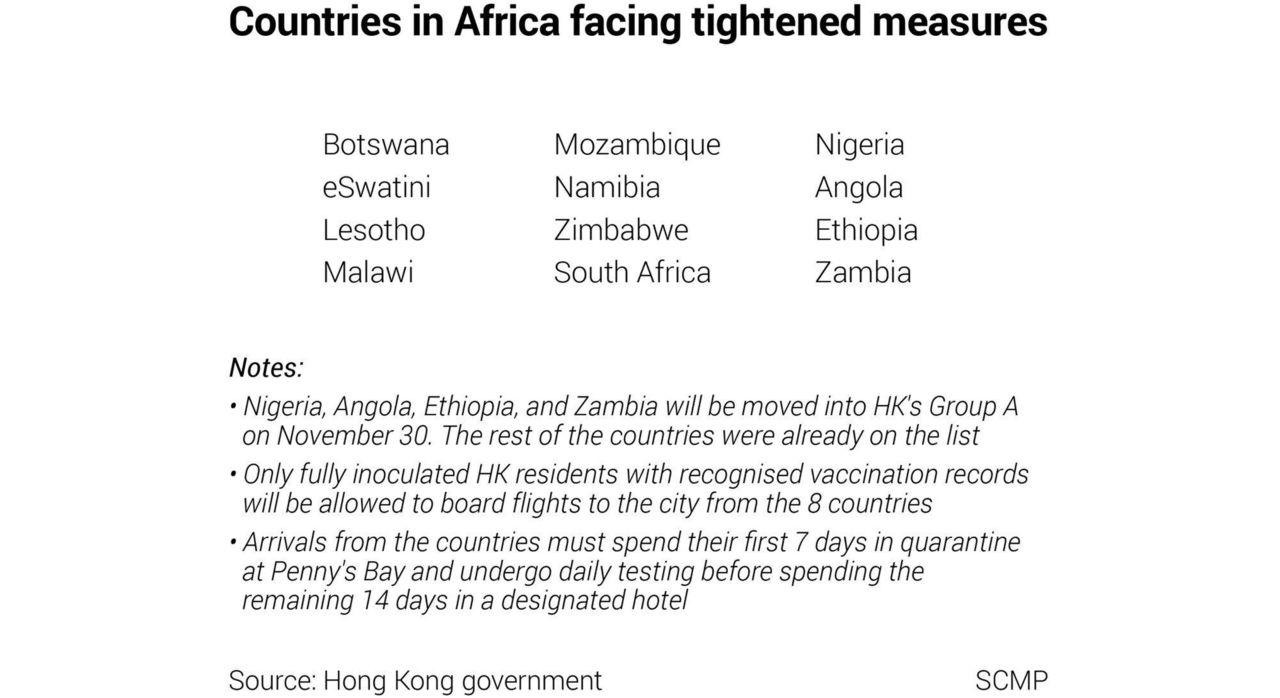 As of Monday night, aside from Hong Kong, at least 14 territories had reported Omicron cases, including nine – Australia, Austria, Belgium, Canada, Czech Republic, Denmark, Germany, Israel and Italy – which will to be moved from the city's medium-risk Group B tier to Group A on December 2. The other five – Botswana, France, the Netherlands, South Africa and Britain – are already in Group A.

Citing the latest developments, authorities also announced that four more African countries – Nigeria, Angola, Ethiopia and Zambia – would be moved to Group A from November 30.

For Group B countries, fully vaccinated non-residents and unvaccinated Hong Kong residents are allowed to come to the city. Fully jabbed travellers would need to quarantine for 14 days rather than 21.

Chan said arrivals from countries with a suspected community infection of Omicron would need to spend their first seven days at the government's Penny's Bay quarantine facility – designed for close contacts, who are seen as higher risk – and undergo daily testing, before serving out their remaining 14 days of isolation in designated hotels.

Those same rules will also apply to travellers from any country that has exported cases involving the new variant to Hong Kong, even if that country has no local breakout of its own.

With the variant first appearing in southern Africa, a total entry ban on non-Hong Kong residents from eight countries – South Africa, Botswana, eSwatini, Lesotho, Mozambique, Malawi, Namibia and Zimbabwe – kicked in on Saturday.

Residents returning from those countries – as well as the four African nations being added to Group A on November 30 – are required to serve the more stringent quarantine and testing requirements.

Despite some local health experts calling for arrivals from such countries to serve their entire 21-day quarantine at Penny's Bay, Dr Edwin Tsui Lok-kin, controller for the Centre for Health Protection, defended the current policy.

"The capacity of the Penny's Bay facility is one of the important factors we have to consider," Tsui said.

He said that while there was capacity to handle the volume of arrivals from the eight southern African nations, health authorities expected more countries to be hit with Omicron infections.

"So we hope we can have a more sustainable system to cater for this kind of enhanced monitoring measures for the Omicron variant," he added.

Tsui said the known incubation period for the variant was between three and four days, but that could change if more cases were uncovered.

Chan added that health authorities would also conduct whole genome sequencing on every variant case to ensure a thorough understanding. Previously, such sequencing, which usually takes two to three days, was only done on cases of cluster outbreaks.

The latest measures came as health officials confirmed three new Covid-19 cases, all imported. They involved arrivals from India, Canada and Finland. The tally of confirmed infections now stands at 12,430, with 213 related deaths.

Questions were raised on whether the new developments would affect Hong Kong's progress on reopening the border with the mainland, with top officials last week saying the city had reached "basic" conditions for such a move. Chan stressed the Omicron fears were unlikely to affect the work, as local border control and pandemic measures were aligned with the mainland's.

"As far as the resumption of cross-boundary travel is concerned, we are continuing the preparation of such work accordingly, so we do not see major issues right now," she said.

Chan acknowledged the city would have to closely monitor the situation and adjust measures if necessary to prevent the variant from spreading into Hong Kong.

A mainland official source also told the Post he had not heard of any delays on border reopening talks. Instead, differing views between both sides centred on the suspension mechanism for quarantine-free travel and daily quotas.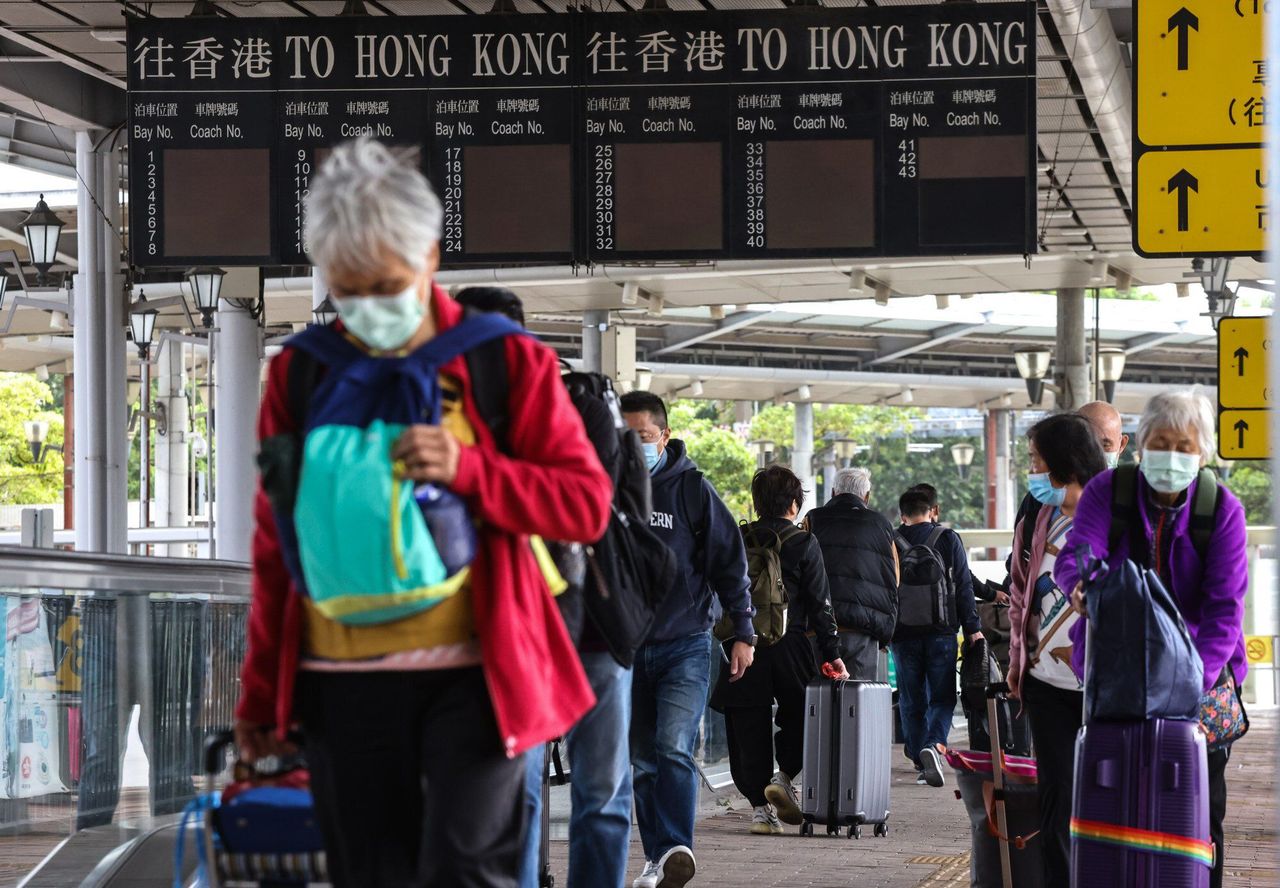 Local officials are hoping to reopen the border with mainland China on a limited basis soon.

The source said while Hong Kong had suggested the suspension should be triggered only when there were two or more clusters in the city, Guangdong authorities preferred the threshold to be set at one case. The province is expected to be the first quarantine-free entry point to the mainland for Hongkongers.

The source said Beijing might need to step in for a final decision.

Hong Kong had also asked for a daily quota of more than 1,000 travellers under the scheme, but Guangdong was still assessing its border clearance capacity and infection control standards, the source added.

First detected in Botswana and reported to the World Health Organization by South Africa, the Omicron variant has since cropped up in southern Africa and other places.

The first two cases in Hong Kong had a high viral load, with a CT value at 18 and 19, obtained at days three and nine during their quarantine periods.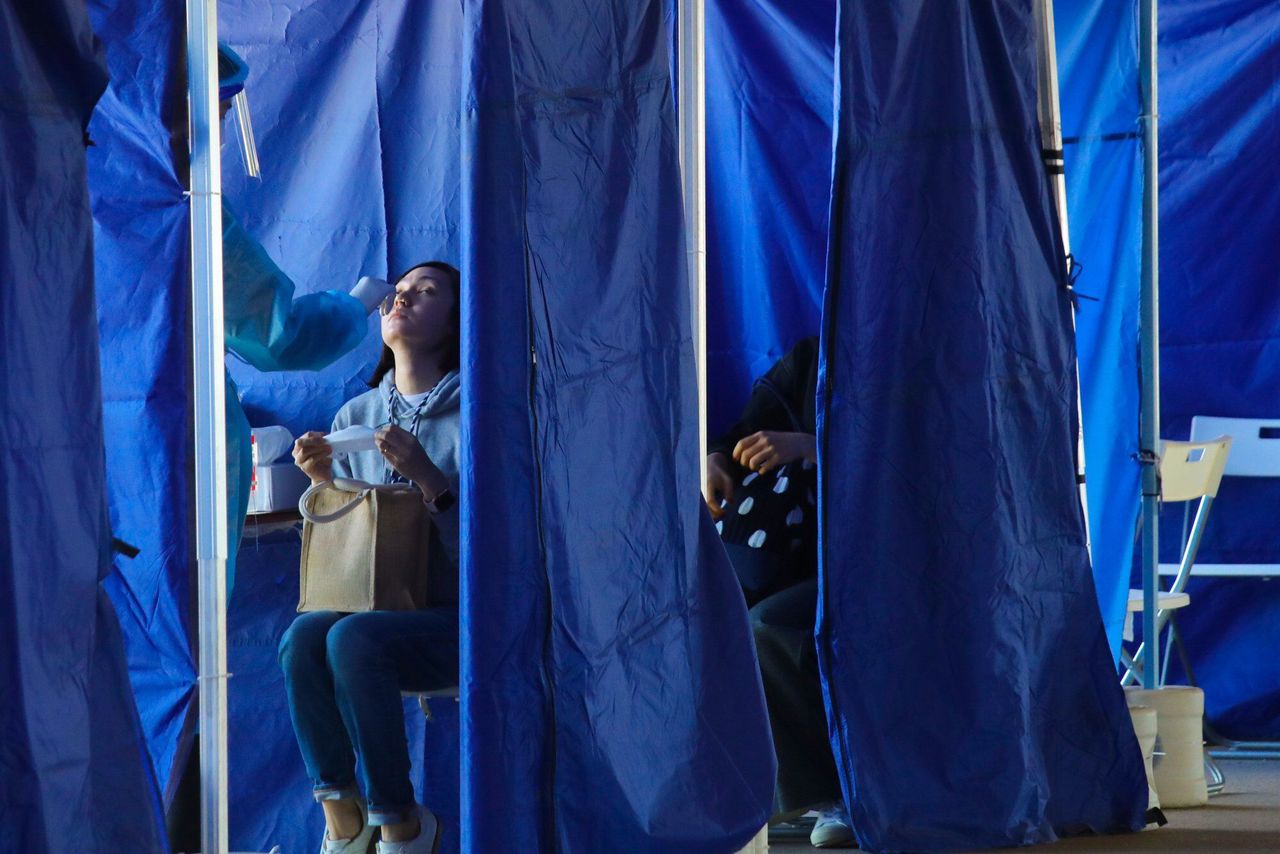 Covid-19 testing is conducted at Hong Kong International Airport

While there has been no indication that Omicron has spread within Hong Kong, some countries have already imposed restrictions on travellers from the city.

Russia, Pakistan and the Caribbean island nation of Antigua and Barbuda have imposed a travel ban on travellers from Hong Kong along with at least six African countries. Switzerland is also requiring visitors from the city to undergo 10 days of quarantine before entering the country.

Government pandemic adviser Professor David Hui Shu-cheong on Monday backed the government's decision to send residents flying in from affected countries to Penny's Bay for a week, noting the three Omicron cases in Hong Kong were detected within the first seven days of hotel quarantine.

"The level of protection has already been strengthened … The first week represents the highest risk, so it's [OK] if we transfer arrivals to hotels after a week," Hui said, adding that air in the Penny's Bay Quarantine Centre was better regulated and the risk to those collecting samples was therefore lower.

But Dr Ho Pak-leung, an infectious disease expert at the University of Hong Kong, said it was "strange" for authorities to send arrivals from southern Africa to Penny's Bay for only one week.

He argued that, given how few Hongkongers were arriving from those countries, they should all spend their full quarantine period at Penny's Bay as loopholes in quarantine hotels had not been completely resolved.