Government adviser David Hui says quarantine hotels should step up their efforts to prevent cross infections, while infectious disease expert Leung Chi-chiu says the government should discourage travel.
Hong Kong's quarantine hotels must cut off any possible avenues of coronavirus transmission in light of the spread of the new Omicron variant, a local health expert has said, while another has cautioned against unnecessary travel during the coming holiday season.

First detected in Botswana, southern Africa, the Omicron variant has since cropped up in South Africa, Israel, Germany, Italy and Britain, with Hong Kong also recording two cases picked up in a quarantine hotel earlier this month.

However, experts were divided on Sunday as to whether more travel restrictions were needed to prevent the variant from slipping into the local community.

"Hong Kong's long hotel quarantine means we probably don't have such a big problem," said government pandemic adviser Professor David Hui Shu-cheong, who pointed to an analysis of imported cases by the Department of Health that found 92 per cent were detected by the first week of isolation and 99 per cent by the second.

"The key is there cannot be transmission within the quarantine hotels, there really need to be precautions against airborne transmission."

More air filters should be installed in corridors, and patients should not open their doors if their windows were ajar to prevent air currents sweeping virus-bearing respiratory droplets into hallways, he said.

Governments across the world have responded to the new B.1.1.529 variant – first reported to the World Health Organization on November 24 by South Africa – by imposing stricter border controls, including outright travel bans against several countries on the continent.

Israel on Saturday went one step further, banning the entry of visitors from all countries for two weeks.

Hong Kong has already implemented a total ban on the entry of non-Hong Kong residents from eight African countries – South Africa, Botswana, eSwatini, Lesotho, Mozambique, Malawi, Namibia and Zimbabwe.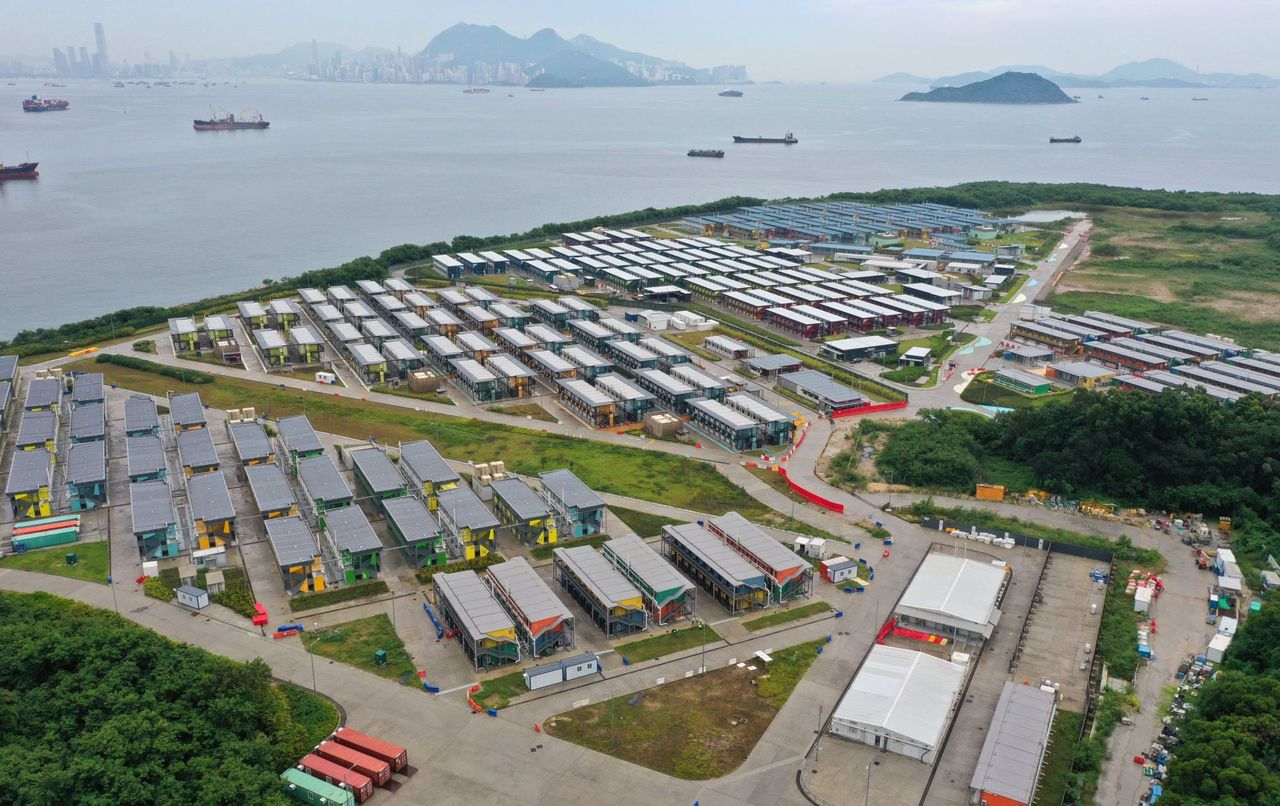 Residents returning to the city from eight countries must spend their first week of quarantine at Penny's Bay (pictured).

Starting Sunday, city residents arriving from those countries must serve their first week of quarantine at the government-run Penny's Bay facility – where they will be subject to daily testing – before completing their remaining 14 days in a designated hotel.

Hui said serving all three weeks of quarantine in the government facility could become necessary if the Omicron variant became the predominant strain globally, but at this stage further restrictions were not needed.

However, infectious disease expert Dr Leung Chi-chiu called for arrivals from the eight countries to be quarantined in Penny's Bay for the entire 21-day stretch, noting the second Omicron case in Hong Kong was the product of hotel cross infection.

In addition to reviewing infection-control measures in designated hotels, Leung said health authorities might need to ban flights from other countries with surging variant cases.

He also urged the government to deter international travel, particularly during the coming Christmas season, by warning residents they could be stranded overseas if they chose to leave.

"Right now our measures are quite relaxed, but those who don't actually need to travel should avoid doing so as there could be a chance we need to suddenly ban flights," he said.

Leung added: "With international transport and travel resuming, we cannot rule out there could be a spread of the Omicron variant to other areas as well, but because the caseloads elsewhere might be quite high, sequencing may have slowed down."

Quarantine exemptions for pilots would also have to be reviewed as they were now the highest-risk group entering the city from abroad, Leung said.

"Hong Kong needs to prevent the Omicron variant from entering the community or it could scuttle the chances of the border reopening with mainland China," he added.

But Hui maintained the Omicron variant – named after the Greek letter – would not disrupt recent progress on reopening as long as cases could be caught at the border.

Hong Kong confirmed three new imported infections on Sunday, from Canada, Nigeria and Qatar. Two of the cases involved mutated variants, but test results were still pending.

The new cases brought the city's tally to 12,427, with 213 related deaths.

Meanwhile, Executive Council convenor Bernard Chan said he believed the stubbornly low vaccination rate among the city's elderly would start to improve if the government imposed rules requiring residents to have at least one jab to enter venues such as restaurants.

At the moment, less than 20 per cent of Hongkongers aged 80 and above have had at least one dose of a coronavirus vaccine.

"If more places are included in the vaccine bubble, then I believe the elderly will get vaccinated. They just don't have any motivation to do it right now," Chan said. "But if you keep waiting for them to take the initiative, then it will never happen."