The nurses strike planned for Wales will go ahead after the Royal College of Nursing (RCN) and Welsh government failed to come to a pay agreement.
Nurses in all but one health board in Wales will be striking on Thursday and 20 December.

The RCN said Health Minister Eluned Morgan had failed to put forward an increase to the current pay award.

The Welsh government said it could not make an increased pay offer without extra funding from the UK government.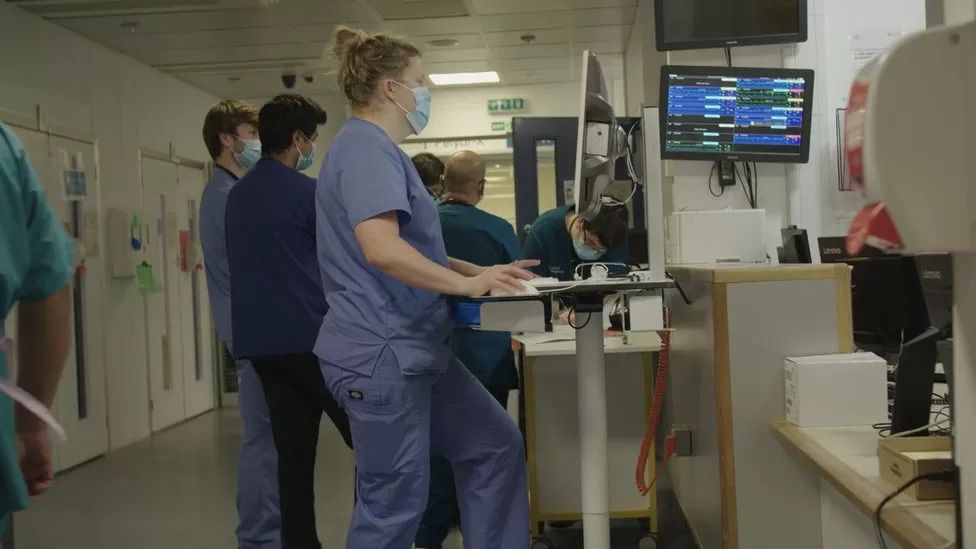 Doctors, consultants, GPs and nurses in Wales are being offered a pay rise of between 4% and 5.5%
Helen Whyley, director of RCN Wales, said: "Strikes are inevitable in Wales because the Welsh government is making it so.
"This is the second time in as many weeks that the Welsh government have brought RCN Wales to a meeting where they clearly have no intention of coming to a resolution on our dispute."
She said the trade union was open for a "meaningful discussion" on pay for nursing, but this must be a significant increase.
"Low pay is fanning the flames of a workforce crisis, and the rising number of registered nurse vacancies is already putting patients at risk," she said.
"The pressure means nurses are caught between their responsibilities to their patients, their families, and their own health."
The RCN said nurses were "significantly" worse off than 10 years ago and the pay award on offer would leave them £1,000 worse off in real terms.
She added: "The Welsh government's prolonging of this unnecessary crisis is reckless, self-defeating, and in no one's interest."
In July, the lowest-paid nurses in Wales were offered a £1,400 flat pay increase, but, unions repeatedly argued this was not enough.
The strikes are expected to cause mass disruption, with thousands of routine operations and non-emergency appointments cancelled.
Some services are exempt from strike action, and will run as normal including chemotherapy, dialysis, intensive care and high dependency units, neonatal intensive care, paediatric intensive care, and accident and emergency departments.
The Welsh government said: "The minister for health and social services met again with NHS unions today.
"However, without additional funding from the UK government we are not able to make an increased pay offer without risking a reduction in services.
"Whilst we were unable to avert the forthcoming industrial action, all partners have agreed to keep talking and to continue to work together on key issues."
The UK government said: "The Welsh government is well-funded to deliver on its devolved responsibilities - we are providing a record £18bn per year settlement, which is still increasing in real terms over the 2021 Spending Review period."