Foreign Secretary James Cleverly tweeted: 'Media freedom and freedom to protest must be respected. No country is exempt'
Downing Street slammed on Monday the reported beating of a BBC journalist by police in China as "shocking and unacceptable".

No10 stressed that journalists had to be able to do their work "without fear of intimidation".

The strong words were issued after BBC journalist Ed Lawrence was "arrested, handcuffed, beaten and kicked" by the security forces in Shanghai, while covering a protest against the country's strict Covid-19 restrictions.

In London, the Prime Minister's official spokesman said: "The arrest of this journalist simply going about their work is shocking and unacceptable.

"Journalists must be able to do their jobs without fear of intimidation."

The Foreign Office was in contact with Mr Lawrence and the local authorities in China about the matter, he added.

On the widespread protests against Xi Jinping's zero Covid policies, No10 added: "We urge the Chinese authorities to respect those who decide to express their views about the current situation.

"Freedom to protest must be respected.

"We will continue to raise our human rights concerns with the Chinese government at all levels, as part of a frank and constructive relationship."

However, the Prime Minister's spokesman also emphasised that the Government would seek "constructive" engagment with China on other issues to solve global problems, such as Vladimir Putin's war in Ukraine.

Earlier, Foreign Secretary James Cleverly said the arrest and reported beating of Mr Lawrence was "deeply disturbing" and Business Secretary Grant Shapps stressed there was "absolutely no excuse" for it.

He tweeted: "Media freedom and freedom to protest must be respected. No country is exempt.

"The arrest of BBC journalist @EP_Lawrence in China is deeply disturbing. Journalists must be able to do their job without intimidation."

Mr Shapps told of the Government's "considerable concern" over Mr Lawrence's arrest.

He told Sky News: "There can be absolutely no excuse whatsoever for a journalist who was simply covering the protests going on for being beaten by the police. That's a considerable concern."

The corporation had issued a statement condemning the behaviour by Chinese police.
"The BBC is extremely concerned about the treatment of our journalist Ed Lawrence, who was arrested and handcuffed while covering the protests in Shanghai," a spokesperson for the British public service broadcaster said.
"He was held for several hours before being released. During his arrest, he was beaten and kicked by the police. This happened while he was working as an accredited journalist."
Later, Mr Shapps told LBC Radio: "Whatever else happens, freedom of the press, freedom to report is sacrosanct."
Security minister Tom Tugendhat warned the arrest was an example of the Chinese Communist Party's (CCP) wider actions.
He tweeted: "The detention of Ed Lawrence is an echo of the repression the CCP is attempting elsewhere. China's attempts at state repression here in the UK remind us of the urgent need to defend our own freedoms."
Footage on social media appeared to show Mr Lawrence being arrested by four men in police uniforms.
While being led away, with his hands cuffed behind his back, he can be heard to say to a colleague: "Call the consulate now."
The BBC said it has not been given a credible explanation for Mr Lawrence's detention.
"We have had no official explanation or apology from the Chinese authorities, beyond a claim by the officials who later released him that they had arrested him for his own good in case he caught
Covid
from the crowd," the public service broadcaster said.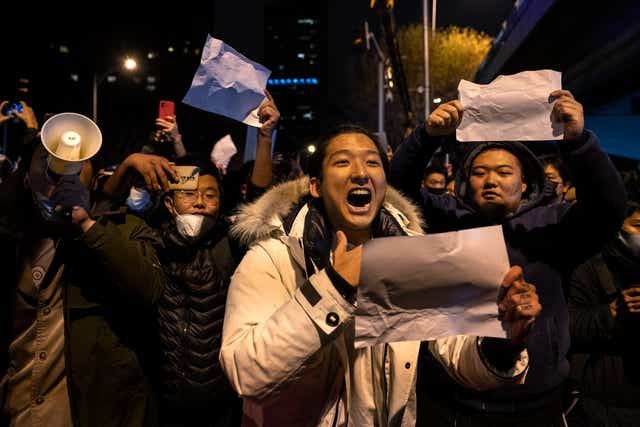 Following the incident, Mr Lawrence shared the BBC's statement on Twitter, adding: "I understand at least one local national was arrested after trying to stop the police from beating me. Thanks very much for the kind words and messages of concern."
China's embassy in London has been approached for comment.
China's
Covid
-19 infections reached another record high on Monday following an extraordinary weekend of protests over the nation's restrictive
coronavirus
curbs, in scenes unprecedented since President Xi Jinping assumed power a decade ago.
Police took away a busload of protesters in Shanghai, where demonstrators and police clashed in action sparked by anger over an apartment fire late last week in the far western city of Urumqi that killed 10 people.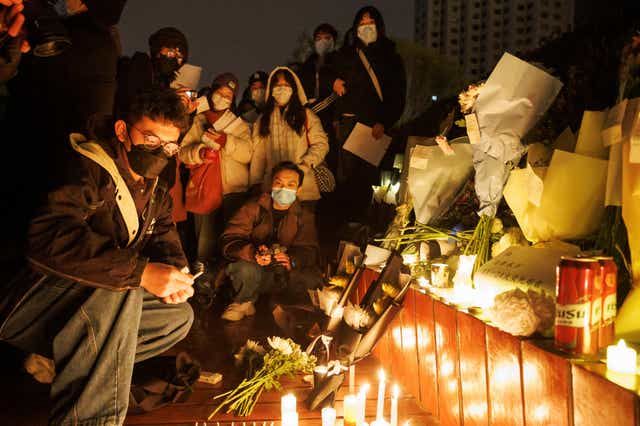 The deadly fire fuelled speculation that Covid curbs in the city, parts of which had been under lockdown for 100 days, had hindered rescue and escape, which city officials denied. Crowds in Urumqi took to the street on Friday evening, chanting "End the lockdown!", according to unverified videos on social media.

The weekend saw activists in cities including Wuhan and Lanzhou overturn Covid testing facilities, while students gathered on campuses across China to protest.

In Beijing, large crowds were gathered past midnight on Sunday along the capital's 3rd Ring Road during peaceful but often impassioned scenes.

Protests also took place outside China's embassy in London on Sunday.