There was "no clear evidence" that Prime Minister Boris Johnson had breached Covid-19 rules many times in Downing Street, the Metropolitan Police's acting chief has said.
Sir Stephen House said the decisions made by officers investigating lockdown parties at No 10 were correct.

The Met Police issued 126 fines to 83 people, including the prime minister.

But the force has faced calls to explain why Mr Johnson did not receive fines for other events he attended.

At one gathering on 13 November, 2020, Mr Johnson was pictured drinking with staff in Downing Street at a leaving do for the prime minister's former communications chief, Lee Cain.

The Met Police has handed out fines for Covid breaches inside No 10 on this date but not to the prime minister.

Mr Johnson, his wife Carrie, and Chancellor Rishi Sunak each received only one fine for attending a party thrown for the prime minister's birthday in June 2020.

More details about the 12 gatherings investigated by the Met Police and others were outlined in a long-awaited report by senior civil servant, Sue Gray.

On Thursday, appearing in front of the London Assembly's Police and Crime Committee, the Met Police's acting commissioner was asked about how the force handled the investigation and decided who should be fined.

One committee member, Labour's Unmesh Desai, asked why the prime minister had only received one fine "when there was clear evidence suggesting he had breached the law quite a few times".

In reply, Sir Stephen said: "I don't believe there is clear evidence that the prime minister breached many other times."

He said he was personally involved in the decision-making and was confident in the outcome of the force's investigation.

"I'm not particularly concerned about what the prime minister thinks, I do my job without fear or favour," Sir Stephen said, who is in post until a replacement is found for former boss Dame Cressida Dick.

'Impossible' expectations

Sir Stephen was then questioned about an officer on duty in Downing Street who, according to the Grey report, had seen "a large number of people" at a "crowded and noisy" party, where "some members of staff drank excessively".

The officer had responded to a panic alarm button that was accidentally triggered at the 18 December, 2020 party.

Asked why the officer had not challenged the partygoers over Covid breaches, Sir Stephen said Downing Street officers were there for security and not to "police what goes on inside the building".

"And I don't believe that the officer that we're talking about felt that they were seeing something that necessarily breached coronavirus regulations," Sir Stephen said.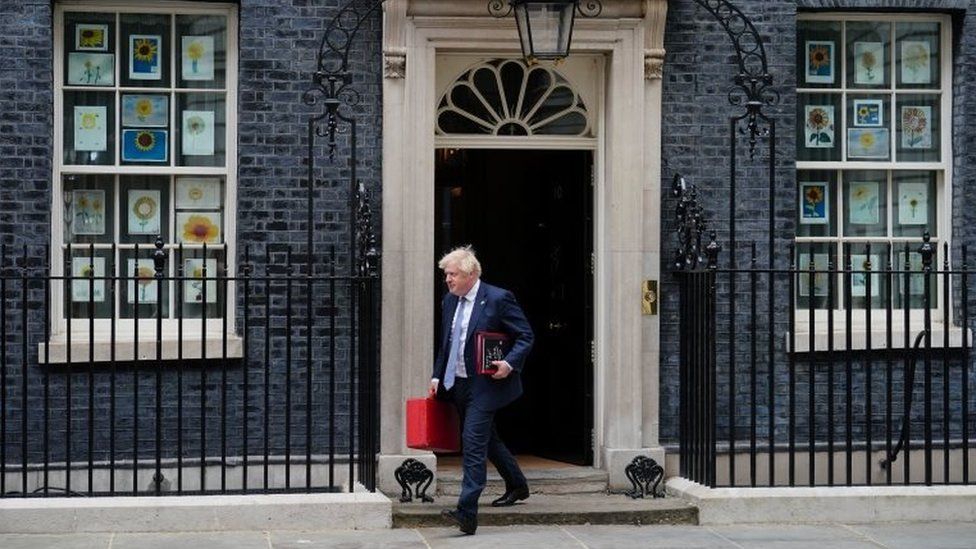 Later, he said one challenge officers faced was working out which gatherings were work-related, and which ones were not.

"I think it's impossible to expect an officer, walking through a room with a lot of people in it, to work out whether or not these people are breaching coronavirus regulations when it's taken a team of experienced detectives many many weeks to do the same thing," Sir Stephen said.

Setting out how the Met Police carried out its investigation, Sir Stephen said officers examined "every case", looking at "hundreds of documents, including emails, electronic door logs, diary entries, witness statements, photographs, CCTV images, and we sent questionnaires to people who we felt may have breached legislation".

Officers looked at "each individual's activity" at each event, how long it lasted and the amount of time an attendee spent there, Sir Stephen said.

As part of its investigation, the Met Police sent out questionnaires to suspected Covid rule-breakers but there were no interviews under caution.

Sir Stephen said said the "vast majority" of people returned their questionnaires, but did not say who did not and denied it had hampered the force's investigation of them.

He said the criteria for this decision-making process was included in a letter sent to the mayor of London, Sadiq Khan.

Earlier this week, Mr Khan has asked the Met Police for a "detailed explanation" of how it decided who to fine during its investigation into lockdown parties at No 10.

The mayor's spokesperson said Mr Khan was concerned a "lack of clarity" was eroding "trust" in the police.
Sir Stephen House: "I don't believe there is clear evidence that the PM breached (rules) many other times."
Downing Street insiders speak out on Partygate