Prime Minister Boris Johnson has won a vote of confidence in his leadership of the Conservative Party by 211 to 148.
The secret ballot was triggered after at least 54 Tory MPs wrote letters saying they no longer supported Mr Johnson.

What was the result of the confidence vote?

All 359 Conservative MPs took part in the vote.

Mr Johnson received the support of 211 Conservative MPs, with 148 voting against him.

The result means that Mr Johnson was supported by 59% of his own MPs. This is a lower than Theresa May who received the backing of 63% of Tory MPs in 2018, but ended up resigning six months later.

As the ballot was held in secret, Tory MPs won't have to say how they voted, but some will choose to do so.

Among those able to take part was a Tory MP who had been told to stay away from Parliament, after being accused of rape and sexual assault. As he was not suspended from the party, he would have been allowed a proxy vote.

What happens now Mr Johnson has won?

Having survived the vote, Mr Johnson can continue as Conservative Party leader and therefore prime minister.

Under current rules, Tory MPs will not be allowed to hold another confidence vote for a year.

However, there has been speculation some could try to change the rules, to hold another vote sooner. When asked about it, Sir Graham Brady MP - who oversees the process - said "technically, it's possible".

Despite having won the vote, Mr Johnson still faces challenges. On 23 June, by-elections to pick new MPs in Wakefield and Tiverton and Honiton will be held. Both seats were previously held by the Conservatives and if they were to be lost to opposition parties, Mr Johnson could find himself under renewed pressure.

What is a confidence vote and why was it held?

An attempt by Conservative MPs to remove their leader is known as a vote of confidence.

Pressure on the prime minister has grown following the publication of details of Downing Street parties which broke Covid rules.

A report, by senior civil servant Sue Gray, said many of the gatherings "should not have been allowed".

This prompted some Conservative MPs to hand in letters calling for Mr Johnson to resign.

Under the party's own rules, a confidence vote is triggered if at least 15% of Tory MPs write a letter to Sir Graham Brady - the chairman of a group called the 1922 Committee, which represents them.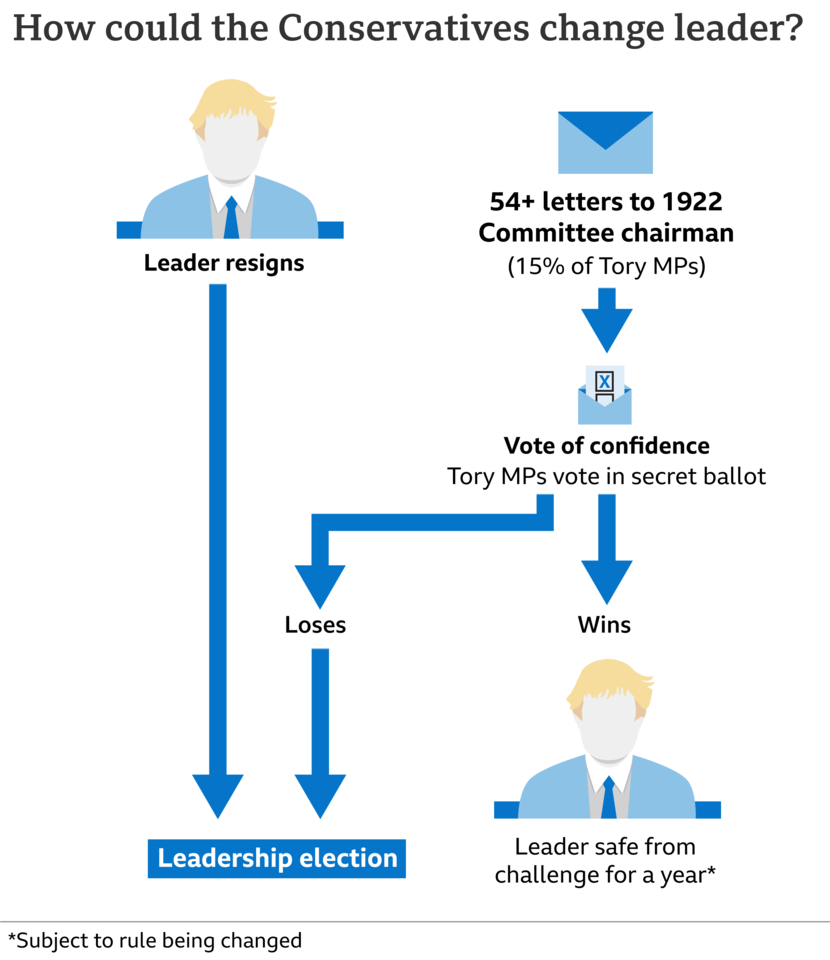 Previous Tory leadership challenges

*  Theresa May: In a vote over her Brexit policy, Mrs May survived a confidence vote with a majority of 83 in December 2018. Despite winning, she resigned as PM six months later

*  Iain Duncan Smith: Following months of speculation the Tory leader narrowly lost a confidence vote in October 2003 and resigned

*  John Major: Triggered a contest in 1995 by resigning as leader of the Tory party (though not as prime minister) amid disagreements inside the party over Europe. Mr Major beat challenger John Redwood, but went on to lose the 1997 election

*  Margaret Thatcher: Resigned as PM in 1990 after failing to win outright victory for party leadership. She beat Michael Heseltine by 204 votes to 152, but was persuaded to stand down by her Cabinet


What would have happened if Mr Johnson had lost?

Had Mr Johnson lost the vote he would have been required to resign.

This would have triggered a Conservative leadership contest where the eventual winner would have become prime minister.

How would a leadership contest work?

In order to stand in a leadership contest, candidates need the support of eight other Tory MPs.

If more than two candidates stand, Tory MPs will hold a series of votes until only two remain.

*  in the first round, candidates must get 5% of the votes to stay in the running (18 MPs)

*  in the second round, they must get 10% (36 MPs)

*  in the following rounds, the candidate with the least votes is eliminated

When two MPs are left, Conservative Party members around the country - not just MPs - will vote for the winner.

If all but one of the candidates withdraw (as happened when Theresa May became leader in 2016), the remaining candidate becomes Conservative Party leader.