Hospitals are under "enormous strain", with growing numbers so busy they are having to divert ambulances to other sites because they are unable to cope.
Over the past week, 20 NHS Accident and Emergency departments in England issued diverts, with patients taken elsewhere.

Those A&E departments still taking new patients have seen long delays, with more than 25% of ambulances waiting at least 30 minutes to handover patients.

Hospital bosses said they were "very concerned" about the situation.

All areas of the country are facing huge pressures, but NHS bosses in West Yorkshire and the south central area of England - covering Hampshire, the Isle of Wight, Oxfordshire and Berkshire - have reported particularly severe strain.

The pressures are being partly caused by the high number of Covid patients currently in hospital. This week numbers across England have exceeded 16,000, rising to 20,000 once other nations in the UK are included.

Current figures are close to the total seen in first Covid wave, in spring 2020 - although more than half of those patients are in hospital for other reasons, but happen to have Covid as well.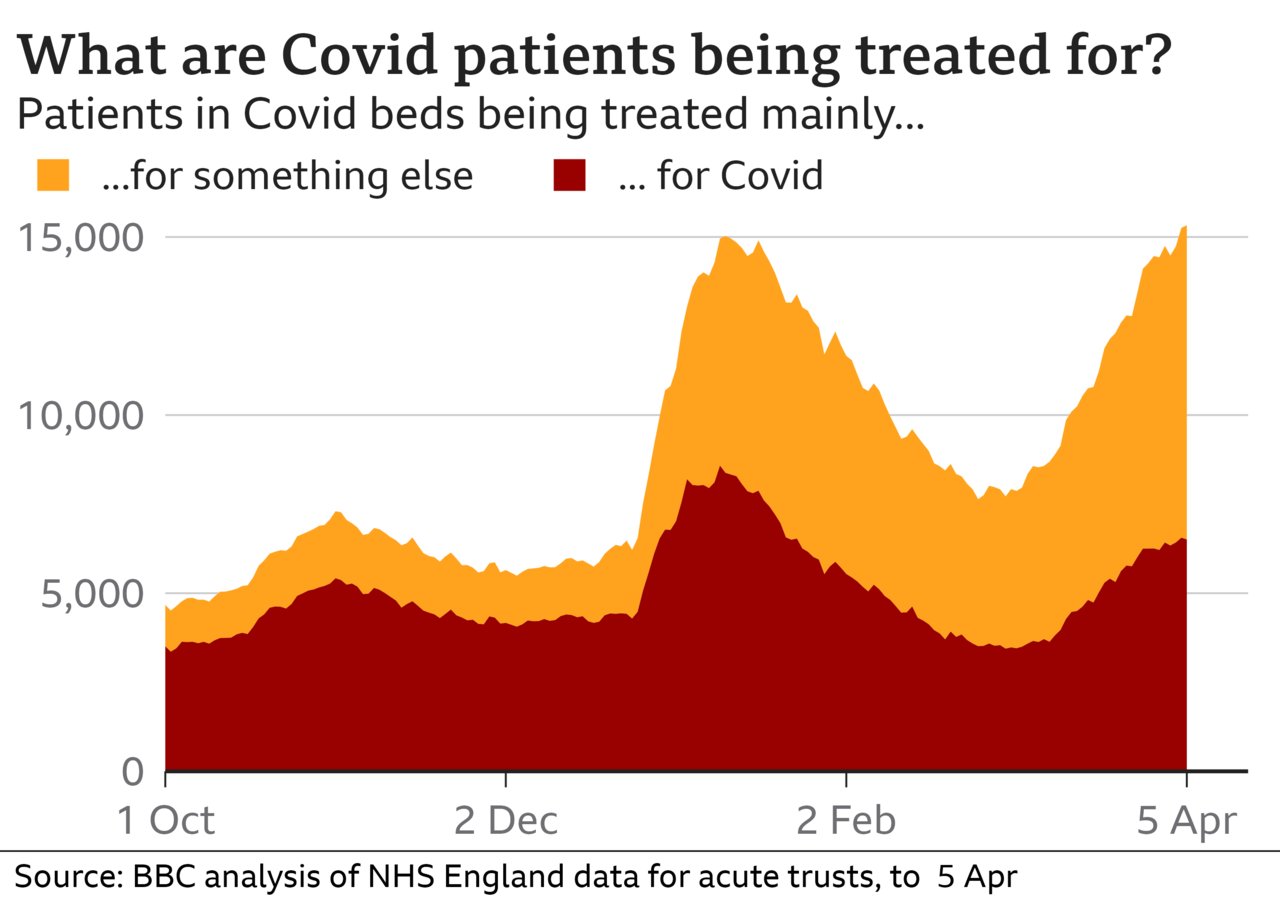 This second Omicron wave is being driven by BA. 2, an off-shoot of the Omicron variant that first hit the UK at the end of last year.

But hospitals are also said to be seeing rising number of people coming forward for other conditions, including flu.

Similar levels of diverts and delays have been seen on a weekly basis since the turn of the year.

To put the pressures in context: the current delays being seen at A&E departments are worse than those seen in the winter before the pandemic hit, which was considered the most challenging winter for many years.

Saffron Cordery, of NHS Providers, which represents hospitals, said: "We're very concerned about the real pressures across the whole health and care system.

"A very high number of hospital beds are occupied, and combined with staff absences and severe workforce shortages, this means that trusts can't recover care backlogs as quickly as they want to.

"Ambulance services are doing everything they can in these extremely difficult circumstances, but the extra pressures are leading to growing delays to handovers to busy emergency departments.

"This means that ambulances aren't able to get back out into the community as quickly as they would like."

NHS England medical director Prof Stephen Powis said the figures sum up "just how busy NHS staff currently are".

He said bed occupancy was at very high levels, while staff sickness absences had been growing for 10 weeks.

He urged those eligible to come forward for their spring Covid boosters.