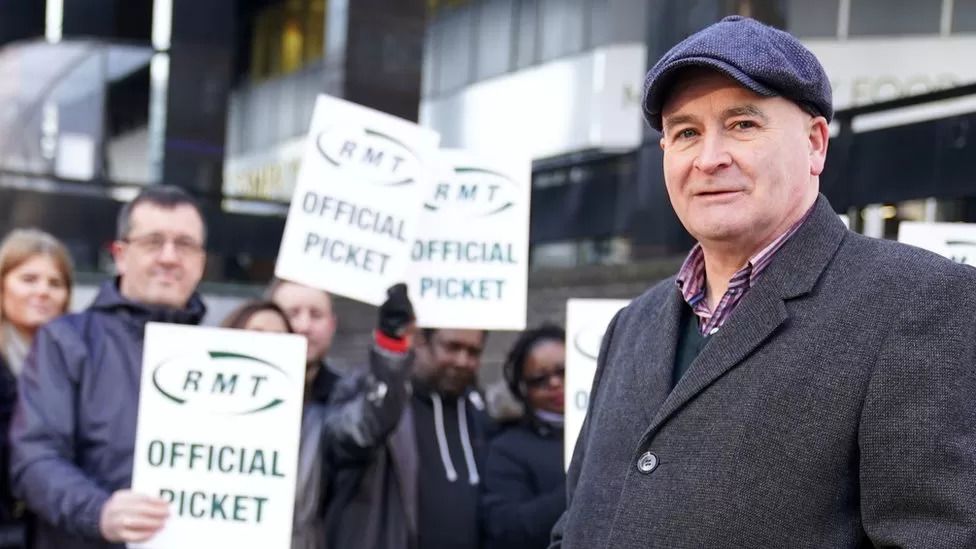 New rail strikes ballot to start soon - RMT's Mick Lynch
Rail workers will be balloted "soon" on whether to stage fresh strikes later in the year, the RMT union's general secretary Mick Lynch has said.
Mr Lynch told the BBC the union wanted to "keep talking" about pay, but felt the government was "trying to make an example out of the railways".

On Friday, the union rejected what was described as a "best and final" offer from the body representing rail firms.

The government and Network Rail have condemned the decision.

Mr Lynch branded the offers "dreadful", while Transport Secretary Mark Harper called the union's decision "a kick in the teeth for passengers".

The long-running dispute over pay, job cuts and changes to working conditions has led rail workers from a number of unions to strike over numerous days since the summer.

No further strikes are currently planned by the RMT - Britain's largest rail workers' union - but it has a mandate to call further strikes up until May.

Speaking to BBC Radio 4's Today programme, Mr Lynch said a new ballot process would be sought so there was an overlapping "continuous mandate" for industrial action.

He went on: "We did put it [the pay offer] to our members. There was a universal rejection of what's on the table."

He said staff "feel under attack", and some had not had a pay rise for the last four years.

But he added the RMT "want to keep talking" to the rail companies, despite fears ministers were trying to make an example out of the rail dispute.

"Ministers have told me that face to face - Mark Harper and (transport minister) Huw Merriman - that they can't offer us anything fresh because it would set a precedent for nurses and other public sector workers, and they want to hold this line."

Network Rail and the Rail Delivery Group, which represent train companies, have offered striking workers a pay deal worth 9% over two years.

But unions have said that any pay offer should reflect the rising cost of living - as inflation sits above 10%.

Mr Lynch described the offer as "very puny", saying it did not meet members' expectations "on pay, job security or working conditions".

The RMT said it would now seek further meetings with Network Rail and the RDG to try to work towards a settlement.

The latest pay offer did not go to a vote of the full RMT membership.

Transport Secretary Mark Harper said: "It is now clear that no realistic offer is ever going to be good enough for the RMT leadership."

And Tim Shoveller, Network Rail chief negotiator, said the RMT was "condemning its members to a further round of fruitless, pointless and costly strikes".

"We have made multiple concessions, compromises and offers, while the RMT has shifted on nothing. It's time for a second referendum on our new, revised offer and time to end this and work together to rebuild our railway."

Mr Lynch said pay offers without conditions attached had been made in Wales and Scotland - where there is no Department for Transport oversight - and that "something more along those lines" would be more acceptable.

Meanwhile, negotiations are ongoing for other rail workers.

The drivers' main union, Aslef, says it hopes to have more talks next week.

And a smaller union, the TSSA, said on Friday that thousands of its members would be given a vote on the offers from the train companies.