The government cannot take "shortcuts on security" to boost staff numbers at Manchester Airport, Transport Secretary Grant Shapps has said.
The airport has been beset with long passenger delays since mid-March and said it was "facing staff shortages and recruitment challenges".

Greater Manchester Mayor Andy Burnham has called for the government to speed up the vetting process for new staff.

Mr Shapps said officials would not "cut corners" when it came to safety.

He said he had warned the aviation sector to "be careful" about cutting jobs during the coronavirus pandemic as demand for travel would "come back again, and that's what's happening".

Manchester Airport Group (MAG) said more than half of the candidates it had offered jobs to found employment elsewhere before the vetting process was completed.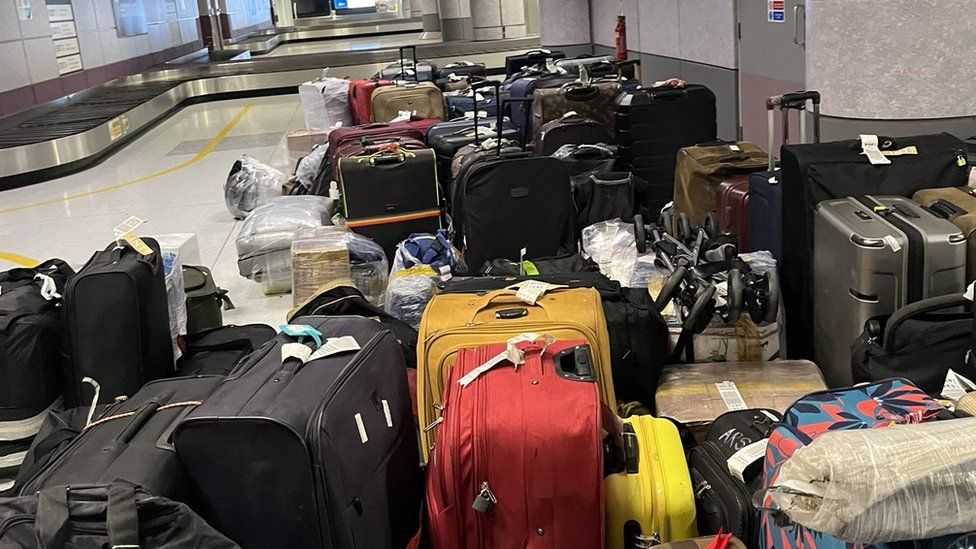 Passengers have faced long delays waiting for their bags on arrival

When asked whether security checks for new recruits could be completed faster, Mr Shapps said: "We can't take shortcuts on security and passengers wouldn't want us to.
"Vetting and checking, particularly for people who are going airside, is absolutely critical. We do need to make sure that work is carried out properly.

"I know that the Home Office are expediting it as much as possible but no-one wants us to cut corners when it comes to their safety and security."

Mr Burnham has warned that the disruption would continue "for the next two months".

Travellers at the airport, which is owned by Greater Manchester's 10 councils and an investment firm, have faced long queues for check-in and security.

The problems first surfaced in mid-March when passengers were left waiting for hours, with some forced to queue in the car park while others missed flights

MAG has apologised and said the industry was "facing staff shortages and recruitment challenges". On Tuesday, its managing director Karen Smart stepped down.

Earlier, baggage handling firm Swissport apologised to passengers who have faced delays when collecting luggage.

The airport is warning passengers to expect waits of up to 90 minutes at security.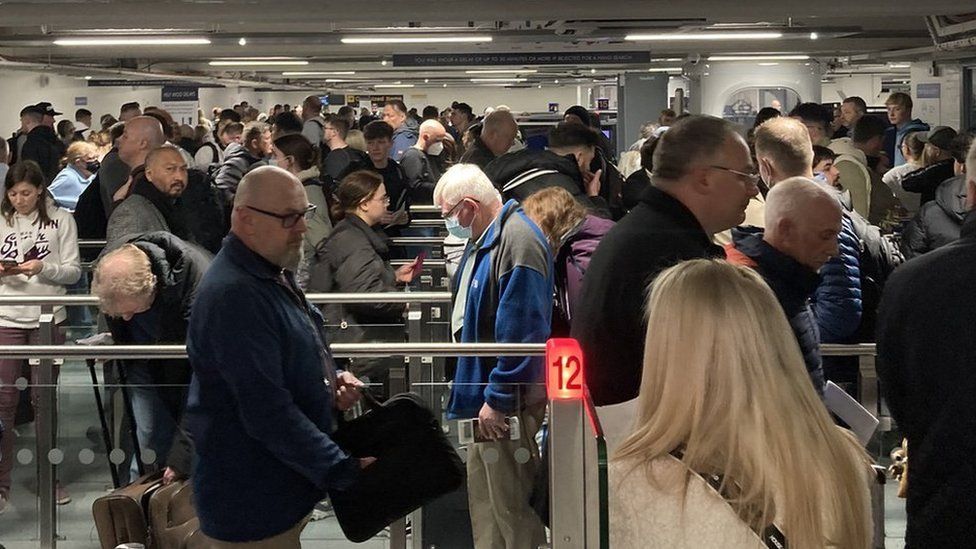 Andy Burnham has met with airport bosses to discuss the "concerning" current situation

Charlie Cornish, MAG chief executive, has urged travellers to arrive three hours before their flight to avoid missing it.

"The simple fact is that we don't currently have the number of staff we need to provide the level of service that our passengers deserve," he said.

"Despite our efforts since last autumn, the tight labour market around the airport has meant we have just not been able to hire people quickly enough.

"While we still expect most passengers to get through in less than 30-40 minutes, there will be times over the next few months when waiting times will rise to between 60 and 90 minutes."

However, the airport does expect about 250 new security staff to begin work by early next month.

Mr Cornish added that he "cannot apologise enough for the disruption people have faced".