Ambulance workers across London are set to strike on Wednesday - with the action expected to cause major disruption to the capital's already-stretched NHS services.

Unison members at London Ambulance Service (LAS) will walk out along with thousands of ambulance workers and paramedics across the country, after talks between the Government and unions failed to address a dispute over pay.

The action will take place from midday to midnight, but LAS warns it is likely to affect services all day Wednesday and into the following days.

It comes as several ambulance and hospital trusts across the country have declared critical incidents as a result of "sustained" and "unprecedented" pressure on services, and as LAS reports record numbers of emergency calls.

Health minister Will Quince has urged people to stay safe during Wednesday's strike by avoiding "risky" activities.

LAS has warned that ill Londoners "are unlikely to get an ambulance" during the action unless they are at risk of dying, and advises those without a life-threatening condition to make their own way to hospital on Wednesday.

London health trusts said expectant mothers who go into labour during the strike should also make their own way to hospital as there will be "no guarantee" paramedics will be able to reach them at home.

Mr Quince told BBC Breakfast on Tuesday: "Where people are planning any risky activity, I would strongly encourage them not to do so because there will be disruption on the day.
"But the key thing is for anybody that does have an emergency situation or a life-threatening situation that they continue to call 999 as they would have done previously, and for any other situation, NHS 111 or NHS 111 online."
While life-threatening Category 1 conditions such as cardiac arrests and other most serious cases are expected to be covered, there is uncertainty over Category 2 calls, which include some heart attacks and strokes.
Barts Health NHS is expecting its services to face unprecedented pressures from Tuesday until Thursday due to the walkout.
The Trust, which runs five hospitals in east London including The Royal London in Whitechapel, said in a statement: "Our hospitals will effectively be running at the highest alert level for three days either side of the LAS action."
Members of three unions, GMB, Unison and Unite, which represent around 25,000 ambulance workers, are walking out in the coordinated strike on Wednesday.
The action will involve ambulance worker, paramedics, call handlers and emergency care assistants in 10 out of 11 NHS trusts in England and Wales - including LAS.
999 call handlers will not be striking, LAS confirmed.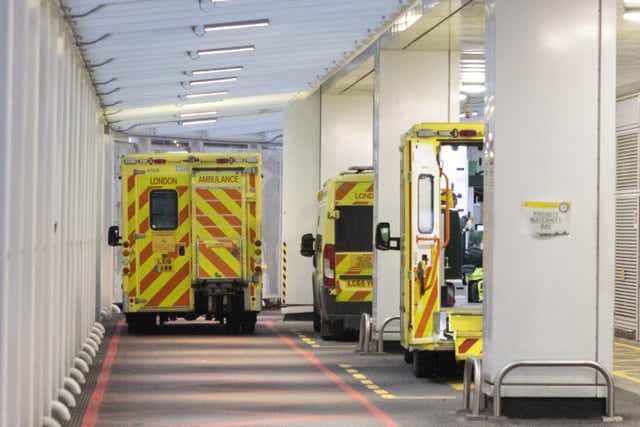 Outside the Accident and Emergency department at St Thomas's hospital, central London
Around 600 members of the Army, Navy and RAF from across the country have been drafted in to help during the walkouts, some of whom have never driven ambulances before.
Ambulance services in England and Wales are struggling to hit performance targets and are reporting record-long delays.
Speaking of the pressure being felt by staff, the head of LAS said on Tuesday that some London paramedics are spending their entire shift taking care of patients who are waiting to be discharged into A&E.
The NHS said the delays have arisen as hospitals are struggling to discharge patients and free up capacity in A&E, with many beds occupied by patients in need of adult social care who have nowhere else to go.
Dr John Martin, chief paramedic at the LAS, told the Health and Social Care Committee that handover delays were having a devastating impact on morale amongst paramedics.
He warned an increasing number of paramedics were becoming "really frustrated" at having to spend hours waiting to hand patients over to emergency departments, rather than responding to calls.
Wednesday's strike comes after NHS nurses walked out across the country on Tuesday, on their second day of action this month.
With inflation hitting 10.7 per cent in November, health unions are demanding pay rises to help workers' salaries keep up with soaring prices.
But as nurses staged their walkout and the ambulance worker strike loomed, Rishi Sunak on Tuesday refused to give any ground on NHS pay.
The Royal College of Nursing is demanding 19 per cent, but the Prime Minister has insisted that he will not reopen the independent pay review process which resulted in an award of 4.5 per cent this year.