Sir Keir Starmer says Labour "won't be able to spend our way out" of the "mess" left by the Tories - even though he recognised the need for investment.
In his first speech of 2023, the Labour leader is promising a "decade of national renewal" if he wins the next general election.

But he also says the party won't be "getting its big government chequebook out".

The Tories accused Sir Keir of "yet another desperate relaunch attempt".
On Wednesday, Prime Minister Rishi Sunak delivered his own new year address, promising to halve inflation, cut NHS waiting lists and tackle small boat crossings by the next election.

In his speech in Stratford, east London, Sir Keir also looked ahead to the election, pledging to create the "sort of hope you can build your future around".

But he warned voters - and his own party - not to expect big increases in public spending.

"Of course, investment is required - I can see the damage the Tories have done to our public services as plainly as anyone," he said.

"But we won't be able to spend our way out of their mess - it's not as simple as that."

He added: "For national renewal, there is no substitute for a robust private sector, creating wealth in every community."

Shadow chancellor Rachel Reeves said government needed to "work in partnership with business" on things like investing in renewable energy.

She added that the health service needed "reform" as well as more money.

Asked whether she supported the idea of using spare capacity in the private sector to bring down NHS waiting lists, she told BBC Radio 4's Today programme: "We've got to do whatever it takes to bring down waiting lists… If there's spare capacity, absolutely we've got to use it."

Ms Reeves said her party would face a "tough inheritance" but the "cavalry is coming" with a future Labour government.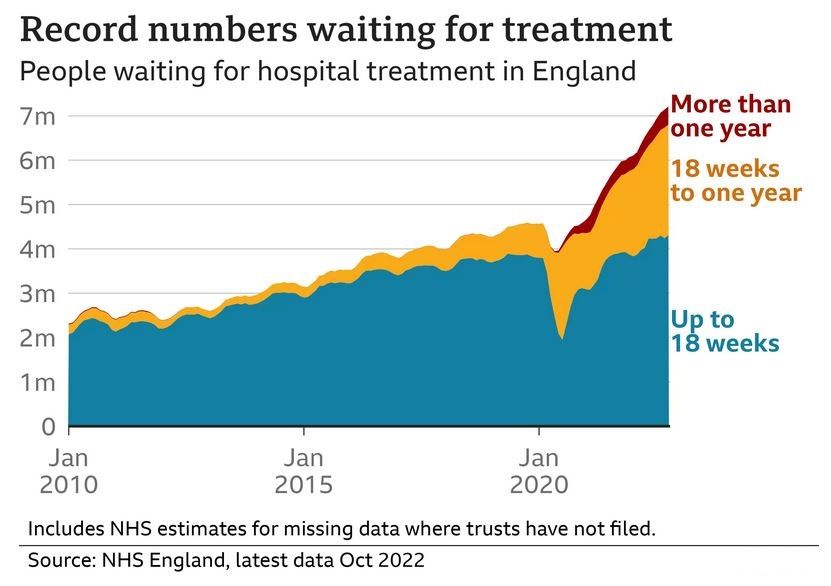 Ms Reeves also said Labour would oppose plans to impose minimum service levels during strikes.
The government is poised to confirm new legislation covering key sectors including the health service, rail and education, according to the Times.
The paper reports that under the laws employers would be able to sue unions and sack staff who were told to work under the minimum service requirement but refused.
Ms Reeves said the idea that "banning industrial action" would improve industrial relations was "for the birds".
The country is facing a wave of strikes this winter by public service workers including nurses, paramedics and train drivers.
The government is also under pressure to tackle the challenges facing the NHS. In recent days, doctors have complained of "intolerable and unsustainable" pressure on the health service, with some A&E departments in a "complete state of crisis".
A sharp rise in
Covid
and flu admissions has put pressure on hospitals, which are also dealing with staff shortages, a lack of capacity to move people to social care and a backlog of treatment that built up during the pandemic.
Last year, a group of MPs said the NHS was already in the worst workforce crisis in its history. In England the NHS is short of 12,000 hospital doctors and more than 50,000 nurses and midwives.
Labour has pledged to deliver "one of the biggest expansions of the NHS workforce" in its history, by scrapping non-dom tax status for wealthy individuals to pay for the training of thousands of new nurses, doctors and other health workers.
Sir Keir promised to set out more new policies in the coming weeks that would form the heart of Labour's next manifesto.
His party has already pledged large-scale constitutional change, including abolishing the House of Lords.
Conservative Party chairman Nadhim Zahawi, said Sir Keir should "unveil a plan for people's priorities" instead of giving "cliché-laden speeches".
Labour's poll lead is narrowing but the aggregated polls of voting intention show Labour at 46% compared to 24% for the Conservatives. This is down from a peak of Labour at 52% of intended votes compared to 22% for the Tories in the final days of Liz Truss' premiership.