The London School of Economics (LSE) is investigating whether students threatened the Israeli ambassador, who was speaking at the university.
Tzipi Hotovely was invited to speak at an event on the future of the Middle East hosted by the student debating society on Tuesday.

Footage on social media shows protesters shouting and rushing up to Ms Hotovely as she left the university.

Ms Hotovely said she had an "excellent evening" and "will not be intimidated".

Home Secretary Priti Patel said she was "disgusted" by the treatment of Ms Hotovely and added that the police have her full support in investigating the "appalling" incident.

The Met Police confirmed officers attended the protest but no arrests were made.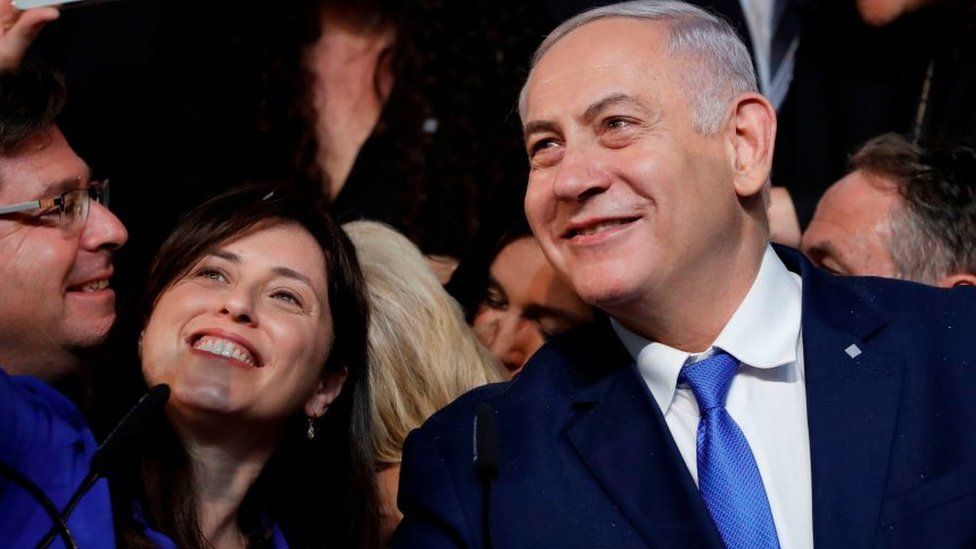 Tzipi Hotovely was appointed as Israeli Ambassador to the UK by former Israeli prime minister Benjamin Netanyahu

The ambassador spoke at an event hosted by the university's student debating society as part of a series of talks entitled "A New Era in the Middle East".

The event took place on the 83rd anniversary of Kristallnacht, where paramilitary forces killed more than 90 Jews in Nazi Germany.

Husam Zomlot, the Palestinian ambassador to the UK, had been due to attend a follow-up event on 11 November, but has now pulled out.

'Completely unacceptable'

Ms Hotovely's speech lasted approximately 90 minutes, and "attracted some protest outside" according to the LSE.

She then took questions before "leaving on schedule".

An LSE spokesman said: "Free speech and freedom of expression underpins everything we do at LSE.

"Intimidation or threats of violence are completely unacceptable.

"We are aware of some threats of violence made on social media around this event. Any LSE students identified as being involved in making such threats will face disciplinary action."

Several government ministers have criticised the protest, including Foreign Secretary Liz Truss who called the treatment of the Israeli ambassador "unacceptable".

Education Secretary Nadhim Zahawi described the footage as "deeply disturbing".

Mr Zahawi said he has "invited Jewish students from LSE to a meeting to hear directly from them and offer any support that I can".

Following the event, Ms Hotovely said: "I'm thankful for all the support I have received from the British government, many friends and partners.

"I had an excellent event at LSE and I will not be intimidated. I will continue to share the Israeli story and hold open dialogue with all parts of British society."