Some 7.8 million people in UK finding bills "a heavy burden", a watchdog warns.
The Financial Conduct Authority (FCA) estimated that 7.8 million people in the UK currently find bills a "heavy burden", up from 5.3 million in 2020.

Energy, food and fuel prices have risen sharply in the last six months in part because of the Ukraine war.

Inflation - the rate at which prices rise - increased to 10.1% last month, returning to a 40-year high.

Nicole from Gainsborough works for a university, but because of her concerns around energy bills, she often wears a blanket around her shoulders when she's working from home.

"I consider my salary to be fairly good and I work full-time, yet I'm worried about putting the heating on, using the tumble dryer, or the oven to cook," she told BBC News.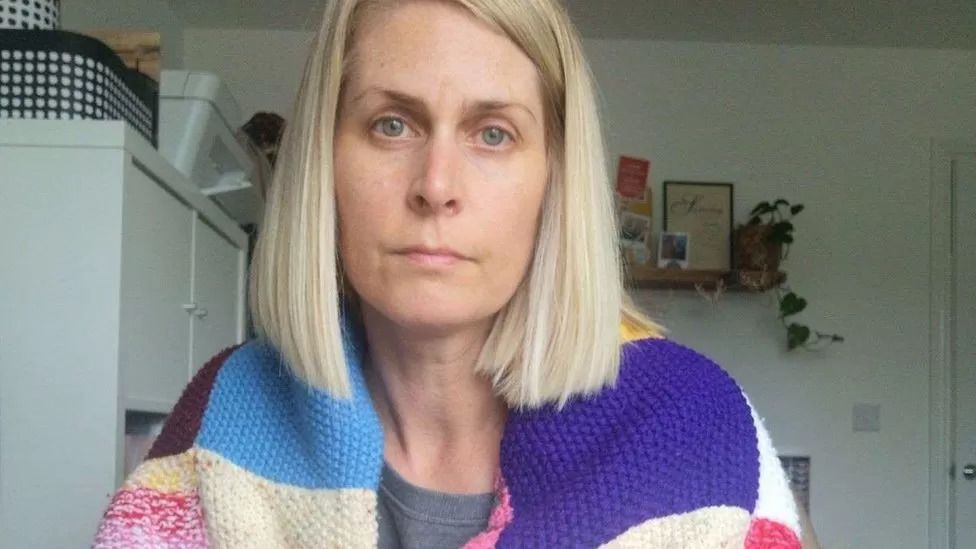 Nicole avoids putting the heating on

She has taken measures at home to try to keep costs down, like installing a smart meter.

But another worry is that the fixed-rate mortgage she has with her husband will be coming to an end in 12 months, and rates have risen sharply.

"I have no idea how we will afford it," Nicole said. "I fully appreciate there are people in a much worse position than us... but we're in a totally unexpected situation as two normal people with normal incomes, who work hard."

The FCA, which regulates UK businesses, surveyed 19,000 people between February and June and found:

* One in four adults described themselves as being financially vulnerable, meaning they would quickly find themselves in difficultly if they suffered a financial shock

* Some 4.2 million people had missed bills or loan repayments in at least three of the six months before the survey took place

* 27% of black respondents said they found it a heavy burden to keep up with bills, compared with around 15% of UK adults generally.


'Struggling to keep up'

Sheldon Mills, executive director of consumer and competition at the FCA, said the watchdog had urged firms to work with customers struggling to make payments.

It is also reminding people to contact their energy provider if they cannot afford their bills, to shop around to find the best deal, and to look online for free, expert debt advice.

Energy bills rose sharply in October when the energy price cap - which limits what providers can charge for a unit of energy - increased.

The government has since limited unit prices for at least six months to protect consumers, but millions are still likely to struggle this winter.

Food prices are also surging due to disruption caused by the war in Ukraine and the weak pound, which drives up import costs.

UK food prices jumped 14.6% in the year to September - the biggest annual rise since 1980 - with the cost of key goods like fruit, milk, cereal and sugar all climbing.