Paul Chan urges residents to consider that city has stabilised after recent tumult, and that they stand to gain from raft of opportunities.
Hong Kong has been through a tough two years and while people may have unique reasons for wanting to leave the city, it is time to focus on healing and coming together as a family and putting aside differences, Financial Secretary Paul Chan Mo-po has said.

But even as he made the emotional appeal to Hongkongers troubled by the tumult of recent years, Chan refused to be drawn into discussing whether the city needed a new leader to rebuild ties with residents.

He also steered clear of commenting on whether he would throw his hat into the ring for the leadership race in March during an interview with the Post, stopping short of completely ruling out the possibility.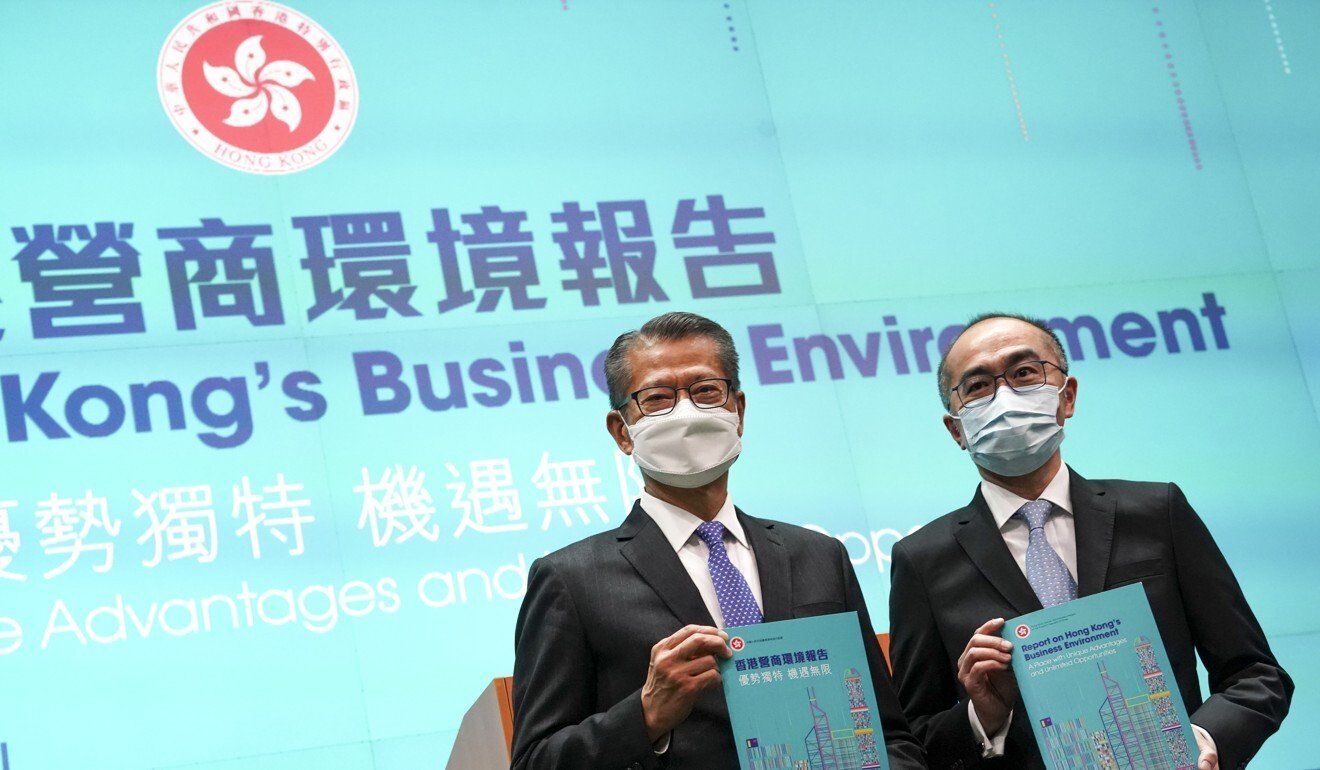 Financial Secretary Paul Chan (left) meets the media on the release of a report cataloguing Hong Kong's difficulties in recent years.

The financial chief was responding to questions during a wide-ranging interview where he mounted a stout defence of a recent report he put up cataloguing the city's difficulties wrought by the 2019 protests, as well as the United States' perceived suppression of China and its unilateral punitive actions against Hong Kong.

Chan was asked about the wave of emigration after Beijing imposed the sweeping national security law on the city in June last year, as countries such as Britain and Canada introduced new immigration pathways for the city's residents.

Nearly 90,000 people have left Hong Kong in the past year, latest census data showed, leading to a 1.2 per cent drop in the city's population. Officials have stressed multiple aspects to be considered, such as people going abroad for work or studies, with inflow limited by stringent border control and quarantine rules amid the coronavirus pandemic.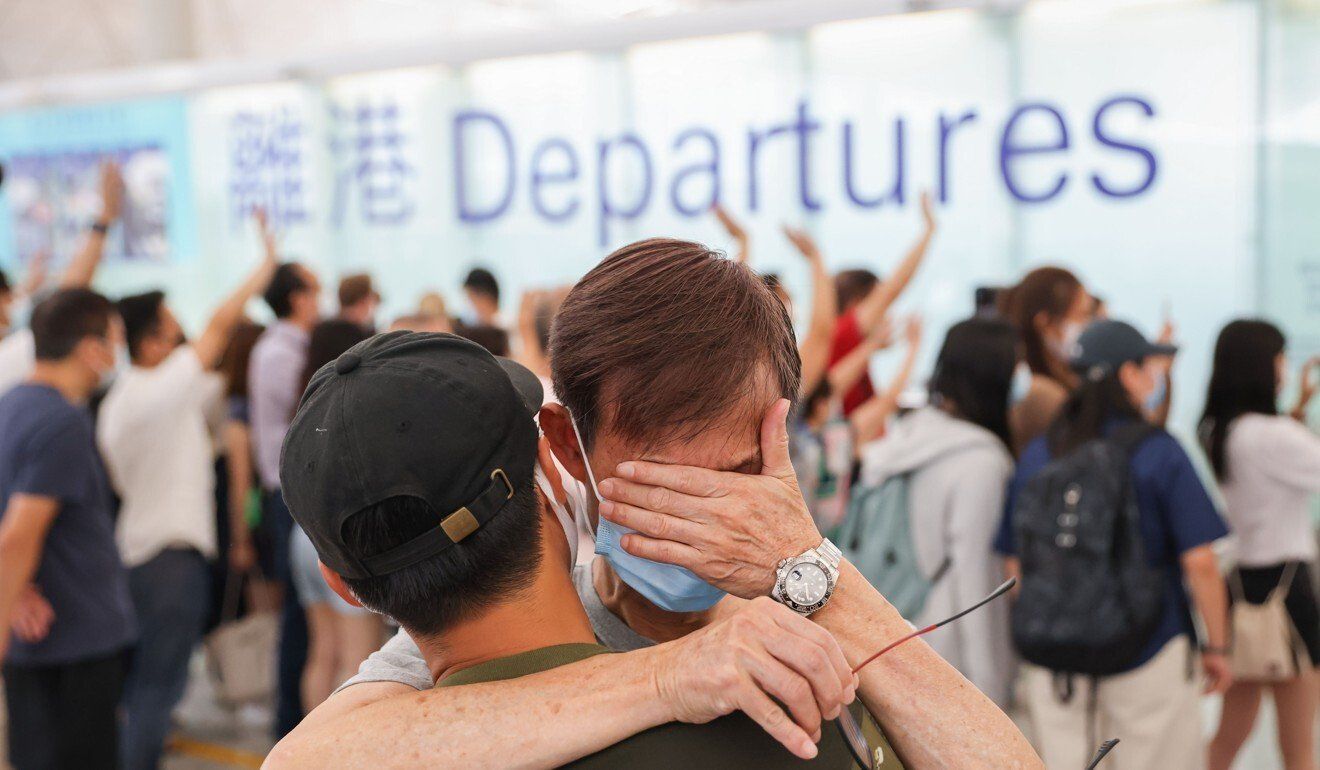 Family, relatives and friends bid farewell to their loved ones leaving the city at Hong Kong International Airport.

Chan noted it had been a very tough time for Hongkongers over the past two years and the city needed time to heal.

"But I would appeal to them that Hong Kong is our home," he said. "Just like every family, it can't be perfect. But by being a member in a family, we care about each other. We embrace each other. We embrace the differences even at times [when we hold] really strong opinions."

He reminded Hongkongers that emigration was a "really major decision" that not only affected the adults but also children and their parents, adding he hoped residents would consider the fact that the city had returned to stability with ample opportunities ahead.

"If they choose to stay here, they will be able to benefit from this upside," he added.

Asked about the same issue of emigration by the media earlier, Chief Executive Carrie Lam Cheng Yuet-ngor, had described it as "not a big problem" and that her administration would recruit talent from the mainland and overseas to maintain Hong Kong's status as an "international city".

She also said that she had heard "miserable" stories of people who failed to adapt in other countries, adding she believed that those who left Hong Kong would eventually realise how good the city was.

In his interview with the Post, Chan refused to say whether an empathetic approach was needed for the city's chief executive in healing the social divide, or whether he would enter the race for the top job, to be held in March.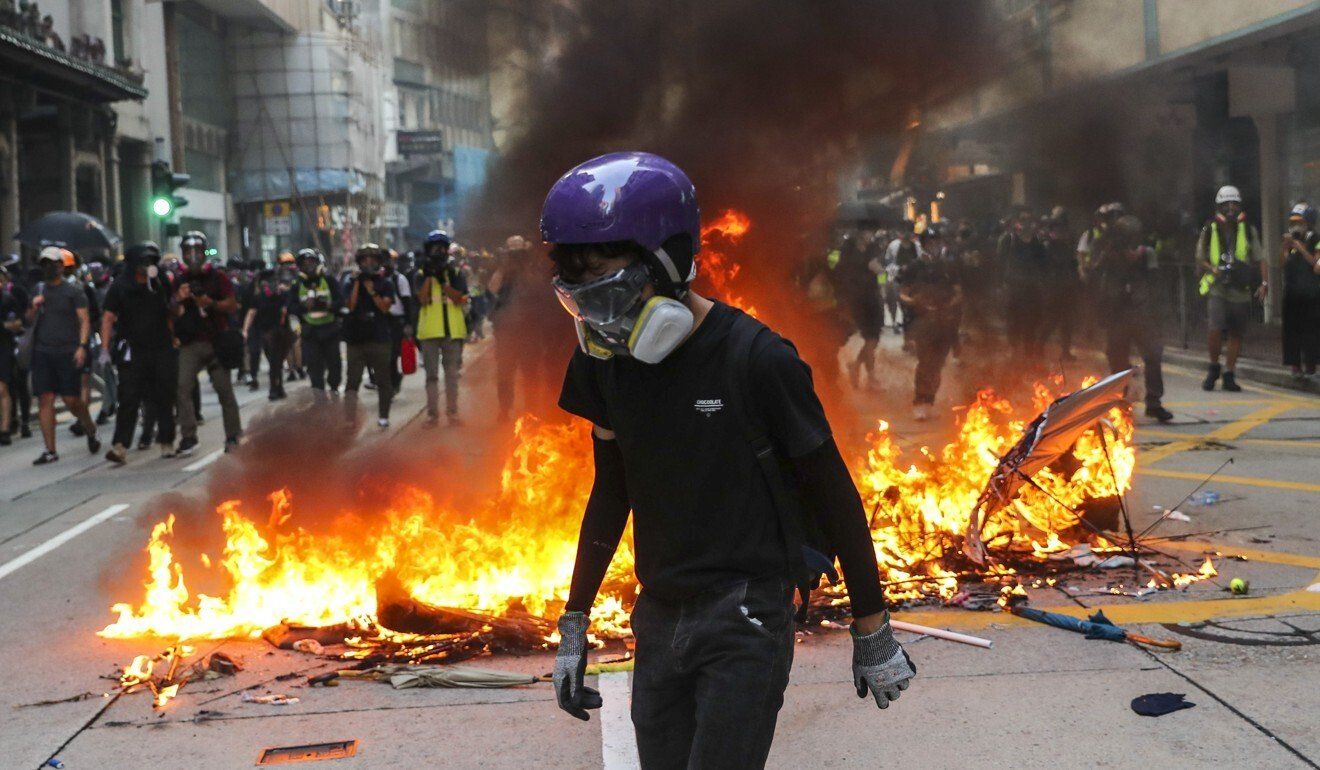 Protesters set fire on roads during a mass rally in October 2019.

The unprecedented report Chan released last Monday, in which he hailed the Beijing-imposed national security law for helping restore order while declaring that Hong Kong was now back on track offering "unlimited room for future development", had sparked speculation in some quarters that it was an attempt to position himself for a shot at higher office.

Chan was quick to dismiss the report as having anything to do with the chief executive election, stressing that Lam was "totally aware" of his paper and had approved its release in the week before she would deliver her final policy address for this term.

Asked repeatedly whether he would at least rule out the possibility of running, he said: "I really do not want to comment on that."

So far, no candidate, including incumbent leader Lam, has indicated their intention to stand in the race.

Meanwhile, Chan also weighed in on a recent media report which suggested that Beijing had told a number of property tycoons to do more to help ease the city's housing woes.

Asked if the city's property developers had done enough on that front, Chan said they were not "homogeneous".

"There is a social responsibility that they need to take care of, not just the CSR [corporate social responsibility] activities, but also their way in conducting business, and [whether] they are dealing fairly with their customers," he said.

But he refrained from commenting on the new non-profit social housing enterprise, launched by New World Development last week, that sought to come up with strategies that would allow Hongkongers to own their own flats.

While welcoming the idea, Chan said it was "inappropriate" for him to comment on initiatives launched by individual companies.