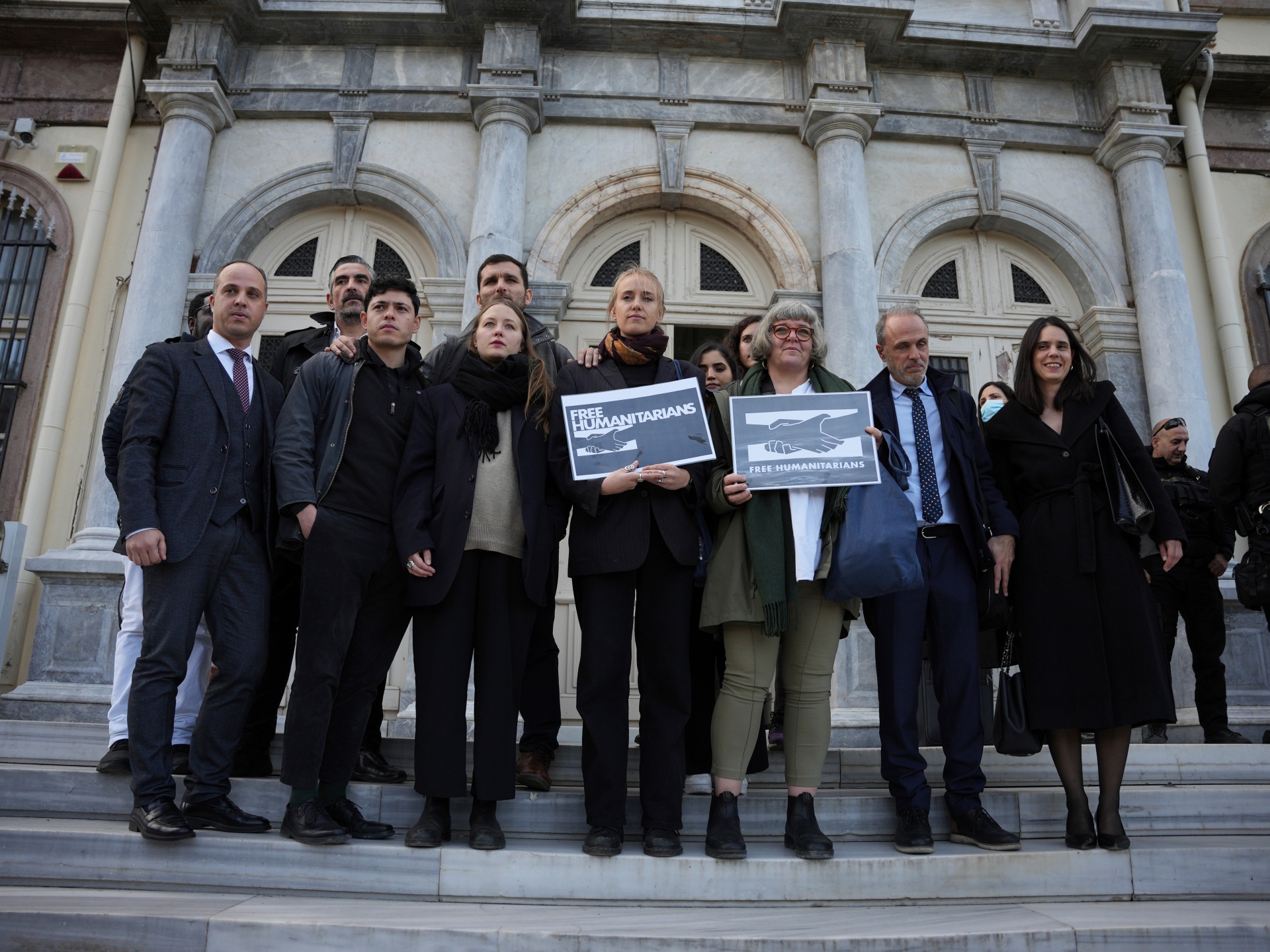 Greek court rejects charges against aid workers
A court on the Greek island of Lesbos has rejected charges against a group of aid workers and volunteers who participated in migrant rescue operations, ruling on procedural grounds to return the case to the prosecution for refiling.
The case in which 24 people, 17 foreigners and seven Greeks, were charged over their work with migrants newly arriving on Lesbos, has drawn widespread criticism from human rights organisations. The defendants argue they were doing nothing more than assisting people whose lives were at risk.

"Trials like this are deeply concerning because they criminalise life-saving work and set a dangerous precedent," the UN Human Rights Office said before the court decision on Friday. "Indeed, there has already been a chilling effect, with human rights defenders and humanitarian organisations forced to halt their human rights work in Greece and other EU countries."

Those on trial included prominent Syrian human rights worker Sarah Mardini, a refugee and competitive swimmer whose sister Yusra Mardini was part of the refugee swim team at the Olympic Games in 2016 and 2021. The sisters' story was made into a Netflix movie.

Sarah Mardini, who was not present at Friday's hearing, and fellow volunteer Sean Binder, who was in Lesbos to attend the trial, spent more than three months in jail on the island after their 2018 arrest on misdemeanour charges that included espionage, forgery and unlawful use of radio frequencies.

The court on Friday accepted objections by defence lawyers that the prosecution had failed to adhere to proper procedure in filing the charges. The defence successfully argued that prosecution documents were not translated for the foreign defendants and the espionage charges were vague.

The court dismissed the charges over radio frequencies because the law they were filed under has since been abolished.


'Many legal mistakes'
In essence, the decision means the misdemeanour case has collapsed because the five-year statute of limitations on the espionage and forgery charges expires in early February and the prosecution is unlikely to have enough time to refile the case.

However, one Greek defendant still faces a misdemeanour count of forgery, and Sarah Mardini and Binder are still under investigation over felony charges.

"It is a step. It is the first recognition that there were many legal mistakes that violated the essence of a fair trial," defence lawyer Cleo Papapantoleon said. "The decision is important for us, and we expect the same to happen with the investigation into the felonies, for which there is also no evidence."

The case was initially set to proceed in 2021 but was postponed over procedural issues.

"Today's decision offers the authorities a new opportunity to put an end to this ordeal and correct their own wrongdoing by dropping all of the charges, including the more serious felony charges which still await them," said Nils Muiznieks, director of Amnesty International's European Regional Office.

Greece, which saw about a million people arrive on its shores from neighbouring Turkey at the height of a refugee crisis in 2015, has clamped down on migration, erecting a fence along much of its land border with Turkey and increasing sea patrols near its islands.

Greek officials say they have a strict but fair migration policy. They also deny, despite increasing evidence to the contrary, conducting illegal summary deportations of people arriving on Greek territory without allowing them to apply for asylum, a procedure known as "pushbacks".