The first-ever UK orbital space launch set off from Cornwall on Monday evening.

Hundreds of people watching the launch cheered as the modified Boeing 747 took off from Newquay airport shortly after 10pm.

Around an hour into the flight the LauncherOne rocket will be released at 35,000ft over the Atlantic Ocean to the south of Ireland.

The plane will then return to the spaceport while the rocket will ignite its engine and take multiple small satellites into orbit.

The Virgin Orbit launch is the first launch of orbital satellites into space from western Europe.

The mission marks a major milestone for UK spaceport efforts. In the past, satellites produced in the UK have been sent to foreign facilities to make their journey into space.

Virgin Orbit, part-owned by billionaire Richard Branson, had previously said the plane was expected to take off as late as 11pm.

"Assuming that everything continues to look good we're currently tracking well for launch," a Virgin Orbit spokeswoman said beforehand.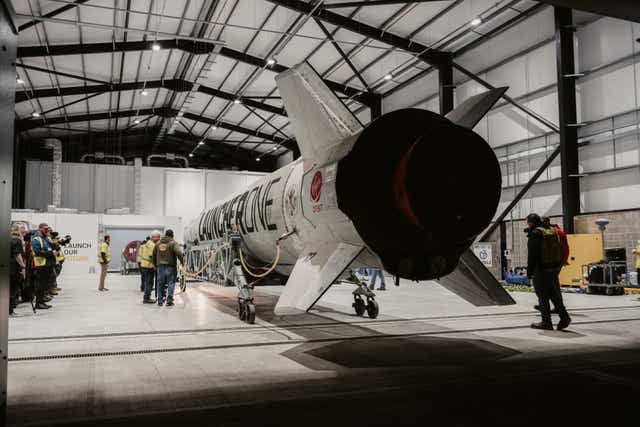 Virgin Orbit's LauncherOne rocket at Spaceport Cornwall
Melissa Thorpe, who heads up Spaceport Cornwall, told the BBC: "What we've seen over the last eight years is this building of excitement towards something very aspirational and different for Cornwall, something that started off as a project that not a lot of people really believed was ever going to happen.
"What I think people have seen here in Cornwall is a small team that lives and breathes this county deliver something quite incredible."
Enthusiasts with tickets watched the event from a viewing area across the runway, with live-stream showing progress from a big screen post-launch.
The space launch, on a 747 dubbed Cosmic Girl in tribute to the Rolling Stones' 1981 hit, had been due to take place before Christmas, but had to be pushed back to 2023 over regulatory issues.
Speaking on Sunday, Ian Annett, deputy chief executive at the UK Space Agency, said: "Who would not be excited by the fact this is the first time that it has been done in Europe? That's because it's hard."
The satellites will have a mix of applications, ranging from ocean monitoring to navigation technology.