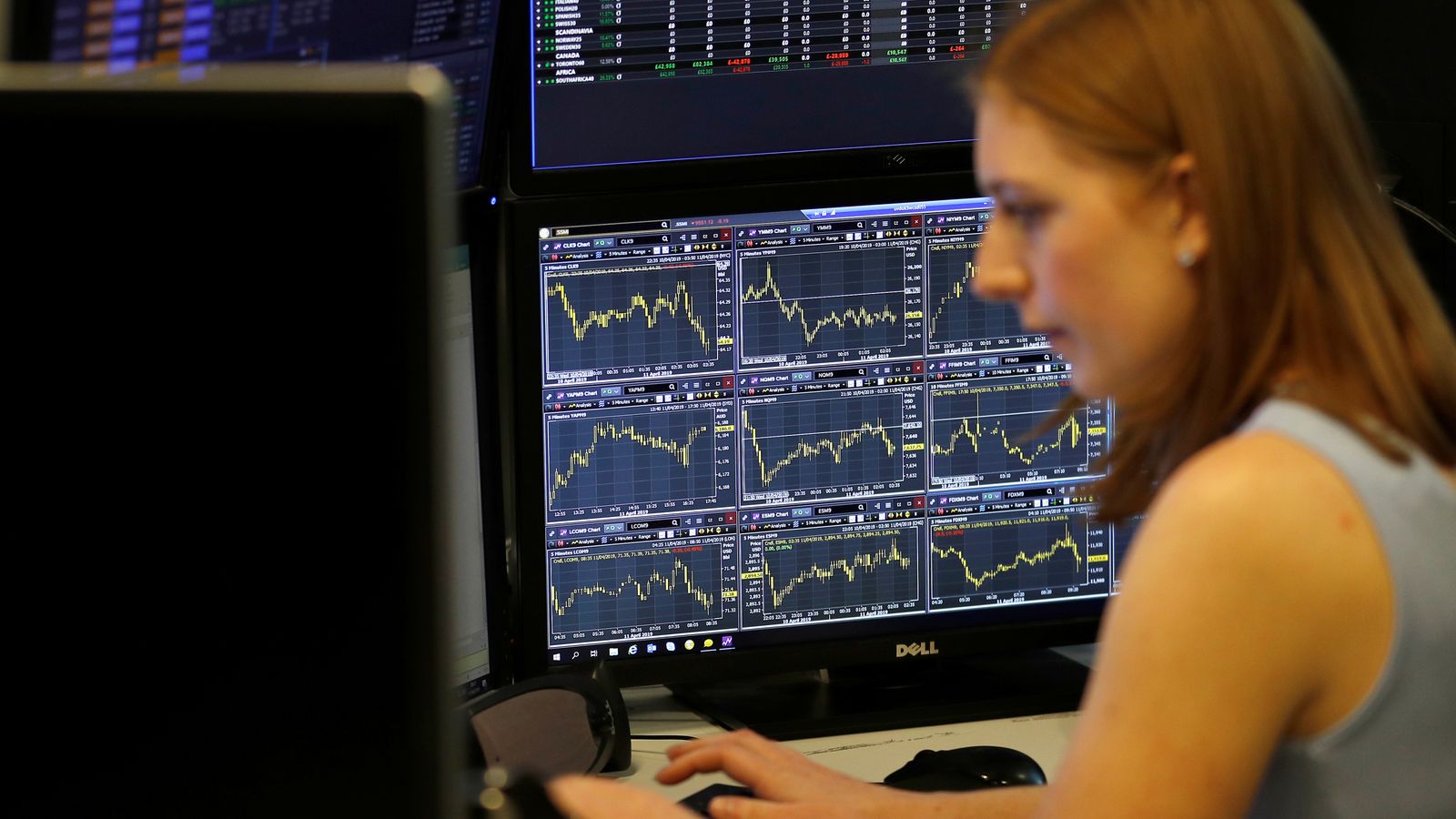 Financial markets calm but warning of problems to come from IMF
The FTSE 100 rebounded as did shares in the largest UK commercial banks after the Deutsche Bank sell off on Friday.
After a turbulent Friday and the rumbling of the worst financial crisis since 2008, the UK and European stock markets have largely calmed.

Germany's largest bank, Deutsche Bank, became the focus in the latest wave of selling across banking and wider financial stocks in the wake of the forced takeover of Credit Suisse.

Its shares had fallen more than 14% at one point during a bumpy day of trading across Europe.

On Monday they bounced back to finish 6.2% up, but failed to reach the level of €9.32 (£7.59) - a share seen before the drop on Thursday evening.

Similarly, the FTSE 100 index of the most valuable companies listed on the Financial Times Stock Exchange closed 0.9% up, but had yet to recover from the hit it took on Friday.

Following the news that the embattled Silicon Valley Bank had been bought by First Citizen Bank, its shares surged above 50%.

Meanwhile NatWest and Lloyds ended the day in positive territory, with Barclays also up 2.3%.

The gains come just a day after the head of the International Monetary Fund (IMF) warned there are risks to financial stability stemming from the turmoil in the banking sector.

"At a time of higher debt levels, the rapid transition from a prolonged period of low interest rates to much higher rates, necessary to fight inflation, inevitably generates stresses and vulnerabilities, as evidenced by recent developments in the banking sector in some advanced economies," said Kristalina Georgieva, managing director of the IMF.

Central banks globally have raised interest rates in an effort to reduce inflation, both boosting banks' profitability and posing challenges as some reliable banking securities lose value.

At the opening of US markets, the three main stock market gauges all jumped up from Friday. The S&P 500 and Dow Jones later both ended the day up 0.2% and 0.6% respectively, although the Nasdaq 100 finished 0.7% down.

Markets have been unsettled since SVB's collapse, which was followed by the failure of another regional lender Signature Bank.

The troubled Credit Suisse was rescued just over a week later.

"Markets have opened calmly this morning, and it looks like Friday's panic over Deutsche Bank was a bit misplaced," said the chief market analyst at IG Group, the online trading provider.

"But the steady drain of deposits from banks means a slow motion problem is in the making, and could result in a contraction in lending that brings on a recession," Chris Beauchamp said. "This is the bigger risk than the hunt last week for the next domino to fall in the global banking system."