Bruno Fernandes has attempted to downplay the speculation over his seemingly tense handshake with Manchester United team-mate Cristiano Ronaldo.
On Monday, footage emerged of Fernandes joining up with his Portugal team-mates ahead of the Qatar World Cup.

The moment he was greeted by Ronaldo raised eyebrows as Fernandes initially appeared to ignore Ronaldo's outstretched hand before belatedly shaking it and making a comment that left the five-time Ballon d'Or winner stony-faced.

Fernandes then walked away to greet other team-mates – doing so in a far more cheery manner.

The footage led to speculation that Fernandes was left annoyed by some of the comments Ronaldo made in his explosive interview with Piers Morgan.

Just hours before Fernandes arrived for World Cup duty, the first clips of the interview were released, with Ronaldo saying he feels 'betrayed' by Manchester United and does not trust Erik ten Hag.

But Portugal midfielder Joao Mario was quick to dismiss talk of a rift in the dressing room, claiming Ronaldo and Fernandes shared a joke during the aforementioned clip.

'I was in the locker room at that moment,' Mario said. 'I saw pictures. It was a joke between them. Bruno Fernandes was one of the last to arrive. Cristiano asked: 'Did you come by boat?'"
Fernandes has now appeared to corroborate Mario's comments, writing on social media: 'Oh Joao Mario, there you are ruining the newspaper headlines', with a facepalm and laughing emoji.
While Fernandes has attempted to downplay his eyebrow-raising greeting with Ronaldo, a number of Manchester United players are said to be 'furious' at the timing of Ronaldo's interview with Morgan.
The first clips were aired on Sunday night, just a few hours after Manchester United scored an injury-time winner to beat Fulham at Craven Cottage.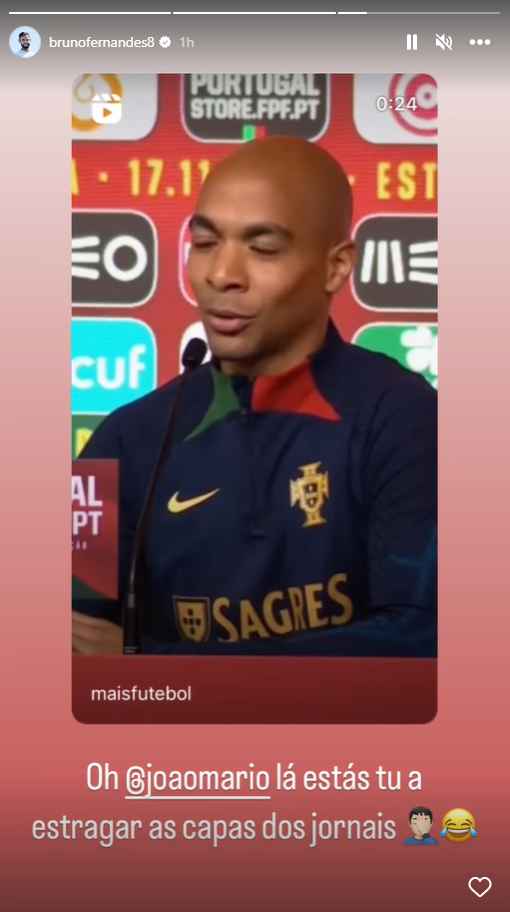 Fernandes attempted to downplay the incident
Ronaldo is considered a legend at Old Trafford but former Liverpool defender Jamie Carragher believes the 37-year-old now 'wants to be sacked'.
'This was always going to happen,' he told Sky Sports. 'It was always going to end like this.
'That's exactly why I said 18 months ago: it was a massive mistake for Manchester United to bring Cristiano Ronaldo back to the club.
'I just thought the comments [revealed on Sunday] were bizarre. They were bang out of order considering the timing of it: just hours after Manchester United fans being delighted after getting a winning goal at Fulham with the last kick of the game.
'It should give them excitement over the next month for when the league starts again. They should be enjoying themselves and then the Ronaldo interview comes out and boom – it's about negativity.
'Not the team, not the manager – it's about Cristiano Ronaldo. And it's been like that since he's come back. It's basically been the Cristiano Ronaldo show.
'At times that's been good on the pitch, last season he got a lot of goals. But this season he's not involved and he's craving the attention that he can't get because he's not on the pitch.
'The only way he's going to do that is by causing trouble and that was exactly his intention with the interview.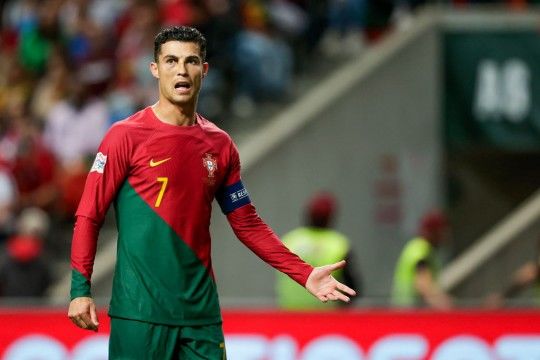 Cristiano Ronaldo hit out at Manchester United in a stunning interview

'He wants to be sacked, that's obvious. He told the club in the summer that he wanted to leave, which is football – these things happen. There were no takers, maybe because of his wages or the price Manchester United wanted.

'I think he knows that's going to be the same in this next transfer window and maybe the following summer and he is now trying to be sacked or wants to leave on a free. That's the only way he's going to get out.

'And I think United should sack him or move him on by giving him a free transfer. At the moment, they're trying to build something that is not trying to win the Premier League or the Champions League right now.


'The manager will want to push for those honours in the next two or three years and Ronaldo is not going to be around.

'He is going to be a distraction, this will not go away. As soon as a player comes out and says he doesn't respect the manager, how is that going to work when he walks into the first day of the post-World Cup season?

'It can't work that going forward – there will be people taking pictures, we will be asking about Ronaldo to the manager in interviews for Sky. United don't need the hassle.'