The Football Association has vowed to take action against clubs whose supporters use the term 'rent boy' in chants towards opposing fans, players or managers.
The chant 'Chelsea rent boy' was heard during Chelsea's recent matches against Nottingham Forest and Manchester City, while it was also directed at Frank Lampard, a former Chelsea player and manager, during Everton's FA Cup tie against Manchester United last Friday.

Last week, the Crown Prosecution Service, which considers the term 'rent boy' as a homophobic slur, confirmed it is looking into chants from some Nottingham Forest supporters during their Premier League game against Chelsea on New Year's Day.

A statement from the FA on Wednesday read: 'The Football Association [The FA] strongly condemns all offensive, abusive and discriminatory chanting in football stadiums, and is determined to stamp this behaviour out. These chants can have a lasting and damaging impact on people and communities within our game, and it must stop.

'Today, The FA has formally written to all clubs across the Premier League, EFL, National League, Women's Super League, Women's Championship and Steps 2-4, to remind them that it can pursue formal disciplinary action against any club whose supporters engage in discriminatory behaviour, now including the use of the term 'Rent Boy'.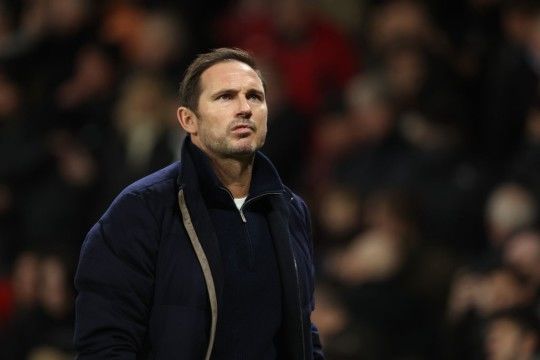 Frank Lampard was subjected to homophobic chants during Everton's FA Cup tie against Manchester United
'This important step follows the recent successful prosecution of an individual by the Crown Prosecution Service for homophobic abuse, specifically relating to the term 'Rent Boy'.
'The FA has now informed all clubs that it considers the 'Rent Boy' chant to be a breach of the FA Rules. These rules apply to the conduct of supporters at both home and away fixtures, and clubs at all levels of English football have a responsibility to ensure their spectators behave appropriately when attending matches.
'The FA takes all allegations of discrimination extremely seriously and would encourage anybody who has been subject to, or a witness of incidents of discrimination, to report it to The FA, the club or the relevant authorities so it can be investigated thoroughly.
'Together English football can drive meaningful and positive change so that stadiums can be a safe and enjoyable environment for all.'