One person was killed and 19 passengers taken to hospital when an inter-city train collided with a crane and derailed outside The Hague.
Emergency services said the train was carrying about 50 people when the train derailed near the village of Voorschoten.

The accident was the worst on Dutch railways for years and King Willem-Alexander later visited the scene.

Residents looked after some of the passengers with minor injuries.

The crash happened at about 03:25 local time (01:25 GMT) on Tuesday, tearing apart the NS passenger train and bringing down one of the overhead power lines.

A goods train also collided with the crane, which was being used for repairs to two of four railway tracks near Voorschoten.

The person who died had been working for construction company BAM, a spokesperson confirmed. Some of the 19 passengers were in a serious condition. The passenger train driver was also hurt, but the goods train driver was safe.

One of the passenger carriages careered down the grassy slope, while another remained on the tracks. Most of the double-decker inter-city train's lower windows were shattered.

"We heard a bang first and then later, a much more intense one," one local resident told the AFP news agency. "Then we heard people screaming. It was not good."

"The crane was there to be used for maintenance," said John Voppen, head of the government network body ProRail. He said he was 100% sure the crane was not on the tracks being used by the trains, but was unable to say how the two trains collided with it.

"I have been working in the rail industry for years and I don't understand how this could have happened."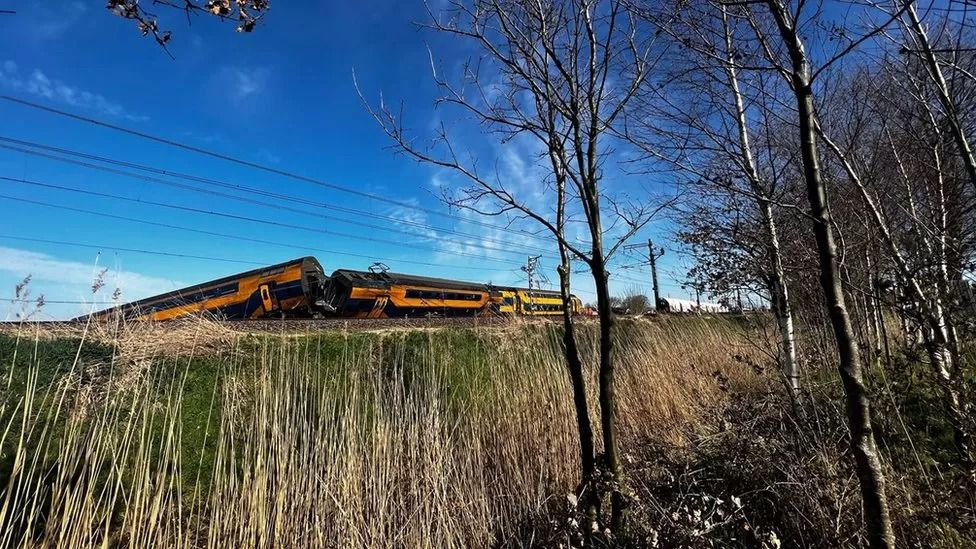 A cordon has been set up around the site of the crash

Leiden Central station, which lies between The Hague and Amsterdam, has been closed. Trains are unlikely to be running in the area for days because of damage to the track, described as "enormous".

"This is an incredibly tragic accident," said Voorschoten Mayor Nadine Stemerdink. "We regret there was also a fatality. My thoughts go out to all the family and friends of those involved."

Police have launched an inquiry, as has the Dutch Safety Board, which will focus on how two trains could have collided with a crane that was supposed to be on one of two tracks taken out of service for maintenance.

King Willem-Alexander visited the site after thanking residents who had opened their doors to treat passengers who did not need hospital treatment.

"Our thoughts are with the victims of the train accident at Voorschoten and their families," a statement from the Royal House reads. "Many are now in fear and uncertainty. We deeply sympathise with all of them."

Prime Minister Mark Rutte also expressed his condolences.

This sort of incident is extremely rare in the Netherlands, where the rail systems are generally very safe.