The public should drive suspected stroke or heart attack victims to hospital during the ambulance strike in some cases, a senior doctor said on Wednesday.

Dr Adrian Boyle, president of the Royal College of Emergency Medicine, also warned that patients were already dying because of delays in the NHS.

The ambulance walk-outs across most of England and Wales have come at the "worst time," he added, with the health service under huge strain from Strep A, Covid and flu. Ambulance officials advised that people should dial 999 if there is a suspected heart attack or stroke and the cases would be clinically assessed.

In some cases, where the chest pains or suspected stroke are not judged to be a life-threatening situation, they may be advised that the patient should be driven to hospital.

Ambulance chiefs say they are "confident that anyone who phones 999 who has a life-threatening emergency" will get a response "as normal".

However, the London Ambulance Service is saying that "patients whose conditions are not life-threatening are unlikely to get an ambulance on industrial action days". This is understood to possibly include some heart attack and stroke victims, who are classed as Category 2 conditions.

When asked if suspected stroke victims, or individuals with chest pains which may be a heart attack, should get someone to drive them to hospital, Dr Boyle told BBC Radio 4's Today programme: "Certainly if they think it's safe to do so, that is actually a perfectly reasonable alternative.

"We have seen people present at the front door of emergency departments for years with heart attacks and strokes. This happens and we have systems so that people are met by nurses at the front door, they see a clinician. So that can work and if it's safe to do so that is actually quite a sensible thing to do."

Hundreds of paramedics were taking industrial action from midday to midnight on Wednesday in the capital.

Unison balloted more than 4,600 over the action. Around 200 ambulances were expected to be on the road, compared with the normal 400 with 50 response vehicles.

Some 170 military personnel were understood to have been training at London's Wellington Barracks to drive ambulances and bring equipment to clinical workers, and more could be deployed from other units.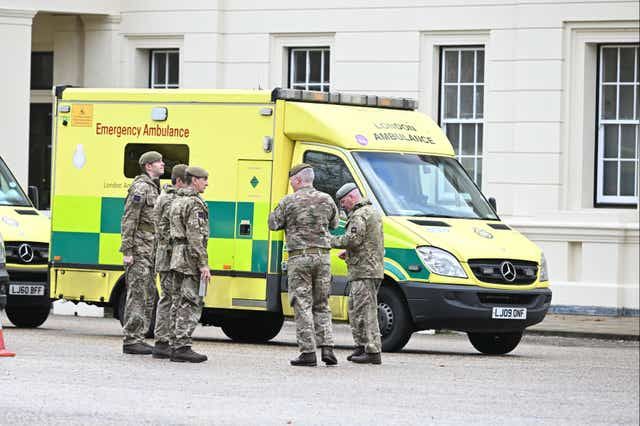 Jeremy Selwyn
Meanwhile, a bitter war of words exploded between union chiefs and ministers over the strike action.
Unison general secretary Christina McAnea said: "People know it's ministers who're recklessly putting lives at risk by refusing to negotiate. Unless the Government commits to a proper wage rise this year, action will likely escalate in the new year. The Health Secretary must stop the insults and groundless accusations and take responsibility for solving this damaging dispute."
But Health Secretary Steve Barclay hit back, claiming the unions had fuelled uncertainty over the ambulance cover by allegedly refusing to come to a national agreement. He told GB News: "My focus today will be doing all we can to protect patient safety but the bottom line is without these national agreements with the trade unions, there is uncertainty over the level of calls that they will respond to.
"So that's why we're saying to the public, bear in mind that the fact that the system is under pressure as a result of the strikes, but it's also under pressure because we've had a surge in flu cases, we've got an uptick in
Covid
cases. And we've got many parents who are also concerned about Strep A so the system is under pressure. We're just asking the public to be mindful of that."
The Cabinet minister denied escalating the dispute between the Government and striking NHS workers by accusing unions of making a "conscious choice" to "inflict harm" on patients. Asked on BBC Breakfast whether his language in the Daily Telegraph was "ramping up this current atmosphere", he said: "No, it reflects the very different action we've seen from these trade unions — the GMB, Unite and Unison — compared to what we saw from the Royal College of Nursing (RCN), where we agreed national exemptions in terms of what would be covered by the RCN, whereas the three unions striking today have refused to work with us on a national level."
But Rachel Harrison, the GMB union national secretary, said Mr Barclay was "insulting" ambulance workers. He accused trade unions of making a "conscious decision" to "inflict harm" on patients in England and Wales by striking. Ms Harrison told the BBC: "It's really insulting that the Secretary of State has said that. They have not taken the decision to take strike action lightly."
Professor Sir Stephen Powis of NHS England told BBC Radio 4's Today that the public need to be "sensible" during a "difficult day". He said: "It's the season of parties, so do enjoy yourself but obviously don't get so drunk that you end up with an unnecessary visit to A&E."